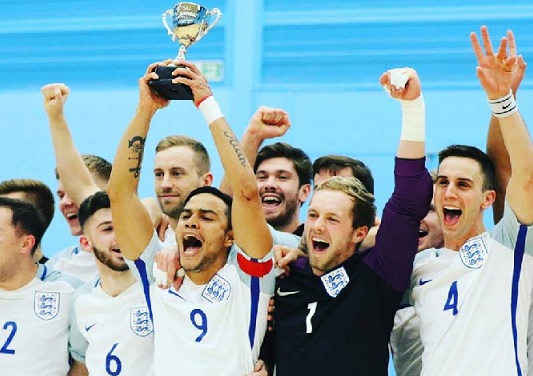 Estimated reading time:2 minutes, 42 seconds
England is certainly testing themselves this year in preparation for the FIFA Futsal World Qualifiers in January next year, they already competed against Poland over two legs which was their first ever England International Futsal match to be shown live on the BBC Sport website. And, this weekend they will take on another tough opponent when they welcome Croatia to St Georges Park. Tickets are already sold out but not to worry, you will be able to see all the action again on BBC Sport, on Sunday 23 and Monday 24 September, this is the only way for Futsal and football fans alike to catch the action.
How to watch live…
4pm kick-off, Sunday 23 September
Platforms: BBC Sport website and connected TV via the app
7.45pm kick-off, Monday 24 September
Platforms: Red Button, BBC Sport website and connected TV via the app
Click on this link to watch all the action: https://www.bbc.co.uk/sport/live/45559373
For those questioning the growth and interest in Futsal in England, selling out 1,200 tickets over two days at this location is a great achievement for the national association and the national team to attract such a large audience at St Georges Park. Hopefully, England will move their next international to another location to see if they can sell 2,000 tickets as well.
Another exciting development is the confirmation that England will compete in the U19s UEFA Futsal EURO. The team recently tested themselves in France when they defeated their hosts to face Spain in the final but lost 12-0. However, this will still a wonderful achievement for the team to find their level and test themselves especially when they have not been playing Futsal together as long as their opponents have.
The entrants have been confirmed for the first UEFA European Under-19 Futsal Championship, with the qualifying draw on 1 November in Nyon.
The new competition was announced last year by the UEFA Executive Committee as part of a revamp of UEFA's futsal competitions and will conclude with an eight-team final tournament. The identity of the hosts, either Georgia or Latvia, will be announced on 27 September.
Entrants
Preliminary round (21–26 January)
Sweden
Montenegro
Kosovo
Greece
Lithuania
Cyprus
Andorra
San Marino
Bye to main round (26–31 March)
Russia
Spain
Portugal
Kazakhstan
Ukraine
Azerbaijan
Italy
Serbia
Slovenia
Croatia
Hungary
Czech Republic
Romania
Poland
France
Slovakia
Belarus
Netherlands
Bosnia and Herzegovina
Belgium
Georgia*
FYR Macedonia
Finland
Latvia*
Turkey
Moldova
England
*will receive bye to finals if selected as hosts
Format
The eight lowest-ranked entrants in the UEFA futsal national-team coefficients enter the preliminary round, where they will be drawn into two groups of four, played as one-venue mini-tournaments in January.
The two preliminary round group winners join the 26 higher-ranked qualifying entrants in the main round. They will be drawn into seven groups of four teams (in the same ceremony as the preliminary round draw), to be played in March.
The seven main-round group winners will join whoever is selected as hosts out of Georgia or Latvia in the finals next September.
In the finals, two groups of four will be formed, with the top two in each progressing to the semi-finals.
Calendar
Hosts selected: 27 September 2018, Nyon
Qualifying draw: 1 November 2018, Nyon
Preliminary round: 21–26 January 2019
Main round: 26–31 March 2019
Finals draw: tbc
Final Tournament: 8–14 September 2019, tbc