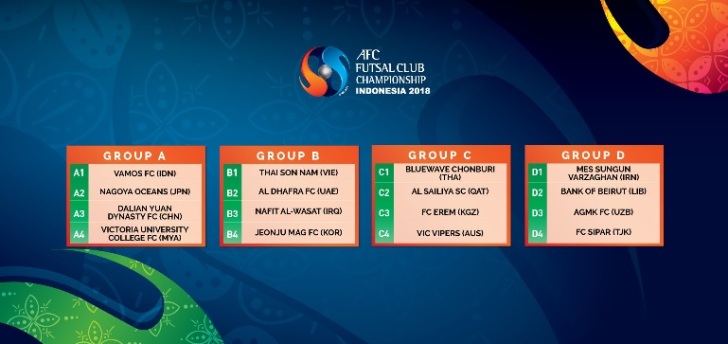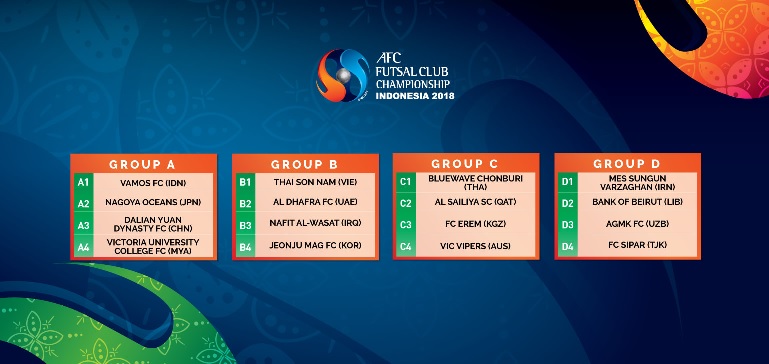 Estimated reading time:3 minutes, 7 seconds
On Wednesday the 1st of August, the AFC Futsal Club Championships 2018 will kick off in Indonesia for the first time, making history for the sport of Futsal in Asia.
If you are from the U.K and have been watching Welsh International Rico Zulkarnain's Futsal journey, you will know that Futsal is very popular in Indonesia, if not then below you can watch the league final between IPC Pelindo Jakarta vs Pinky Boys Makassar in 2015
The 2018 edition will welcome teams who have been regulars since 2010, with the likes of Vamos FC (Indonesia), two-time champions Chonburi Bluewave (Thailand) and current holders, Thai Son Nam FC (Vietnam) and three-time champions Nagoya Oceans (Japan) among the familiar names in the pot.
The tournament, which will be held in Yogyakarta on August 1 to 12, will also welcome newcomers Mes Sungun Varzaghan of Islamic Republic of Iran, who earned a spot in the Continental Club championship after clinching the Iranian Futsal League 2017-2018 title, as well as Tajikistan's FC Sipar and tournament debutants Jeonju MAG FC (Korea Republic), Victoria University College FC (Myanmar) and Al Sailiya (Qatar).
All the clubs will be seeded as per the final ranking based on last year's tournament, with position A1 reserved for the club representing hosts Indonesia.
The 16 teams will be divided into four groups of four teams, with the group winners and runners-up from each group progressing to the quarter-finals.
Ranking of clubs
1. Indonesia – Vamos FC, 2. Thailand – Chonburi Bluewave,   3. Islamic Republic of Iran – Mes Sungun Varzaghan,
4. Vietnam – Thai Son Nam FC, 5. Qatar – Al Sailiya, 6. United Arab Emirates – Al Dhafra FC, 7. Japan – Nagoya Oceans, 8. Lebanon – Bank of Beirut, 9. Iraq – Nafit Al Wasat, 10. Kyrgyz Republic – FC Erem, 11. Uzbekistan – AGMK FC, 12. China PR – Dalian Yuan Dynasty FC, 13. Tajikistan – FC Sipar, 14. Australia – Vic Vipers FC, Unranked: Korea Republic – Jeonju MAG FC and Unranked: Myanmar – Victoria University College FC
The draw was recently made and here are the groups: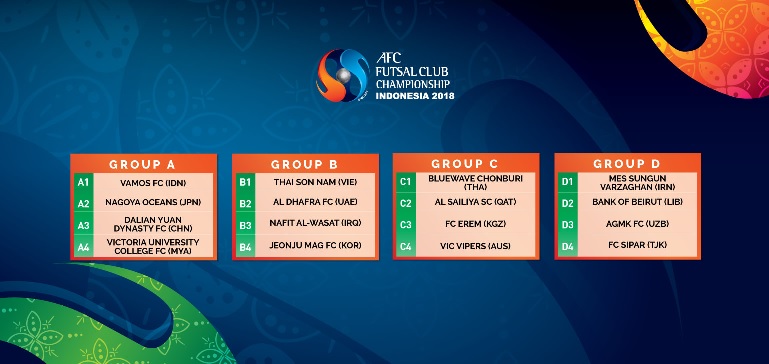 Indonesia's Vamos FC will be counting on home support when they take on three-time champions Nagoya Oceans, Dalian Yuan Dynasty from China PR and newcomers Victoria University College FC of Myanmar in Group A in the ninth edition of the AFC Futsal Club Championship.
Asia's top 16 futsal clubs identified their group rivals at the official AFC Futsal Club Championship Indonesia 2018 Final Draw in Jakarta.Group B will also be keenly contested between Vietnamese champions Thai Son Nam FC, Al Dhafra from the United Arab Emirates, Iraq's Nafit Al Wasat and Jeonju MAG FC from Korea Republic.Title holders and two-time champions, Chonburi Bluewave of Thailand, will be out to make tournament history by being the team to win the tournament twice in a row, but will have to go through Al Sailiya from Qatar, Kyrgyz Republic's FC Erem and Vic Vipers of Australia in Group C.
Mes Sungun Varzaghan from Islamic Republic of Iran, who overcame Tasisat Daryaei and Giti Pasand Isfahan for a spot in the Championship will be aiming to prove their worth against Lebanon's Bank of Beirut, AGMK FC of Uzbekistan and tournament debutants FC Sipar from Tajikistan in Group D.The tournament – to be held on August 1-12 – with 32 matches to be played, will be held in the city of Yogyakarta.Football Association of Indonesia Acting President Joko Driyono, who opened the Final Draw, said: "Futsal in Indonesia has been growing in the past 10 years, and it continues to develop and grow. And it will in time, become one of the most popular sports in the country."Finally, to all 16 participating teams, I wish you all good luck for the upcoming tournament."