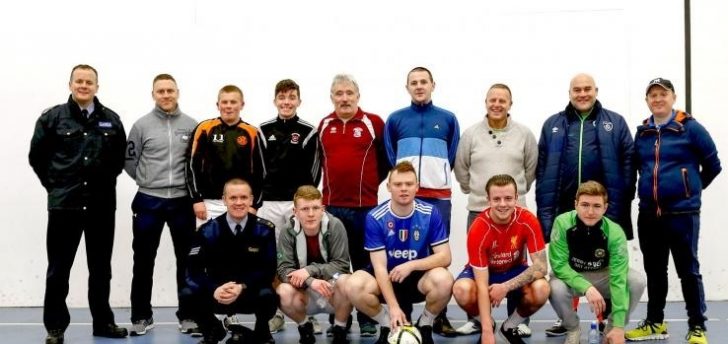 Estimated reading time:2 minutes, 21 seconds
Sixty-four participants from across the southside of Limerick city took part in the latest Late Night Futsal League in Roxboro, Limerick.
Over the past number of weeks, eight teams of eight players have competed in the Futsal competition, which is a collaborative project between Limerick City and County Council, Gardaí (Police) and the Football Association of Ireland (FAI).
The League took place at The Factory: Southside Youth Space in Galvone and was organised by FAI Football Development Officer Jason O'Connor and Gardaí from Roxboro Community Policing Unit aided by funding from the regeneration project.
The Late Night Futsal Leagues aim to encourage 'at risk' young people to participate in meaningful activities, thus reducing the potential for anti-social behaviour.
The Futsal Leagues take place four times a year, and are open to different categories catering for participants from 11 to 18+.
Jason O'Connor, FAI Football Development Officer for Limerick city, said: "We floated the idea to run a Late Night Futsal League out to some local contacts and the uptake was phenomenal. We are delighted with the people taking part and the level of integration within the southside communities. The Futsal League is about social inclusion and engagement with other people from the area as well as Gardaí in helping to break down barriers and stereotypes."
Garda Keith McCarthy, from the Community Policing Unit at Roxboro Garda Station, said: "The Gardaí are delighted to be involved in the Late Night Leagues. It is an ideal opportunity to connect with different sections of the local community on a less formal basis. It's about building a rapport between the participants and ourselves, trying to see behind the uniform. All the participants come from different walks of life but the League means they come together to work as a unit."
Sean McGlynn, Project Manager with Limerick City and County Council, said: "The local authority through regeneration is delighted to be involved with the Late Night League. We see the league as an important stepping stone in breaking down barriers between people who live in the locality. The League builds up a sense of responsibility to oneself and to others, and it's hoped the social skills learned during the League will be incorporated into everyday life. This is one of the ways that regeneration funding is being targeted in a bid to improve society as a whole."
The Late Night League takes place during prime anti-social hours and is based around the concept of using Futsal as a tool for social inclusion and learning. Through partnership and interagency co-operation, the Late Night Leagues aim to:
Divert youths from crime and anti-social behaviour
Encourage 'at risk' young people to participate in meaningful activities, thus reducing anti-social behaviour
Promote and further engage with youths and communities
Source: The FAI website: https://www.fai.ie/domestic/news/limericks-late-night-leagues-more-than-sport