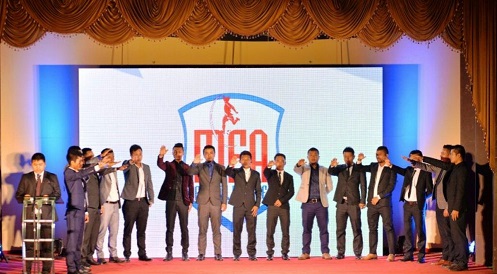 Estimated reading time:2 minutes, 6 seconds
A four-nation tournament in June is likely to be the first major assignment for India in their run-up to the AFC Asian Cup in UAE, slated to start on January 5 next year.
With just one Asian Cup qualifier (vs. Kyrgyzstan on March 27) and the South Asian Football Federation (SAFF) championship being the only other assured football penciled in for India by the AIFF, that might not be enough for them to prepare for the continental tournament, where India will be making their first appearance since 2011.
Compared to India, other Asian nations that have qualified for UAE, will all be in action in the first quarter of the year – most of them will be sending their best players to the 16-nation AFC Futsal Championships in Chinese Taipei in February. Vietnam, another qualified team, will proceed from the futsal event to a two-week tour of Germany, where they will play friendlies before they play Jordan in their last AFC Asian Cup qualifier.
Futsal development in India has been a hot subject of discussion since Premier Futsal launched in the country. The game of Futsal, has two parallel world governing bodies — Associacion Mundial de Futsal (AMF), also known as World Futsal Association, and FIFA (International Federation of Association Football) and the franchise-based Premier Futsal League, whose President is Luis Figo, is held under the aegis of AMF and not under FIFA. This development caused friction between the company and AIFF and started a debate in the media and within the All India Football Federation (AIFF) concerning the future of Futsal development in India.
Football has always been the heartbeat of Northeast. And to raise the beat, this January, Futsal development within India took a step forward. The first ever Futsal league under the AIFF, the Mazoram Football Association (MFA) Futsal League.  Team captains took part in an oath-taking ceremony and club jerseys were displayed.
Lalnghinglova Hmar, MFA Honoury  Secretary spoke of the initiatives taken by the Asian Football Confederation for the growth of Futsal, as well as the steps taken by the AIFF and how Mizoram has been a beneficiary from these initiatives. He also spoke of various steps the MFA has taken towards Futsal. A draw for the 16 teams was also made on the night forming two groups of 8.
Notably, the MFA Futsal League started on the 9th January at R. Dengthuama Hall, Mualpui, Aizawl. To show the matches live, Zonal TV bagged the rights to live-telecast all the matches of the tournament.