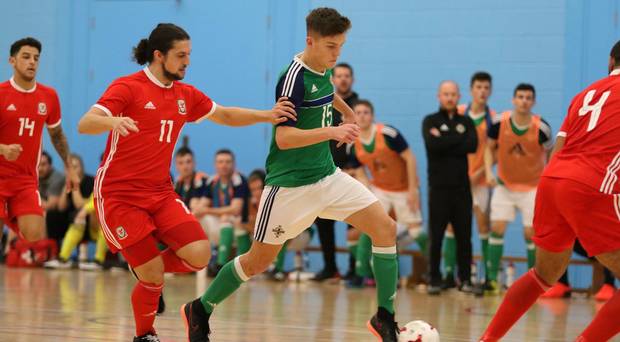 Estimated reading time:1 minute, 58 seconds
Newry Leisure Centre is hosting the futsal tournament featuring England, Scotland, Wales and Northern Ireland from Friday until Sunday (30 November to 2 December).
Northern Ireland Futsal Head Coach Jonathan Michael today unveiled his squad for the Home Nations competition and said his players are keen to test themselves against countries that have been competing on the international futsal stage for a lot longer than Northern Ireland.
The five-a-side tournament kicks off on Friday with reigning Home Nations champions England taking on Wales (4pm) and Northern Ireland facing Scotland (7.30pm).
Matchday two, on Saturday, sees Scotland up against England (2.30pm) and Northern Ireland battling it out with Wales, who won the inaugural Home Nations competition in 2016. That game is due to kick off at 6pm.
And the final day of the tournament, on Sunday, pits the Scots against the Welsh (12 noon) and Northern Ireland against England (3.30pm). Entry to all games is free.
Northern Ireland head coach Michael said: "The players and backroom staff are delighted to be hosting the Home Nations Championship this year. We are all looking forward to performing in front of a home crowd and building on our performances against Malta last month when we lost one and won one.
"The Home Nations is where we started our futsal journey two years ago and the players are fully focused to demonstrate how far Northern Ireland futsal has come in that time."
He added: "This Home Nations Championship weekend is a fantastic opportunity for people to engage with the game of futsal and witness exciting international matches. I hope that we can get good loud crowds to support the boys as I know the GAWA will help them raise their performance and help us give a good account of ourselves."
The Northern Ireland futsal squad
Goalkeepers: Philip Irvine (Belfast United Futsal Club), Matthew McErlain (Belfast United Futsal Club);
Defenders: Adam Barr (FC Salisbury United), Scott Gunn (Newcastle Futsal Club), John Gibson (Banbridge Town Futsal Club), Ciaran Donaghy (Belfast United Futsal Club), James Gould (Banbridge Town Futsal Club);
Midfielders: Alex Lalor (Belfast United Futsal Club), Jack Magee (Belfast United Futsal Club), Craig Taylor (Banbridge Town Futsal Club), Jonathan Pierce (Belfast United Futsal Club), Danny Stapleton (Manchester Futsal Club), Jordan Wilson (Banbridge Town Futsal Club), Conor Glenholmes (Wattcell Futsal Club);
Forwards: Darius Roohi (Sparta Belfast Futsal Club), Connor Millar (FC Salisbury United).
Source: Belfast Telegraph