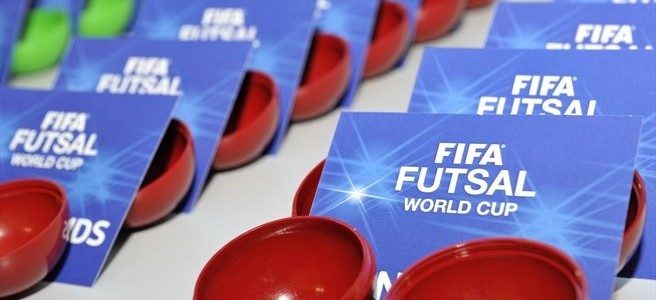 Estimated reading time:3 minutes, 33 seconds
We had to wait a long time to find out who would host the 2020 FIFA Futsal World Cup but the participating nations won't have to wait much longer to see who they will face in the preliminary rounds and main rounds of the 2020 FIFA Futsal World Cup which will be hosted in Lithuania.
Two-time FIFA Futsal World Cup winners Spain and European champions Portugal are among 48 teams awaiting the European preliminary and main round draws for the 2020 edition, to be streamed live on UEFA.com at 14:00CET on Wednesday 12 December.
RELATED ITEMS
Lithuania to host in 2020
Europe has been allocated six berths in the 24-team finals, not counting Lithuania, who will compete as hosts from 12 September to 4 October 2020. Among the record entry of 49 teams are World Cup debutants Germany, Kosovo and Scotland, plus Northern Ireland, making their bow in any international men's futsal competition. Qualifying will be in four stages: preliminary round, main round, elite round, and play-offs. The first two stages will be drawn on 12 December.
PRELIMINARY ROUND (29 January–3 February 2019)
The 16 top-ranked sides will be excused the preliminary round, but the other 32 enter the first of the two draws in Nyon, to be drawn into eight groups of four teams. The teams have been split into four seeding tiers by coefficient, with eight in each. Seven teams have been pre-selected as hosts and will be drawn from a separate Pot 1, placed in each group according to their seeding tier. Group H will have no host and one will either be selected by agreement or separately drawn on 18 December in Nyon. Pot 2 will consist of the eight teams in seeding position 4 and will be drawn to fill Groups A to H. The draw will continue with Pots 3, 4 and 5, respectively consisting of the remaining teams in positions 3, 2 and 1.
Based on decisions taken by the UEFA Executive Committee, Kosovo and Bosnia & Herzegovina cannot be drawn into the same group.
The top two teams in each group will progress to the main round.
Preliminary round seeding pots
Pot 1 (hosts)
Bosnia and Herzegovina (seeding position 1)
Georgia (1)
FYR Macedonia (1)
Latvia (1)
Moldova (2)
Sweden (2)
Bulgaria (3)
Pot 2 (seeding position 4)
Israel
Andorra
Estonia
Malta
Gibraltar
San Marino
Scotland
Northern Ireland
Pot 3 (seeding position 3)
Kosovo
Switzerland
Armenia
Greece
Germany
Wales
Cyprus
Pot 4 (seeding position 2)
Turkey
England
Albania
Montenegro
Denmark
Norway
Pot 5 (seeding position 1)
Belarus
Netherlands
Belgium
Finland
MAIN ROUND (22–27 October 2019)
The eight group winners and eight runners-up from the preliminary round join the 16 top-ranked teams in the rankings to be drawn into eight groups of four.
The 16 top-ranked teams have been split into two seeding tiers by coefficient, with eight in each, filling positions 1 and 2 in each group.
Position 3 will be filled by the eight preliminary round group winners (Pot 8), with the runners-up filling position 4 (Pot 7)
Seven teams have been pre-selected as hosts and will be drawn from a separate Pot 6, placed in each group according to their seeding tier. Group 8 will have no host and one will either be selected by agreement or separately drawn.
The winners and runners-up that played against each other in the preliminary round cannot play against each other in the main round.
Based on decisions taken by the UEFA Executive Committee, Armenia/Azerbaijan, Gibraltar/Spain, Kosovo/Bosnia & Herzegovina and Kosovo/Serbia cannot be drawn into the same group.
If, upon completion of the preliminary round, a clash arises, the team in question would be moved to the next available group (or if Kosovo, Bosnia & Herzegovina and Serbia all end up in the same group, the preliminary round runner-up would be moved first to the next available group, followed – if necessary – by the preliminary round group winner to avoid the clashes).
The top two teams in each group will progress to the elite round.
Main round seeding pots
Pot 6 (hosts)
Portugal (seeding position 1)
Ukraine (1)
Azerbaijan (1)
Italy (1)
Croatia (2)
Poland (2)
France (2)
Pot 7 (seeding position 4)
Preliminary round runners-up Groups A–H
Pot 8 (seeding position 3)
Preliminary round winners Groups A–H
Pot 9 (seeding position 2)
Slovenia
Hungary
Czech Republic
Romania
Slovakia
Pot 10 (seeding position 1)
Russia
Spain
Kazakhstan
Serbia
ROAD TO LITHUANIA: CALENDAR
Preliminary & main round draws: 12 December 2018, Nyon
Preliminary round: 29 January–3 February 2019
Main round: 22–27 October 2019
Elite round draw: 7 November 2019
Elite round: 28 January–2 February 2020
Play-off draw: tbc, Nyon
Play-offs: 9 & 12 April 2020
Finals draw: tbc, Lithuania
Finals: 12 September–4 October 2020, Lithuania