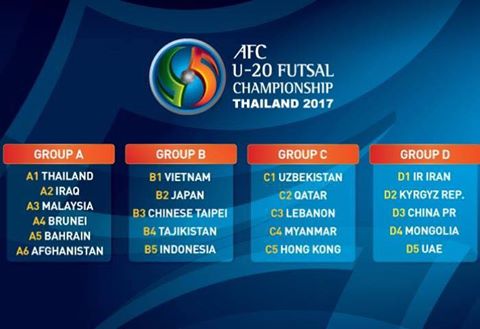 Estimated reading time:0 minutes, 48 seconds
The stage is set for the AFC U-20 Futsal Championship Thailand 2017 after today's draw. The tournament will take place in the Thai capital from May 16 to 26, 2017 at the Bangkok Arena and the Huamark Indoor Stadium.
There are 21 teams in the tournament, consisting of one (1) group of six (6) teams and three (3) groups of five (5) Teams. The group winners and runners-up from each group, eight teams in total, will qualify for the knockout stage (quarter-finals).
The four winners of the quarter-finals will qualify to the semi-finals, and subsequently the winners of the semi-finals will advance to the final while the two losing teams will play in the third placing match.
Since this is an inaugural competition all the participating countries will be seeded as per the final ranking based on the AFC Futsal Championship Uzbekistan 2016.
Though you can see the groups above, if you wish yo watch the draw, you can do so below: