What is Futsal?
Futsal is an exciting, fast-paced small sided football game that originates from South America in the 1930s. It is widely played across the world and is the small sided football format that is officially recognized by both UEFA and FIFA. The nature of the game places a large emphasis on technical skill and ability in situations of high pressure.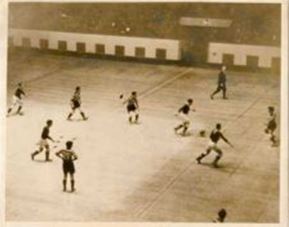 Futsal began in Uruguay and Brazil where the large crowded cities and a shortage of playing pitches forced a football-mad populace to play small sided football and in 1936 the first rules emerged. Futsal was the name chosen by FIFA, which is simply a combination of the Spanish words for 'hall' (Sala) and 'football' (Futbol): hence 'Futsal'. Futsal is a five-a-side game, normally played on a flat indoor pitch with hockey sized goals and a size 4 ball with a reduced bounce. It is played to touchlines and all players are free to enter the penalty area
and play the ball over head-height. Games are 20 minutes per half, played to a stopping clock (similar to basketball) with time-outs permitted. There are a number of differences to our traditional version of small sided football, but the dominant elements are the absence of rebound boards and amendments in the laws that encourage and foster skillful, creative play above the physical contact that tends to be a feature of English five-a-side.
What are the benefits of playing Futsal?
Futsal is very much a sport in its own right, the nature of Futsal with the smaller confines of the pitch makes it harder to find space, the line markings that prevents easy escape from tight situations (such as in traditional 5-a-side where players can play the ball off the wall), and the smaller heavier ball which supports closer ball control and manipulation supports the technical development of young players in a multitude of ways.
Research indicates that individual's playing Futsal receive the ball six times more often than they would do when they are playing 11-a-side football, allowing players to perform more individual techniques such as passes, controls, fakes, feints, dribbles and runs with the ball (Liverpool John Moores University, 2001). As well as touching the ball more often, players will often receive the ball under pressure from opponents developing their confidence on the ball particularly in pressurized environments. Futsal as a game naturally brings players into regular one-on-one situations with their opponent, encouraging players into quick decision making as to how they overcome these scenarios; this could be through beating the opponent with a skill, or through clever passing to a team-mate. But one of the core attributes Futsal teaches young players is the importance of ball retention due to the threat of an immediate counter-attack. Confidence on the ball, receiving a pass under pressure, decision-making in 1v1 situations, and ball retention are all important fundamental skills that we look to develop in young football players that are practiced regularly within a game environment in Futsal.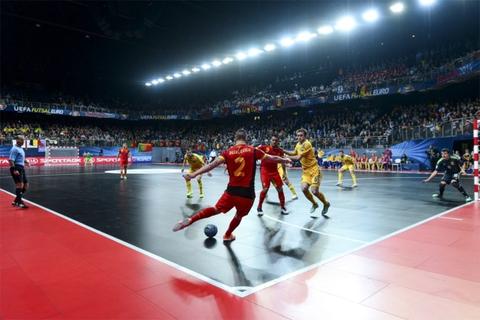 Futsal also supports young player development in other ways. The speed and fluidity of the game support players in understanding and improving their skills in the transition (counter-attacking) phase. In Futsal, teams are often either defending a counter-attack or in the process of launching one after breaking down their opponents. This is recognized in modern football as a vital component for young players to understand and apply. This ebbing and flowing of the game also results in all players being required to feel comfortable in both a defending and attacking situation. Due to the limited space on a Futsal court, the game intrinsically encourages movement and rotation from players as well as a sense of innovation and creativity to unlock defences and to create some space for yourself or team-mates. In many ways, it replicates what is required from attacking midfielders and forwards in the 11-a-side game when trying to break through opposition in and around the 18-yard box. The emphasis in Futsal is very much on skill and technique over physicality, and this is particularly reinforced by the 5 foul rule (committing 6 fouls results in a penalty). But Futsal is also fun for young players who get to touch the ball with greater frequency in a variety of different positions.
FUTSAL vs 5-a-Side – What's the difference?
At first glance, it may not necessarily be apparent what the difference is between traditional English 5-a-side football and Futsal. Of course, both formats of the game have five players on the pitch at any one time, but there are a number of fundamental differences that separate these two small-sided games ranging from the equipment to the laws of the game. The diagram below helps to illustrate some of the main differences:
FUTSAL vs 5-a-Side – What's the difference?
Played to lines. The ball is returned to play with a 'Kick In'.Controlled by 4 seconds to re-start play
No 'by' or 'Goal' lines – uses rebound boards or walls so the ball is constantly in play
Use of established pitch dimensions
Pitch size dictated by halls & facilities so no consistency
All players are allowed to enter each penalty area
Only the Goalkeeper is permitted to enter the penalty area
No height restriction on ball
Use of restrictions on the height of ball – e.g: head height
Use of indoor goals (3m x 2m)
Use of rectangular goals unique to British 5-aside(4m x 1m)
Use of Futsal ball (size 4, 30% reduced bounce)
Uses a standard size and regulation bounce football –hard to control and less player contact
5 Foul Limit – a 'penalty' for every infringement after 5th Foul
Unlimited Fouls
Matches are played to a 'stopping clock' – the time stop every time the ball is out of play
Matches are played to a non-stopping clock
Coaches can call one time-out each half to discuss tactics with the players
No time-outs – non-stop for the duration of the game
If you like the information provided, you can read more articles about Futsal by going to the top bar navigation or click here
If you like this article and would like to keep updated on Futsal news, developments etc then please submit your email below in the Newsletter section or by clicking on the Subscribe to Futsal Focus option on the header.
Follow Futsal Focus by clicking on Facebook, Twitter or Instagram or on the social media buttons on the right sidebar.