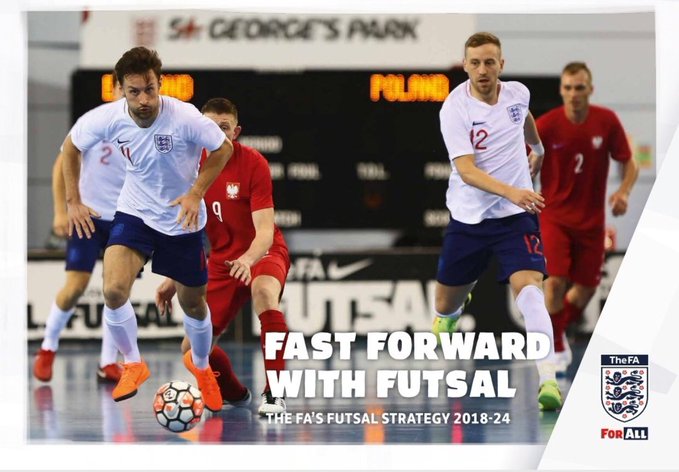 Estimated reading time:1 minute, 47 seconds
The English Football Association have delivered a huge week for Futsal development, awareness and promotion in the UK
Last Friday on the 6 September, the English Football Association announced a three-year partnership with the Pokémon Company International to support their National Futsal Programme.
The deal begins immediately, and the idea behind the partnership is simple enough. The FA wants to make Futsal a "natural part of children's football development." In a post on the organisation's site, they write that the focus on year one of the partnership "will be on increasing participation of school and club teams from across England in our National Youth Futsal programme."
Today, the efforts of the FA to develop Futsal have gone even further. The Department for Education added Futsal to an approved activity list for GCSE, AS and A-Level PE meaning more students across the country will have the opportunity/ option to play and experience Futsal at schools from 2020 increasing participation and awareness across England. This is a fantastic achievement for Graeme Dell (Futsal representative on the FA Council) and Michael Skubala(Head Coach of England's National Futsal team & the FA's Futsal Technical Director) who tweeted his own thanks to Donna McIvor (Women's Development Manager), John Folwell (National Participation Manager) and Steve Day (Head of Development at The FA) for their support.
You can see the Department for Education's Review of GCSE, AS and A level physical education activity lists – Government consultation response provided, where you will see Futsal listed on page 6 and on Annex B list:  https://www.futsalfocus.net/wp-content/uploads/2019/09/Review_of_GCSE__AS_and_A_level_physical_education_activity_list.pdf
If you like the information provided, you can read more articles about domestic futsal by going to the top navigation bar or click here
If you like this article and would like to keep updated on Futsal news, developments etc then please submit your email below in the Newsletter section or by clicking on the Subscribe to Futsal Focus option on the header.
Follow Futsal Focus by clicking on Facebook, Twitter or Instagram or on the social media buttons on the right sidebar.