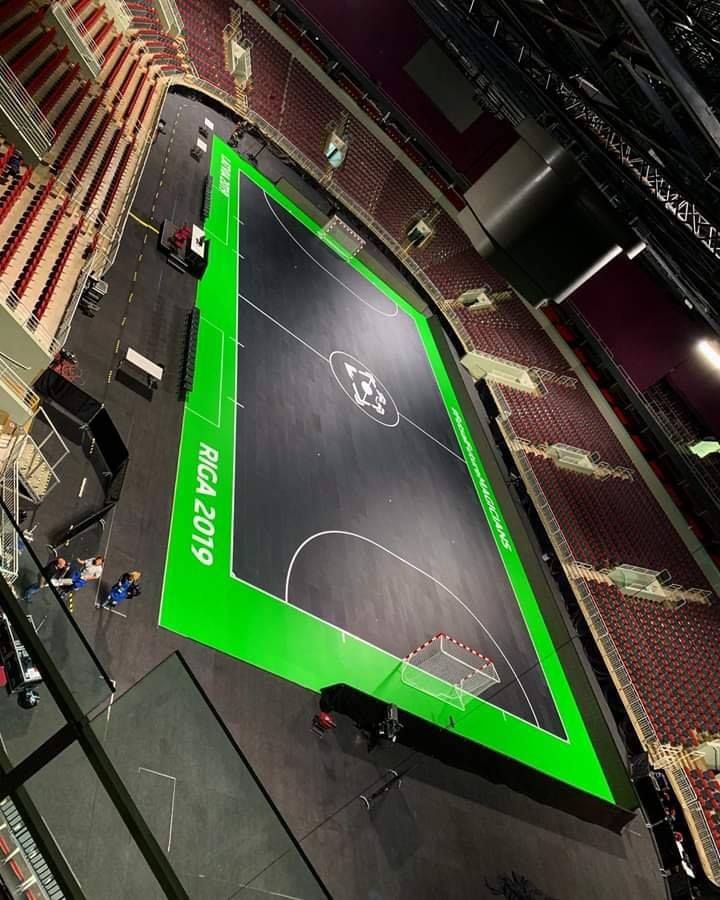 Estimated reading time:4 minutes, 44 seconds
The UEFA European Under-19 Futsal Championship is the latest stop on an exciting journey for European futsal in 2019. The year started with Spain being crowned champions at the inaugural UEFA Women's Futsal EURO in February, then in April record crowds watched Sporting CP win the rebranded UEFA Futsal Champions League in Almaty.
This UEFA Under-19 Futsal EURO highlights the commitment to improving standards at youth level, while at senior level, the men's Futsal EURO has been expanded to 16 teams for the next tournament in 2022. It is all part of UEFA's strategy to grow the sport across Europe, and the investment in futsal is paying off.
Participation levels are soaring. Following the launch of UEFA Women's Futsal EURO, 16 nations created women's teams and 23 took part in the qualifying competition. A record 57 clubs from 53 nations entered teams in the UEFA Futsal Champions League, and 34 nations competed in qualifying for this Under-19 EURO.
Impressive numbers on the pitch are matched by interest off it. Over the past five years, attendances in European futsal's premier club competition have increased by over 80%, hitting new highs in 2019 with the UEFA Futsal Champions League final tournament in Almaty averaging nearly 10,000 fans per match. The UEFA Women's Futsal EURO in Gondomar, Portugal, also drew healthy crowds, with attendances averaging 1,800 per game for the semi-finals and Spain's triumph over the hosts in the final.
This week the spotlight has turned to the U19s, and Latvia captain Renārs Šķesters-Kambals is convinced the tournament will attract more people to the game. "The UEFA Under-19 Futsal EURO final tournament is undoubtedly a great event for us as players as well as for the futsal community as a whole," he said. "This will be a great futsal festival. It will also be a powerful turning point for the promotion of this sport when you consider the development of futsal in general. Former players can hardly have imagined that futsal would develop so quickly and that one day Latvia would be playing in a EURO final tournament."
It is not the first time UEFA has staged a youth international futsal tournament. The UEFA European Under-21 Futsal Tournament was a one-off event held in 2008 and judging by the calibre of players who graduated from that competition, this year's crop of U19s have plenty to look forward to. Russia won the title with a squad including Dmitri Prudnikov. They beat Italy in the final with the Azzurri counting future UEFA Futsal EURO champions Gabriel Lima and Daniel Giasson in their ranks, while from beaten semi-finalists Spain, Mario Rivillos and Pola have also gone on to lift the trophy at senior level.
For the likes of Šķesters-Kambals, those stars highlight just where a successful tournament here in Riga might lead. And with European futsal on the rise, it will be exciting to follow the progress of these 'Futsal future magicians' – as the tournament slogan says – as they embark on their journey to the top.
Futsal is certainly on the rise, new clubs are developing, player participation is increasing and young people are starting to see Futsal as a career alternative but problems with the industry are starting to surface. It is interesting that at this stage of Futsal's development there are many people within the sport get annoyed if you discuss any negativity associated with Futsal. There is a fear that this will turn people away from it. However, problems cannot be swept under the rug to be dealt with at a later time, we have to address them as they appear. Pinerola 1964 Futsal along with other clubs have stepped away from the Slovak Futsal Extra Liga, the country's highest level of Futsal, announcing a list of reasons for their decision making. The clubs reasons included bad governance, lack of professional structures, not enough money reaching clubs through domestic or European competition, you can read the article here: http://bit.ly/2m7byX4
Other issues surround player payment, Futsal Focus has had followers on numerous occasions contact us to complain about clubs in various European countries not paying their players or coaches, or failing to fulfill their end of contract agreements when it came to bonuses, players and coaches need more protection. Futsal Focus' following continues to grow and with this, there has been an increase of complaints when they see content that is in any way associating Futsal as a development tool for Football. Followers concerns are that this weakens Futsal as a sport in its own right, and its attractiveness, a feeling that players may look upon Futsal as a fall-back if they don't make it at Football rather than an exciting first option. Along with this, they feel it damages the image of the sport to potential sponsors and one follower described the strategy as ridiculous, 'You don't see skateboarders promoting their sport as a development tool for surfing.'  All of these issues along with the many more that will arise have to be discussed and addressed going forward whether you agree with them or not, to make sure Futsal is successful as an industry.
The initial information provided in this article was taken from UEFA.com.
If you like the information provided, you can read more articles about Futsal by going to the top navigation bar or click here
If you like this article and would like to keep updated on Futsal news, developments etc then please submit your email below in the Newsletter section or by clicking on the Subscribe to Futsal Focus option on the header.
Follow Futsal Focus by clicking on Facebook, Twitter or Instagram or on the social media buttons on the right sidebar.