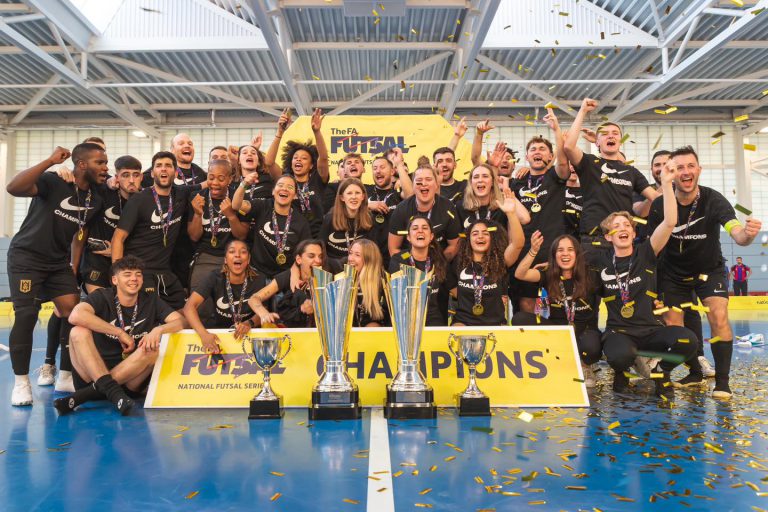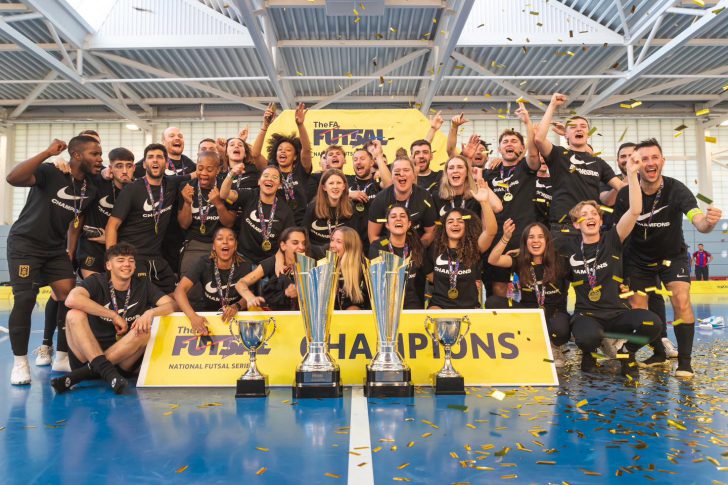 Estimated reading time:26 minutes, 55 seconds
English futsal was turned upside down this year.
For over a decade, London Helvecia was the face of English futsal. The first time, Helvecia was challenged was by a team full of professionals at London Baku United Futsal Club and it took a significant budget in order to do so. They managed to turn the tide for a short period, but unfortunately for Baku, their hold on English futsal ended. Those who were backing the club could no longer do so, for reasons, we won't get into in this article.
(Main picture: Copyright of NFS / taken by Carl Wilkinson)
Once this occurred, London Helvecia stepped back into their dominant position again as English futsal champions. Since 2015, however, another club, originally established by Jon Kurrant called ProFutsal London was slowly planning, organising, and building a project capable of challenging London Helvecia. To advance this project, Jon considered different collaboration possibilities and one opportunity stood out the most. Charlie Hyman, founder of Bloomsbury Football Foundation (a charity) discussed with Jon the potential of his club merging with his Foundation. And in 2021, an agreement was made, and the club became the futsal branch of the Foundation called Bloomsbury Futsal.
Before we introduce what the Foundation is about, let's take a look at Jon and discuss ProFutsal London. Jon Kurrant is a former Arsenal FC Academy player and Aberdeen FC professional footballer. He's been a part of the Futsal format for thirteen years after being introduced to the sport during his time at Loughborough University.
After Loughborough, he was coaching grassroots football and many of the concepts he was coaching had Futsal components. A lot of parents and players really enjoyed it, and he was asked to set up a Futsal session, which blew up within a year. What started with only an U12s team grew to a full pathway from U10s to U16s very quickly. Therefore, Jon decided to set up his own club, ProFutsal London.
ProFutsal's set-up encompassed U6s to U16s and a high-level elite adult pathway. Their U18s Development team played at the second highest level of Futsal in England: Tier Two of the National Futsal Series. The U18s Development side was separated into a Development Team: comprising peripheral First Team players, developmental players, and impressive academy graduates, and an U18s team of academy graduates in need of experience. The First Team had seven players including Jon, capped by the England National Futsal team. The club had only taken to the courts for four years before the merger, but they played in Tier One of the National Futsal Series and were one of two mainstay teams competing for the title. The quality of the team, despite being in its infancy, was and is a testament to their First Team Manager, Juan Tapia-Owens.
Charlie Hyman was playing for ProFutsal London in his spare time whilst developing his successful organisation. He built a strong relationship with Jon and Juan and respected the hard work they put into the club and what they had achieved so far which led to their discussions.
The charity uses the power of football to improve the lives of young people, offering sustainable programmes that support active lifestyles, promote positive impacts, and pursue full potential, all powered by their visions of social cohesion, equality of opportunity and sporting excellence. Through holiday camps, school sessions, open sessions, foundation sessions, a 'Bears' programme (eighteen months to six-year-olds), a girls' programme, a pan-disability programme, and their own academy, Bloomsbury Football Foundation ensures every child has the opportunity to play football (and now Futsal) irrespective of their ability to pay. Impacting over 5000 beneficiaries, Bloomsbury is an organisation that uses sport as a vehicle in contributing to a collaborative and more cohesive society, educating, engaging, and steering children away from anti-social behaviour and altogether developing children personally, through promoting soft skills.
When this merger was announced, ProFutsal London had reached the final of the National Futsal Series and was hoping to start the new season under their new name and in their new colours in the UEFA Futsal Champions League. However, the club failed to win the final. Two years later, Bloomsbury Futsal, has not only won the National Futsal Series, but they have also dominated the sport in both the Men's and Women's and across different divisions. In addition to building a partnership with the University of Hertfordshire and delivering their futsal programme. Juan, acting as their head coach led the team to their first-ever British Universities & Colleges Sport (BUCS) Futsal Championship. This is the largest futsal competition in Great Britain and Northern Ireland. Here is a list of their achievements in 2023:
National Futsal Series Tier 1 Men's and Women's:
Both are National Champions
The men's team will enter the UEFA Futsal Champions League, but unfortunately, the women's doesn't have an equivalent competition yet
Super Cup Champions
National Futsal Series Tier 2 Men's:
6 out of the 12 U19 England players who competed in the recent UEFA Futsal U19 EURO qualifiers came from Bloomsbury Futsal
National Futsal League Tier 3 Men's, led by Mary Pacitti:
National Plate Champions
Nation Trophy Champions
Grassroots:
U16s boys, U14 boys, and U14 girls have won their County Futsal Cup
BUCS:
The University of Hertfordshire won their first-ever BUCS Futsal Championship under Juan's leadership
What an incredible season. We are excited to learn more and delighted that Charlie Hyman, Jon Kurrant, Juan Tapia-Owens, Mary Pacitti, and Luke Webb have agreed to take part. Futsal Focus recently published an article titled 'Has the pendulum swung in English Futsal' and in that article, we discuss that the power is truly in the hands of those who provide the product, and those who provide it are the clubs. The English FA have failed to fully support the development and promotion of futsal in England, but the clubs cannot put all the blame and disappointment they feel as the full responsibility of the FA. If the clubs can progress their own development, then their growth and fanbase could not be ignored by the FA. This is why this article is so important, Bloomsbury Futsal has shown what is possible with the right structure in place.
Now it's time to speak with Bloomsbury and find out more:
Congratulations on an amazing season! For this article, the interview questions aim to explore the changes that have occurred since 2021, which have led your club to become the dominant team in English futsal in 2023. Additionally, we want to understand how you plan to build on this success and contribute to the positive development of English futsal, as a whole.
To start the interview, let's discuss the structures that have supported your club's ambitions under Bloomsbury Football Foundation. Could you provide insight into the advantages you've had as a club and recommend structures for other clubs to progress?
JK: One of the main challenges was that the project became too big for me to handle alone. With the help of my wife Sarah, Tamas Gyenei, a key figure in growing our academy and first team, and Juan as the first team manager, we managed to develop and progress. Juan not only played a crucial role on the court but also went beyond his duties to contribute to marketing, building a story, and creating a culture that propelled the club forward. He even made financial sacrifices in the process.
Bloomsbury is more than just one person. Charlie has built an infrastructure that provides excellent opportunities to 5000 young players, regardless of their background. Through paid programs and bursaries funded by our charitable status, we can nurture real talent and remove barriers to entry for players.
I learned from Charlie that a lack of clarity in relation to roles and communication leads to issues. By understanding and improving these protocols (which I can still work on), we ensure that people know what they are signing up for when joining our academy or first team and understand the club's expectations. Over the past 18 months, we have been developing processes to enhance our senior program, including a focus on the psychological aspect, which we will discuss later. It wasn't a quick fix but a consistent effort to build habits and processes, prevent the repetition of mistakes, and provide clarity to move forward.
FF: Last year, you reached the semi-finals but didn't progress to the final. This year, however, you defeated Helvecia in the semi-finals and made history by defeating Manchester Futsal Club in the final. What changed this season on and off the court that gave your club the upper hand?
JK: I believe Juan is best suited to answer this question directly, but as someone who was more removed from the team this year, I think our recruitment played a crucial role. Signing Connor Miller was a significant achievement, and bringing in three New Zealand internationals, Kyle Wisnewski, Logan Wisnewski, and Jordi Ditfort, gave us a talented pool of players. Ryan and Jack Walsh, who returned to England, also decided to invest their time in our project and have been exceptional. Importantly, these players are not only talented but also incredible individuals who work hard, are selfless and hold others accountable. Juan has done a tremendous job in nurturing these values.
We also dedicated significant time to developing processes for players to take ownership of their mistakes instead of deflecting blame. This approach has minimized resentment and built trust. Luke Webb, who joined us last season and at the beginning of this season, played a key role in aligning our actions and behaviors with our values. One example of this ownership is our use of the analysis tool HUDL. Players were responsible for clipping their own mistakes and identifying areas for improvement. Owning our own mistakes and promoting a winning and trusting attitude has been crucial. Our captain, Richard Ward, has been a fantastic role model, managing his personal life alongside his commitment to the team.
FF: Juan, Jon mentioned that you are one of the best young coaches in Europe. He praised your attention to detail in planning sessions, preparing teams, and engaging with players on match days. Can you provide insight into your coaching methods?
JTO: Firstly, it's a very kind description. It has been an evolving process over the past 5 years that I've been managing Bloomsbury/ProFutsal which I hope to continue doing each year.
As a coaching approach, it is always a collaborative approach for me between player and coach. Most of the work comes in the off-season and pre-season where we will understand the players we have and create a playing philosophy (including all set pieces and upload them to HUDL), periodise the training blocks for the season (with adaptability) and try to understand each individuals' strengths and weaknesses within the team so we can identify how best to help them.
The pre-season work gives us an easier job in the season where we analyse the opponent at the start of the week and mold our philosophy around the best way to exploit the spaces the opponent will give us, as well as where they can hurt us. All the players are given these videos around Tuesday so they can confront the training with an understanding of why we are doing certain sessions. The game plan will then be released on Wed/Thurs, and this is merged with the video analysis to give the players the best information possible. This means matchday messaging can be simple and clear with everyone aligned. It is then down to the players to clip their individual performances as well as my job to clip and review the team's performance.
I usually divide the way we work into 5 C's: Clarity, Commitment, Consistency, Courage, and Change:
Clarity: A clear playing philosophy and roles which we will integrate through different methods: video analysis, training…
Commitment: Commitment both on and off the court; this includes the physical (workout plans), psychological (emotionally improving), tactical (video analysis), technical (training), and social (integration) demands we try and put on our players.
Consistency: Periodising our training blocks by building up from the individual to the team then stripping it back down again before rebuilding. Players need to consistently train, challenge, and analyse their performances to be the best versions of themselves.
Courage: The courage to challenge the philosophy and game plan, the courage to self-criticise and ask tough questions.
Change: Being adaptable to the opponent and the challenges we are facing whilst staying true to our identity.
FF: Juan, London Helvecia never progressed to the main round of the UEFA Futsal Champions League. What are your hopes for the preliminary round, and what progress would you like to see from yourself, the supporting staff, and players, even if you don't qualify for the next stage?
JTO: It will always depend on the draw, the Champions League is an incredibly tough competition and the fact only 1 English team has made it through the first round is a testament to the investment and quality of other countries.
Our beliefs and intentions are always to challenge and to win whatever we have in our control whilst understanding it may always not be enough. With the players we have always spoken about 'identity' and 'performance', they would be the clear 'non-negotiables'. We have a clear idea of who we are, our strengths and weaknesses, and what it looks like when we play well.
We want to be adaptable and find in-game solutions that opponents abroad will try to hurt us with as well as cause problems with our strengths. It is about putting a clear development marker down for the English game in Europe; most of our players are from predominantly lesser-developed Futsal countries including Northern Ireland, New Zealand, Australia, and England. For me, seeing these men compete and seeing other teams recognise their (our) ability would be the proudest takeaway. Our pre-season trip last season to Spain where we played some top opposition highlighted that we can do it.
I always have a strong belief in the players and in myself, that we can compete on the European stage and hopefully we can bring England it's second team to reach the main round in the UEFA Futsal Champions League.
FF: Jon, Bloomsbury Futsal's women's team are the national champions. Unfortunately, UEFA has yet to organise a Champions League for women. However, there is an unofficial competition organised by the participating clubs called 'Campeonato de Europa de Clubes de fútbol sala femenino'. Would you consider entering your women's team into this competition?
JK: Parity, inclusion, and equality lie at the core of Bloomsbury Futsal's values. Given the opportunity, we would enthusiastically embrace the chance to participate in a Women's Champions League competition, showcasing our skills and determination. However, it is important to note that if the competition is not currently recognised or sanctioned by UEFA and the FA, we would diligently follow the official channels to ensure our eligibility. We remain hopeful that UEFA will acknowledge and appreciate the significance of these opportunities for women, recognising their rightful place in contending for these prestigious honours.
FF: Jon mentioned the positive impact of Luke Webb in introducing emotional intelligence to the club and coaching methods. Luke, could you share your background and discuss the emotional intelligence methodologies you introduced? How you encouraged their practice, and how you observed their implementation by the club and coaches?
LW: My background is in Football and academia. I have seen football and education at all levels and combined that with an insatiable curiosity for human and performance psychology. 14 years ago I began to put my ideas and theories onto paper. 14 years of iterations later, I now have a human and performance education syllabus that I use to help players, coaches, or anyone in any industry to help guide them to remember a more productive way of being. I also continue that journey each day and learn from everyone who is courageous enough to engage in the process with me.
When I first went into Bloomsbury with the men's first team in December 2021, I knew I could help because the coaches and players all had a purity about them. A biological morality, which showed me that they wanted to be better and wanted to be connected. There were just a few behaviours and situations that were making their ability to show their true talents and ability to connect with each other, harder. I didn't have the time to deliver the syllabus as I would in a full-time setting so I targeted the areas that I believed would have the most positive effect. I was lucky that the most influential people in the group bought into the methods, which made it much easier to facilitate the difficult conversations that needed to be had between players and players and players and coaches.
The syllabus is a mixture of a values-based approach and neuroscience with Courage and Excellence as the core systems of exploration. It is built on the premise of truth and as such is constantly adapting. I wouldn't say I encourage the practice of any of the values or strategies – I share them and explore how it could help but ultimately it can only work if the person then explores themselves.
As we progressed through the year, I could see the positive change in the individuals who were 'all in,' and the change that was occurring in the team dynamic. I could also see the systemic change that was occurring with management at the coaching level and the operational level. There was so much more that could have been done, but I believe enough was understood to enable the group to transcend the level they were competing within. It was a pleasure to watch them all perform these past few months. It was inspiring to see how they dealt with tough moments as individuals and as a team and how they were able to let loose their talents under the highest pressure. And to top it all off, they are outstanding people. It was a genuine pleasure to work with and for the team.
FF: Jon, how have these emotional intelligence methods impacted you?
JK: The past 18 months have been challenging for me personally. My wife developed four autoimmune conditions and lost the ability to walk, becoming bed-bound unexpectedly. Fortunately, she is now recovering, and her strength and character have shown me that we have a choice in how we deal with difficult situations. Around the same time, Luke came into my life, and his syllabus helped me address trauma in my personal life, which inevitably affects my performance on the court. His teachings on courage, vulnerability, and emotional intelligence have transformed me as a person.
Futsal is a game of mistakes, especially at the highest level. The ability to emotionally regulate and deal with situations is something I lacked during my football and futsal career. Luke is a guru in translating values into behaviours and actions, and I consider myself lucky to have crossed paths with him.
FF: Juan, what are your thoughts on these emotional intelligence methodologies, how did you try to implement them, and how have they improved you as a coach and your players?
JTO: I think the main point is that we have all evolved and improved as people throughout this season leading us to be better versions of ourselves as a coach or players.
We home in heavily on 'the truth' and 'our fears' in sessions and even before games; this has led to more trust within the group on all fronts as well as giving players incredible courage. We feel much more connected and can engage in some tough conversations knowing where we are all coming from as well as knowing each person is doing their best.
Within sessions, it is a mixed approach where, as a coach, it is our job to test and create environments where we can observe, challenge, and improve the emotional intelligence of our players. Sometimes I will be more hands-on whereas other times I may take a step back and purposely not intervene throughout a session to see how players are handling these situations, who will speak up, how they speak up, and the reactions of others. It has caused some brilliant scenarios throughout the season as well as others where on reflection I probably got it wrong, but it continues to be a learning process.
Our pre-game routine focuses heavily on these aspects where Luke brought in an opportunity for everyone to share their fears pre-game as well as a gratitude circle after this. Everyone has evolved throughout the season with these fears and gratitude's becoming more personal and linked away from Futsal. I felt my ability to share things only my closest family knew towards the end of the season, others would share and break out in tears, leading most of us to follow suit.
Seeing that before the final I knew what impact it had had on all of us and knew we were better men and better connected because of it.
FF: Charlie, when you agreed to merge Pro Futsal London with Bloomsbury Football Foundation, was it a leap of faith? And, looking back, what pivotal points stand out in the past two years that have brought you to this point in Bloomsbury Futsal's development?
CH: I wouldn't say it was a leap of faith. I knew how good Jon and Juan were due to being a part of the amazing project they had built. There were some practicalities to iron out, but it wasn't a hard decision to make. I wouldn't say there have been pivotal moments that have got us here, it's been consistent hard work and dedication with clarity around the objectives that is what has made us successful. You don't keep your teeth clean by brushing them for an hour once a week, you do it by committing to 2 minutes a day every day over a long period of time.
FF: Mary, as the only female coach involved in men's futsal in England, can you share your experience in the men's game and how it differs from women's futsal? What does this season's success mean to you, and how has being part of the Bloomsbury Futsal set-up benefited you as a coach?
MP: I have loved this season. I became involved in Bloomsbury men's futsal just after Christmas, stepping into a team I'd known of for many years. Bloomsbury is also the only club in England with teams from T1-T3 in the men's game.  It has pretty much been a dream opportunity to see these boys play with an average age of 17.5, making a frankly difficult transition to the men's game. For example, a newcomer at 16-year-old competing against a 35-year-old is not easy when he potentially has many years of futsal experience as an 'edge'. I was with them, living the transition myself and seeing my son, and the boys' parents do the same. There is huge team spirit from the boys and their families, which is fantastic to take into next season.
Conscious the boys aren't used to having a female manager in futsal but they have been incredibly accepting of my involvement and our 12-game winning streak has of course cemented our relationships!  My son's approval of my game management is an added bonus and to share this experience with him. Most of the boys knew I never believed I would have a chance like this so I am living what has turned out to be 'my best life', thanks to Jon.
My first experience in the women's game this season was with Stevenage Women as co-Head Coach with Mario Petruccio but it is not a dissimilar story to the men's team – amazing people, team spirit,  passion and also a team started by women for women (making it a very unusual project which I could not have resisted being part of!).  Thanks to Becky Scott for encouraging me.  A total pleasure to be part of and Topping T2 in the club's first year, made this a very special year.
The question of how men's and women's futsal differ is an interesting one and I actually can't make a direct comparison as the ages and experiences of the boys and women differ so greatly in these examples.  I can say that in team spirit, hard work, humour, dedication, and passion/ emotion, I couldn't separate them.
In the men's game, I used opposition behaviour as motivation, anyone calling me 'darling' was not going to win easily.
In terms of coaching, I have learned that you must be yourself in personality, and that brings authenticity rather than copying someone else's style. Also, teamwork, with both Jon and Mario can be very effective in planning, working through ideas, challenging each other, and getting to the best outcome for the team.
This year and the doors that opened have hinged on people willing to take a chance and offer an opportunity to someone who may not fit a traditional mold, but I will pay it forward and continue to do all I can to improve myself as a coach and be part of all aspects of this great community.  I realise a woman with an opinion in a male-dominated sport can be hard to accept for the old guard but having started out studying law I look for fairness and equality, and in futsal, I have found it.  Perhaps, most surprisingly, in the men's game this year.
FF: Looking ahead, what changes are needed for futsal to thrive in England, considering the articles on Futsal Focus regarding Brazil's recent visit and the issues discussed in "Has the pendulum swung in English Futsal" article, in terms of leagues and club development?
CH: Funding, Funding, and Funding. There are a lot of people with great intentions and ideas, trying to make things happen but without funding, it can't be done. Setting up and growing a league is the same as setting up and growing a business. You need funding to employ people, to invest in content to build an audience, to bring in commercial deals, and currently neither the NFS nor England Futsal have the resources available to them to cover the mere basics. The NFS and England Futsal are doing an excellent job with incredibly limited resources and in my opinion, the clubs should be more supportive of the work being done, especially when it's nearly entirely done on a voluntary basis. The sport will only change materially if we can attract significant, sustainable investment which requires a clear business case and route to profit.
FF: What are your hopes for Bloomsbury Futsal's future, and what developmental steps do you believe are necessary if the club progresses to the main round of the UEFA Futsal Champions League?
CH: We will continue to improve what we do and the programmes we run with the resources available to us. Our youth programme is vitally important, and we hope to continue to see exciting talent coming through our boys' and girls' academy teams. It is obviously important for us to think about Bloomsbury Futsal and how we improve but, what's more important is to think about how we can influence the wider ecosystem of clubs, leagues, governing bodies, sponsors, etc. to grow the game as a whole. Growing futsal as a sport as a whole, is the best way for us to take Bloomsbury Futsal to the next level. Progressing to the main round of the UCL would be incredible and we will of course put in many hours to prepare as best we can – as Juan said, our chances are heavily dependent on the draw!
JK: We should simply enjoy the experience! This will be our first time, and it's easy to feel overwhelmed by expectations. I have full confidence that the team, under Juan's guidance, will perform spectacularly. If we can showcase our brand of futsal and philosophy, I will be immensely proud. This experience will only benefit us.
FF: In my final question, I'd like to discuss the future of international futsal in England. Bloomsbury provided six out of twelve players who competed in the recent U19 Futsal EURO. Although they may never represent the national team again. What are your thoughts on this, and how have the players felt since returning from the competition?
JK: First, congratulations to the players for making it to the tournament. People often overlook the countless hours of hard work and dedication these players put in to improve themselves and show up when it's easier not to. There should be a pinnacle for futsal in England, something to strive and aspire for. Just as youth players need regular games to stay motivated (an area that requires significant work), the same applies to playing futsal at the highest level in England. I believe there will be a pathway, but for the players who gave their all in Italy under the guidance of Sion Kitson and others, there's no use worrying about things beyond their control. As a community, we have a responsibility to provide these opportunities to players in our sport. The best players deserve the best platform to play on!
JTO: The return of the u19s was a huge step forward and a bonus for the community and players who probably didn't expect it after the initial stopping of the programme. It is a memory and experience for them that no one will ever be able to take from them even if they don't go on to represent England at a senior level. Hopefully, it does continue and allows for clubs to work alongside England Futsal in the development of both younger and senior players as well as a pathway to aim for.
The challenges of International Futsal, from working in a camp environment to playing 3 games in 5 days, will have made them better players and people. They were in good hands with Sion and the England Futsal team allowing them to return 'ready' for the next step. I hope a lot of them do now continue their futsal journeys at the most crucial years of their development, now is when they can really thrive by going to university and complementing their club training with university training to give them the best possible chance of developing and being 'ready' if the senior National teams did return.
Author of interview
Stephen McGettigan was born in the Republic of Ireland but grew up in Belfast. He is the founder of Futsal Focus, a Football Industries MBA graduate from the University of Liverpool Management School, and he has worked in the Football and Futsal industries for 15 years.
You can read more articles about domestic futsal by going to the top navigation bar or by clicking here
If you like this article and would like to keep updated on Futsal news, developments, etc then you can now follow Futsal Focus via Google News by following our page which will send you an alert as soon as we publish an article so please click here and follow us on Google.
You can also keep updated on Futsal news, developments, etc then please submit your email below in the Subscribe to Futsal Focus option.
Follow Futsal Focus by clicking on Facebook, Twitter, or Instagram or on the social media buttons on the website.