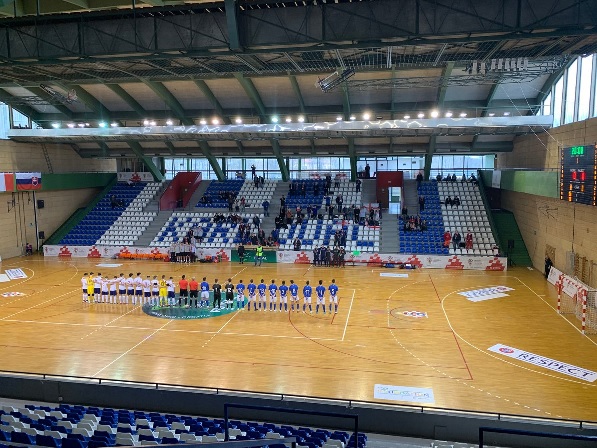 Estimated reading time:2 minutes, 8 seconds
England made English/British Futsal history today by beating Italy 1-2 in the main round of the UEFA Futsal U19 EURO qualifier in Croatia. This is the best result for England at any level, England took the lead through Cheshire Futsal Club player, Jordan Deer but Italy replied minutes later through Simone Achilli but they secured their victory when University of Nottingham Futsal player Jared Rand scored in the last minute. Both clubs will be extremely proud of their players as will the other clubs whose players are involved and representing them in this team result.
The players have given themselves every opportunity to make it to Latvia for the main competition in September this year. Their coach Pete Vallance, his staff, the England senior set-up and Graeme Dell who sits on the English FA Council as the Futsal representative and travelled with the squad will be proud of the players on this achievement and no matter what happens in their final two fixtures. The team still has two tough matches ahead and will compete against hosts Croatia who defeated Slovakia 6-2 today, whoever wins this match will most likely win the group.
Twitter has exploded with congratulations for the team which they fully deserve but there are so many unnamed people who have contributed to the development of these players and Futsal Focus congratulates them.
You will be able to watch England second fixture against Croatia via the link below.
The England squad for the tournament is:
Jack Walsh – London United Futsal Club
James Black – Genesis Futsal Club
Joe Bickerstaffe – Tranmere FC
Jared Rand – University of Nottingham Futsal
Ollie Whaley – University of Nottingham Futsal
James Dirkin – London United Futsal
Mikey Bulmer – York City Futsal Club
Matt Overton – York City Futsal Club
Rayner Silva – Scunthorpe United FC
Drew Hodgson – Newcastle Futsal Club
Henrique Do Carmo – London United Futsal Club
Jordan Deer – Cheshire Futsal Club
Liam Hunt – Genesis Futsal Club
Lawson Mcarthy – Wigan Futsal Club
If you like the information provided, you can read more articles about International Futsal by going to the top bar navigation or click here
If you like this article and would like to keep updated on Futsal news, developments etc then please submit your email below in the Newsletter section or by clicking on the Subscribe to Futsal Focus option on the header.
Follow Futsal Focus by clicking on Facebook, Twitter or Instagram or on the social media buttons on the right sidebar.