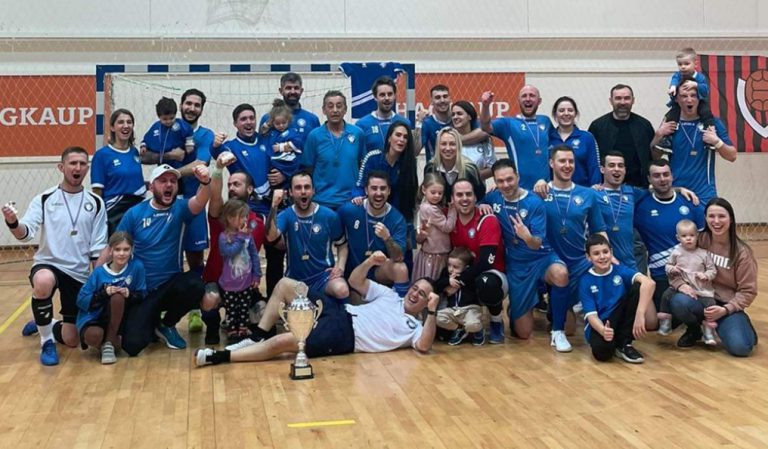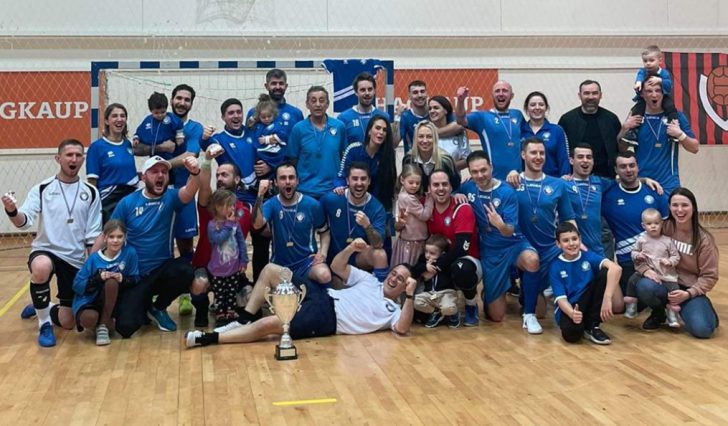 Estimated reading time:13 minutes, 33 seconds
Iceland has had futsal for over 15 years, and in 2011, the Football Association of Iceland (Knattspyrnusamband Íslands – KSI) entered a national futsal team into the UEFA Futsal EURO 2012 preliminary round qualifiers.
Main picture source: The Football Association of Iceland
For their first steps onto the international stage, they achieved respectable results for a developing nation drawn in Group B as hosts with Greece, Latvia, and Armenia. The team finished in second place to Latvia, losing 5-4 to the Latvians. However, they defeated Greece 4-5, and Armenia 6-1 which were fantastic results for any developing futsal nation, especially against Armenia, who are a formidable opponent, even to this day. Unfortunately, KSI decided to not enter another team and cancelled their national team. At this time, Iceland had a history of 5 a-side (with boards), the country used to have indoor competitions (similar to Germany) which attracted large crowds and were broadcast on TV, but our sources in Iceland tell us that at that the 11 a-side industry didn't want to focus on the 5 a-side format, at that scale, so with dwindling backing, it fell away.
Today, 11 a-side is king, the Association has invested heavily in indoor and outdoor 3g pitches, etc for 11 aside and uses small-sided versions of football (5, 6, and 7 a-side) with a focus on player development rather than competitive or career opportunities. The Association has credited its player development success on investment in indoor facilities and at schools as the vehicle which drove their success in player development. In addition to helping to develop the golden generation who went on to defeat England in Euro 2016. Due to their success, and a lot of interest in how such a small nation can compete with big markets, the Association released a document stating:
Since the year 2000, football infrastructure in Iceland has taken giant leaps, and the facilities Icelandic football players (young and old) can now train and compete in our top class, all year round. Football halls, either with full-size or half-size pitches, give shelter from the winter weather when necessary. Artificial pitches in high numbers, with undersoil heating and floodlights, mean the days of the frozen gravel pitches of the past are long gone. In total, there are 179 full-size pitches in Iceland (natural grass or artificial turf, outdoor or indoor) which means that there are around 1.800 inhabitants in the country for each full-size pitch. In terms of registered players only (23.000), there is one full-size pitch in the country for every 128 registered players.
Mini pitches have also been built all over the country, mostly next to schools. The aim was to give children a chance to play football, purely for fun, in good and safe conditions – school ground, artificial pitch, walls around the pitch, lit with floodlights wherever possible. In short, these mini-pitches have been in constant use ever since they were built.
Some statistics:
Indoor artificial pitches (football halls) in full size = 7
Indoor artificial pitches (football halls) in half size = 6
Outdoor artificial pitches in full size = 24
Outdoor artificial pitches in half size = 6
Outdoor mini-pitches with artificial turf = 154
Outdoor natural grass pitches in full size = 148
With a strong interest in player development and investing in mini-pitches albeit outdoor pitches, it is interesting that the association has had a haphazard relationship with futsal on the international stage and domestically even though they have shown such great promise despite their lack of futsal infrastructure for coaching and facilities. Furthermore, this is a country focused on player development so why they wouldn't recognise the benefits of futsal as a player development tool at a minimum which most associations around the world are starting to do. The association's current outlook on futsal and futsal in Iceland makes no sense. Icelandic futsal should be much more developed when you take into the period of time that the association has taken part in futsal competition. Plus, with 154 mini-pitches with artificial turf, yes not the best surfaces for futsal, but we should use what we have until we get the right facilities, the sport's development should not be stopped or put on pause due to this.
In the UEFA Futsal Champions League, Iceland has entered a representative team inconsistently. Since 2001, there have been 22 competitions and in that time they have taken part 8 times. They were first represented by Viðir Garður (2008-09) then Hvöt Blönduós (2009-10), FC Keflavík (2010-11), Fjölnir (2011-12), Víkingur Ólafsvík (2013-14 & 2015-16), Vængir Júpiters (2019-20) and FC Ísbjörninn (2022-23). The highest ranked position so far was Víkingur Ólafsvík in the 2015-16 season, finishing in third place with group winners Hamburg Panthers (Germany, they lost 5-3), KF Flamurtari Vlorë (Second place – Albania, they lost 1-5) and in fourth place, FC Differdange 03 (Luxembourg, winning 8-5). These again in comparison to their international efforts are decent results against other developing nations.
Recently, I attended the Iceland Futsal Championships Finals which took place at Safamýri 26, 108 Reykjavík. The competition was won by Ísbjörninn who defeated Árbær 8-6 in the final. This is the second year in a row that Ísbjörninn has won the title and they will represent Iceland in the 2023-24 UEFA Futsal Champions League. Ísbjörninn were ahead 6-4 at halftime, but Árbær fought their way back into the match, however, Ísbjörninn put the game out of reach in the dying seconds extending their lead, securing the Championship and defending their title.
The game was well attended and the atmosphere was very good. Ísbjörninn on their way to the final beat Vængi Jupiter in the semi-finals 5-2 and Árbær narrowly secured their place in the final against Leikni/KB.  Both semi-finals and the final were action-packed and showed the passion of all teams who gave it their all to try and win the competition.
At the finals, I spoke with FC Ísbjörninn Head Coach Joaquim Carvalho who is from Portugal but has lived in Iceland for 18 years. We decided to do this interview to give Futsal Focus an insight into Icelandic Futsal.
FF: Joaquim, can you start by giving our readers an insight into your background in futsal, your experience, coach education, and what took you to Iceland?
JC: What brought me to Iceland was in fact, not futsal, but my professional life, as a welder at HS ORKA, then my passion for futsal made me accept the challenge to be the coach of Isbjorninn FC. Everyone at the club, from the players, and technical team to the President, we all have professions outside of our passion for futsal. We have good athletes with great talent, some of them with a lot of experience that has led us to win titles and that makes me proud to lead them. My coaching experience began with what I learned from my father, and as an athlete but not at a professional level. Where you also learn a lot is at an amateur and the level, I am coaching at is the amateur level. However, it is my intention to continue my coaching education because there is always something to learn. There is a quote from the Moneyball movie from Mickey Mantle who played his entire career at the New York Yankees that I like, he said, "It's unbelievable how much you don't know about the game you've been playing all your life."
FF: How long have you been involved in Icelandic Futsal? How long is the season, and, what do you feel is the general attitude towards futsal by the Football Association of Iceland?
JC: I've been involved in Icelandic futsal for six/seven years and when I started, I trained the goalkeepers at another club and was an assistant to the coaches. But, this new challenge of being the head coach presented itself, and I decided to take it and it has been an incredible experience. I love working with my players. The Football Association of Iceland needs to change its attitude/outlook about the Icelandic futsal championship. I say this because the competition has good athletes and each year it is getting more competitive. They should create a futsal league that runs from October to May, I think it's wrong to have the championship between November and January with a group stage, quarterfinals, semi-finals, and the final. Now, we have long months of waiting to compete again. The next time we will have a competitive game will be in August in the UEFA Futsal Champions League which leaves my team with a lot of anxiety, it's not good because they want to play well, they want to arrive at the competition feeling that they are prepared. The team needs to have had enough playing time in order to perform at the level they can be proud of, even if we lose our matches. The break between the Championships is too much in my opinion, yes we can train, but without competition, it's not the same thing for players, friendlies are great but a full season under our belts would be much more beneficial.
FF: Iceland is the perfect environment for futsal with cold temperatures and an Association focused on young player development. What do you think is preventing futsal's development? Do you think the sport's potential growth in popularity threatens football due to Iceland's small population?
JC: Futsal is growing more and more in the world but unfortunately in Iceland, they don't look fondly on our sport, most people I talk to don't even know what futsal is because it doesn't get any air time in the news, for example, we were champions two years in a row and not a single local newspaper reported anything.
I know there are people who feel Football is threatened by Futsal, but I question how prevalent that type of attitude is especially as many people, even within football, don't know what futsal is. What I think is that those who like football will continue to play football and those who like futsal will play futsal, that may sound too simple but it's what I think because not everyone who plays football can necessarily play futsal and vice versa. The problem is the championship, the athletes want to compete, but the onus always falls on football because they have no other option but to play football when no league or competitions at all are created for them outside of the short futsal championship schedule. Iceland has a small population, but I don't think that's the reason why futsal is in the background. What football has to understand is how the sport benefits them whilst benefiting us, it improves their player development whilst opening our sport to a bigger pool of players. Unfortunately and football has to acknowledge this, we lose players every year in academies and in general, at the age of 16 to 21, and in my opinion, a lot of these players are talented but their talent is suited to futsal but they are never given the opportunity to play and they are not supported in that sport and this is wrong. Football should provide options within the footballing format, and that option is futsal. This is about opportunity and we should give our young players every opportunity to succeed in the sport that they enjoy and the sport which is best suited to their skill set.
FF: What was your recent experience in the UEFA Futsal Champions League with FC Ísbjörninn like and how do you think you can improve on your previous performances?
JC:  My experience at the UEFA Futsal Champions League was very good, we learned a lot so that this year we can do better. For a team who are all amateurs, to play at that level is fabulous and I am happy for my players to be able to return because I know they have the talent and skills to compete at the preliminary round. And, when the Champions League anthem comes on, you can see how much it means to the players, it's a wonderful experience. I want them to get all the support they deserve and any team from Iceland who may follow us to the competition deserves the same. At the end of the day, we are representing Iceland and we should do the best we can for the nation we are presenting whether it is at the club level or international level. But, we can only do that with the Association's help first and with their help to build a strong foundation, then the mantle is passed to us, the clubs, but we can't drive the development of Icelandic futsal alone.
FF: You recently won the Icelandic Futsal Championship; you said you feel the competition improved since last year, why do you feel this way and are more clubs getting involved?
JC: Yes, I thought there were definitely improvements in the other teams, they were much more competitive, you can see that their knowledge of futsal is increasing, they were better prepared, and I felt it was a lot more competitive. We had to sweat to reach our final target, but I do feel the next championship will get even harder to win but that is an exciting challenge. Like every country, the refereeing could improve, and that will only happen with the establishment of a futsal league supported by ongoing futsal referee education. There are more opportunities now for futsal referees to officiate in UEFA and FIFA competitions and now also in the Youth Olympics. The Football Association of Iceland should be giving their people every opportunity to succeed in the pathways made by UEFA and FIFA whether that is as a player, coach, or referee.
This video is FC Ísbjörninn being presented with their medals and trophy
FF: Do you plan to take your UEFA B license in Futsal and how would you like to use this experience to help Icelandic Futsal, if given the opportunity?
JC:  For sure, by educating myself I give my players more tools to develop and enjoy futsal by improving their knowledge of the game as well. Winning is, of course, the aim of any sport but developing people should be the objective of a coach and if he or she does their job right then winning will hopefully be the outcome. But, winning isn't always on the court, winning is seeing your players become good people, seeing them use the knowledge they receive and apply it in more than one way in their life. Helping them to potentially move on to better opportunities or igniting their interest/ desire to want to be a futsal coach and assist with developing younger kids, and even giving up time to assist with the development of the club. This is a mentality I wish more coaches had, focusing on developing a person first and a player second, building a team atmosphere that is about support, empathy, encouragement, and like a second family. With the right atmosphere/ environment supported with the right facilities and education, anything is possible and that is what I want to give my players, so will I do my UEFA B Futsal License? I will. It is my goal to be the first person to have a UEFA B Futsal License in Iceland and to encourage other coaches to do the same so we can collectively help to do our part in developing Icelandic Futsal in this beautiful country.
You can read more articles about domestic futsal by going to the top navigation bar or by clicking here
If you like this article and would like to keep updated on Futsal news, developments, etc then you can now follow Futsal Focus via Google News by following our page which will send you an alert as soon as we publish an article so please click here and follow us on Google.
You can also keep updated on Futsal news, developments, etc then please submit your email below in the Subscribe to Futsal Focus option.
Follow Futsal Focus by clicking on Facebook, Twitter, or Instagram or on the social media buttons on the website.