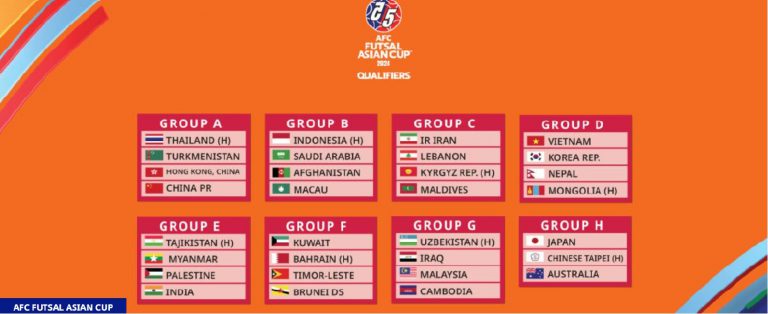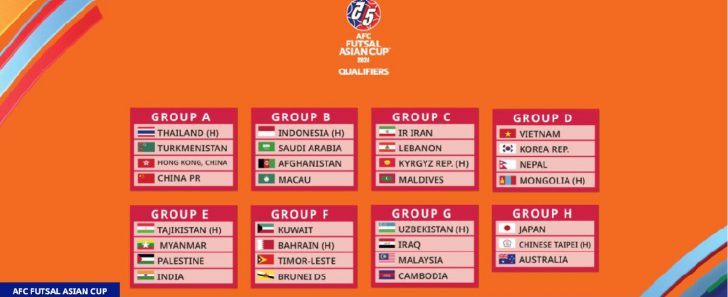 Estimated reading time:5 minutes, 40 seconds
The journey to defend their AFC Futsal Asian Cup™ title begins for the defending champions, Japan, in Group H of the 2024 Qualifiers. Meanwhile, the Islamic Republic of Iran are aiming for their 13th crown and will commence their campaign in Group C.
Main picture source: AFC website
A total of 31 teams were drawn into eight groups for the qualifiers, where the eight group winners and the seven best second-placed teams from all groups will secure a spot in the AFC Futsal Asian Cup™ 2024.
These 15 teams will eventually join the Host Member Association (MA), which will be determined at a later stage and will receive an automatic qualification, completing the final lineup for the tournament.
The Qualifiers' draw took place at the Asian Football Confederation (AFC) House in Kuala Lumpur, Malaysia, on Thursday. Group A consists of hosts Thailand, the 2008 and 2012 finalists, Turkmenistan, Hong Kong, China, and China PR.
Group B comprises hosts Indonesia, Saudi Arabia, Afghanistan, and Macau, while Group C features IR Iran, Lebanon, hosts Kyrgyz Republic, and Maldives. Indonesia has become a prominent figure in the world of futsal. Despite having a long-standing history with the sport, it has experienced a surge in popularity in recent years, futsal has truly taken off in the country. The presence of renowned futsal legends has contributed to this growth, with players like Ricardinho, a futsal legend, currently showcasing his skills for Pendekar United. Additionally, Rico Zulkarnain, Wales' first-ever professional futsal player, has joined the team as well. Exciting news recently broke in Indonesia for futsal enthusiasts, as another legendary figure, Falcão, is set to become an ambassador for futsal and football events in the country. Falcão's arrival in August will undoubtedly create a buzz, as he is expected to participate in various futsal events nationwide, leaving fans eagerly anticipating his performances. The combination of rising popularity, the presence of talented players like Ricardinho and Rico Zulkarnain, and the upcoming arrival of Falcao as an ambassador signify the remarkable growth and increasing recognition of futsal in Indonesia.
Indonesia boasts a thriving professional futsal league that attracts a substantial number of spectators. In the most recent AFF Futsal Championships held in 2022, the Indonesian national team delivered an exhilarating performance against Thailand. Despite a thrilling 2-2 draw and holding a 2-goal lead well into the second half, Indonesia, unfortunately, conceded two late goals and eventually lost 3-5 in a penalty shootout.
Furthermore, in the last AFC Asian Futsal Cup, Indonesia demonstrated their competitiveness by finishing second in Group C, behind futsal powerhouse, Iran. Progressing to the quarter-finals, they faced off against the eventual competition winner, Japan, in a highly competitive match. The first half remained tight, but the second half witnessed a total of 5 goals. Although Indonesia took an early lead, Japan rallied back to score two goals, leaving Indonesia with a late response that fell short, resulting in a 2-3 defeat to Japan.
These recent performances by the Indonesian futsal team have instilled a great deal of confidence within the nation. With their strong showings against formidable opponents and their ability to remain competitive until the final moments, there is much anticipation surrounding Indonesia's potential achievements in future competitions.
In Group D, Vietnam and the Korea Republic, who reached the final in 1999, will compete against Nepal and hosts Mongolia for a chance to advance. The grouping is advantageous for the Vietnamese team as South Korea, Nepal, and host Mongolia have lower ratings compared to Vietnam. This gives Vietnam a favorable position in the group.
For many years, Vietnam has been steadily improving as a futsal nation. While they may not be considered a powerhouse on the international stage, they have made significant progress and achieved notable successes. Vietnam's national futsal team has shown competitiveness and determination in various regional and international tournaments. They have demonstrated their abilities by consistently qualifying for major competitions. The nation is now managed by the 2016 FIFA Futsal World Cup winning coach with Argentina, Diego Giustozzi, and will be aiming to improve on past performances.
Meanwhile, Group E consists of Tajikistan, Myanmar, Palestine, and India, all aspiring to succeed in the upcoming AFC Futsal Asian Cup. This tournament marks India's debut in the prestigious event, and in preparation, the All India Football Federation (AIFF) has unveiled a list of 31 players who will participate in a pre-camp dedicated to the AFC Futsal Asian Cup qualifiers. The provisional squad was chosen based on their performances in the recent Heros Futsal Club Championship. While the nation eagerly awaits the announcement of the team's leader, we have reached out to the AIFF for comment; however, they have not disclosed any information about the leadership position
Group F consists of Kuwait, hosts Bahrain, Timor Leste, and Brunei Darussalam, while hosts Uzbekistan and four-time runners-up, Iraq, Malaysia, and Cambodia form the cast of Group G. It will be interesting to see how Kuwait performs in the competition. They have been investing in the development of futsal infrastructure and facilities. This includes the construction and improvement of futsal courts and dedicated training centers to support the growth of the sport. There has also been a focus on player development initiatives to nurture and enhance the skills of local futsal players. This includes training programs, academies, and talent identification efforts to groom talented individuals for domestic and international futsal competitions.
Group H features a three-team lineup with Japan and hosts Chinese Taipei and Australia. The Futsalroos (Australia) made their long-awaited return to international competition at the AFF Futsal Championship 2022 in Thailand. This marked a significant milestone for the team, as it was their first participation in an international tournament since 2019.
The Qualifiers for this group will be played from October 7 to 11 of this year.
The official match schedule can be found via this link: https://assets.the-afc.com/2024_AFC_Futsal_Asian_Cup/Qualifiers_Draw/Downloads/AFC-Futsal-Asian-Cup-2024-Qualifiers-Official-Match-Schedule.pdf
Author of interview
Stephen McGettigan was born in the Republic of Ireland but grew up in Belfast. He is the founder of Futsal Focus, a Football Industries MBA graduate from the University of Liverpool Management School, and he has worked in the Football and Futsal industries for 15 years.
Futsal Focus
You can read more articles about international futsal by going to the top navigation bar or by clicking here
If you like this article and would like to keep updated on Futsal news, developments, etc then you can now follow Futsal Focus via Google News by following our page which will send you an alert as soon as we publish an article so please click here and follow us on Google.
You can also keep updated on Futsal news, developments, etc then please submit your email below in the Subscribe to Futsal Focus option.