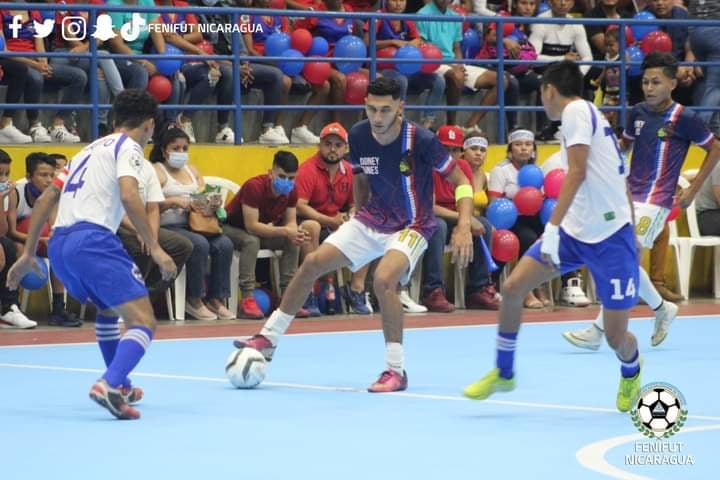 Estimated reading time:6 minutes, 37 seconds
The CONCACAF Futsal Championships which also act as the qualifiers for the FIFA Futsal World Cup will take place in May in Guatemala this year. Therefore, ahead of the competition, Futsal Focus reached out to contacts in the region to learn more about futsal developments happening there.
Recently, we spoke with Duilio Gustavo Gimondo, the Director of Futsal for ​​the Dominican Football Federation, and adviser to the President. However, this article takes us to another country in Central America, Nicaragua. Up until recently, Nicaragua was a country we knew little about in relation to futsal. When our futsal connections in the region spoke about futsal they would often mention countries such as Guatemala, Honduras, or Costa Rica along with Trinidad & Tobago due to the increase in activity there. However, recently on social media Nicaragua came to our attention due to a match that took place there at the Polideportivo España Arena on January 24th, 2021 which was the 1st leg of the Apertura 2020 Final between Juventus FC vs Cheyenes FC.  As you can imagine, this came as a bit of a shock to us due to seeing thousands of people attending a final in a country we hadn't heard about in terms of futsal development. Futsal Focus reached out to the head coach of Juventus and the national futsal team, Roger Hernandez to learn more about futsal and its development in his native country.
FF: Roger, it is a pleasure to speak with you, and thank you for agreeing to this interview. To start, can you please tell Futsal Focus followers a bit about your background and how long have you been involved in futsal?
RL: I have been practicing this beautiful sport since I was a kid, here in Nicaragua we have a lot of neighbourhood futsal leagues.  When I grew up, I continued to play at University with their team in the Central American University Games (JUDUCA – Juegos Deportivos Universitarios Centro Americanos). However, I had a spine injury 7 years ago, so I could not play anymore, but I found a way to stay involved in the game and that is when I decide to be a coach. I started training the University team as the assistant coach, then a club in the first division called me and asked me to train their team. That year, we won both the summer and the winter leagues (Apertura y clausura) in 2016-2017, and we also won the national futsal championship. Due to this successful season, the Nicaraguan Football Federation (FENIFUT – Federacion Nicaraguense de Futbol) selected me to be their national futsal team head coach for the Central American Games in 2017.  In the competition, we won the 3rd place bronze medal, this was the first medal for a Nicaraguan futsal team in an international competition.
FF: Futsal Focus had not heard much about futsal development in Nicaragua. How long has futsal been played in your country, how popular is it, and how many people play?
RL: In Nicaragua, futsal has been played for a long time at a community level, leaning more towards recreational enjoyment because the national government built a lot of parks with futsal courts. However, how the sport is viewed is changing because a national futsal division was established in 2015, and in a short time, the sport's popularity exploded beyond just recreational fun. People here love futsal, I cannot say how many people play at community level but futsal is extremely popular so I would say the numbers are high. It is one of our most popular recreational sports.
FF: When we spoke, you mentioned that futsal development has increased in the past 5 years, can you tell us about this when it comes to the grassroots and national competitions, coach, and referee education?
RL:  Currently, there are 24 teams in the first division, each team can have 18 players in their squad. The league started with fewer teams and has been growing every year. Soon FENIFUT is considering to create a second division to accommodate more clubs because of the increase in demand. Since 2015, FENIFUT has delivered training courses for coaches and referees in the country.
FF: The final against Cheyenes FC, did you expect that many people? And, what is your club's development plans and ambitions for futsal?
RL: Absolutely not haha, I think everyone here was as surprised as you were, but I was very happy to see so many fans at the game, it showed the association, the region and the futsal world that 'Futsal is here' in Nicaragua. Since the final, my club, Juventus FC hopes to compete internationally with the futsal team against clubs at a higher level. Juventus FC's team entered futsal last year, and has teams in several other categories, including the men's football first division, youth teams, and in the second division of women's football. Even though we are traditionally a football club, we are working hard to develop the futsal section further.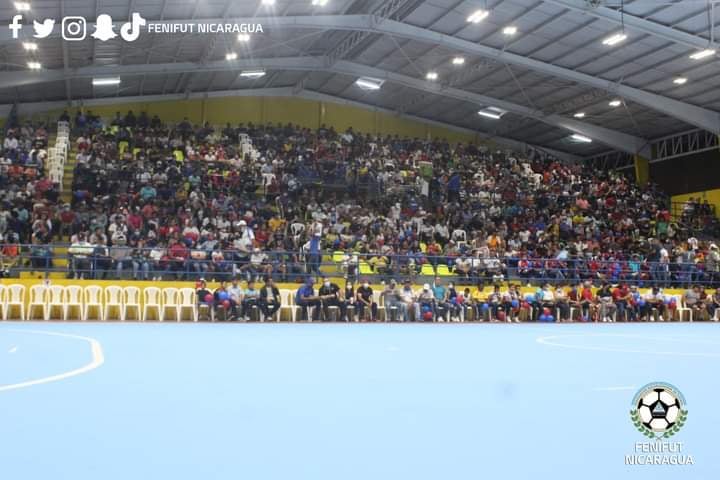 FF: What are the Nicaragua Football Federations plans for the sport to develop it further?
RL: I think I have addressed this question already at the club and domestic level but FENIFUT hopes to see the Futsal team grow and compete well at the international level. It is our plan to compete the best we can in the CONCACAF Futsal Championships/ World Cup qualifiers in Guatemala in May. By performing well, we can then look to develop younger age teams, so we have development pathways for players who want to compete at the highest level of futsal.
FF: You have been drawn against Cuba, the United States of America, and El Salvador. How are your preparations going for the CONCACAF Futsal Championships? And what are your goals for this tournament is it a learning and development experience or are you going to with the goal to win a place at the World Cup?
RL: We know about our rivals in this tournament, and they are strong teams, but we feel that we can compete with them. In Nicaragua, Futsal is just growing at the elite level and we don't have all of the conditions that other countries have, but we have a lot of talented players who have the desire to win. Our goal is to earn a place at the World Cup.
FF: Are there players in Nicaragua that you feel are good enough to being playing professionally?
RL: Yes, I think scouts from professional clubs should come to Nicaragua to see the players. This year, two players from the first division league have been selected to play with clubs in Costa Rica, and one of them is a player from my club. This is just the beginning; we believe as futsal grows in Nicaragua there will be more opportunities for the talented players we have here.
FF: What is the attitude to futsal like in the region to see futsal develop and prosper?
RL: I think there is a lot of interest from fans, coaches and players to see futsal grow, although the sport needs more investment and support from CONCACAF so the commercial sectors start to look at futsal more as well. This would lead to an increase in media attention which futsal, like any sport, needs to develop more.
You can read more articles about global futsal by going to the top navigation bar or click here
If you like this article and would like to keep updated on Futsal news, developments, etc then you can now follow Futsal Focus via Google News by following our page which will send you an alert as soon as we publish an article so please click here and follow us on Google.
You can also keep updated on Futsal news, developments, etc then please submit your email below in the Subscribe to Futsal Focus option.
Follow Futsal Focus by clicking on Facebook, Twitter, or Instagram or on the social media buttons on the website.