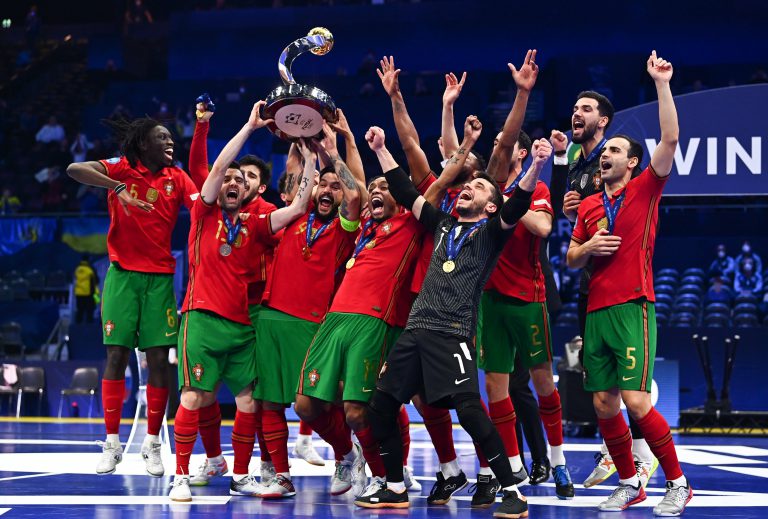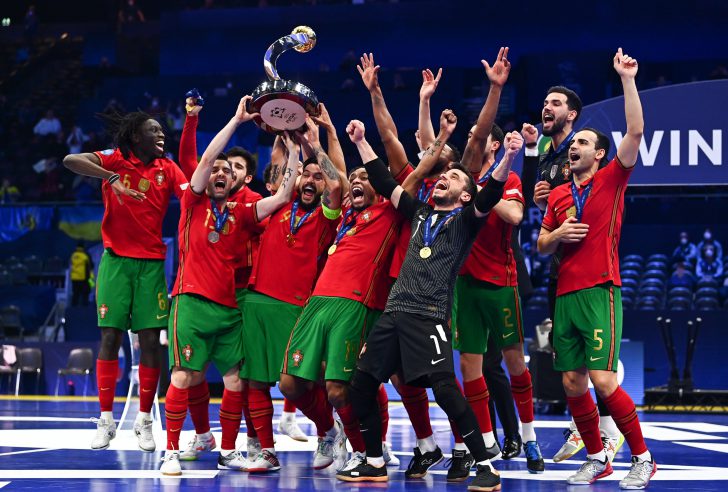 Estimated reading time:9 minutes, 19 seconds
Portugal maintained their spectacular success with a sensational comeback to retain the UEFA Futsal Euro trophy in the 2022 final in The Netherlands whilst Spain won the bronze medal for the second time.
2022 UEFA Futsal EURO finished on Sunday 6th February and we take a look back at the final stages of the tournament. The Portuguese team is the first team to overturn a two-goal deficit in a EURO final, and are now equal with Italy on two EURO titles, behind only Spain on seven, with Russia remaining on one after a heart breaking sixth final defeat. Surprisingly many doubted whether Portugal were capable of wining especially without the legend Ricardinho.  Jorge Braz's side were two goals down to Russia before staging an epic fightback to win 4-2 in Amsterdam's Ziggo Dome. Remarkably, they did the same just two days before to secure a victory against rivals and neighbours Spain in the semi-finals. Russia's Anton Sokolov scored after 10 minutes latching on to a Paulinho long ball before smashing it beyond goalkeeper André Sousa. A flowing team move led to Andrei Afanasyev doubling the lead for Russia.
The world champions were behind but they were about to pull of what no one had done before, Tomás Paço scored against the run of play, just when Russia looked like grabbing a third, to catch Dmitri Putilov off guard. Unable to properly deal with a powerful André Coelho strike, Putilov put the ball into his own net to level the scores. As mentioned, no team had ever won in the final after going two goals down, but the World Cup winners started to believe when Coelho was credited with a goal of his own after tapping in a Miguel Angelo cross at the far post. Pany Varela, who scored the World Cup winning goal last year in Lithuania, robbed the ball from Chishkala before dibbling into an empty net with one second remaining. Jorge Braz, Portugal's head coach spoke to the press after the game, said:
"I am very proud of all the work, very proud to see again the perfect example of how a team should be, and very proud to look into the eyes of our players, especially in the second half. Our players believed, that's what makes me most proud."
Skorovich after his fourth Futsal EURO and fifth major final loss, said: "I am very frustrated as we have reached a lot of finals and always played well but in these equal games, luck is not always on our side, as today. Obviously the luck was with Portugal. We are waiting for luck, maybe in the next tournament. Now they win it all."
André Sousa, Bruno Coelho, André Coelho, João Matos, Fábio Cecílio, Pany and Tiago Brito are all European champions for the second time, as is coach Jorge Braz. Abramov and Milovanov, as well as coach Skorovich, have the unenviable record of four final losses.
Retirement
There is much to celebrate about this tournament – and for us the performances of the 4 debutants (Bosnia & Herzegovinia, Slovakia, Georgia and Finland) in the UEFA Futsal EURO is one of them. 3 progressed (Slovakia, Georgia and Finland) to the knock-out stages, but Finland will be the talk of the tournament for many years to come. The nation finished second in their group against strong opposition which included Italy, Slovenia and Kazakhstan.  Reaching the quarter-finals of their first ever major tournament is a proud achievement but the strong performance they put in against eventual winners Portugal losing 3-2 will be a match Finnish futsal fans will never forget despite the loss. The team's FA also produced a short documentary to celebrate the history of futsal development in Finland which you can watch below:
When the competition was over for Finland, Head Coach Mico Martic announced that he was leaving his role as head coach, and Panu Autio, the country's captain announced his international retirement.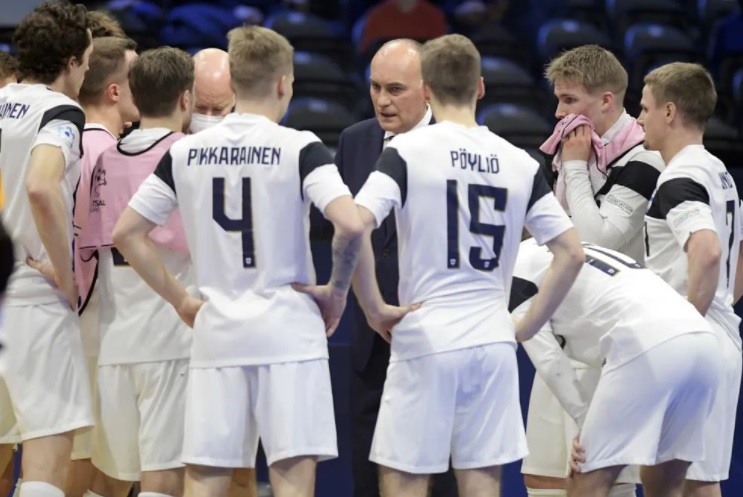 Speaking to the media after the match with Portugal:
Mico Martic Finland coach, who is stepping down after nine years and 101 games:
"I couldn't be prouder of my team and my players. I think this is the best way to go out of the tournament, if there is one. We lost against the European and world champions and Portugal have a phenomenal team. Everybody could see that today. We left it all out there on the pitch and maybe in the second half we were a bit tired but that's normal in a demanding tournament like this one."
Martić on Finland's future: "I think we have a bright future ahead of us. We managed to do this here with players who are not professionals so that says a lot about the way everybody is working hard to improve Finnish futsal even more."
Martić on Autio: "One of the most important people in the sport in the world – he has connections with everyone. He's number one in Finland futsal."
Panu Autio about the match and confirming retirement:
"Of course we are super proud. We improved during the tournament. It was maybe a surprise for many that we got this far. We believe now we have an identity, a different way of playing futsal, and we showed what a strong collective in futsal means. When you run well and press well, you can cause problems for any team. I am confident Finland can keep on improving."
"It's been a long journey. I've been with the national team for 16.years I played in a final tournament. A dream come true! This is something I always dreamed about. And I am happy I was able to experience this as a player."
"Now is the time for the younger ones to take the Finnish futsal team forward.  Nothing has happened by chance, we have been building this project with Mico Martic for the last nine years and before that. We have had a great boom in futsal participation and development because of it, and we have to make the most of it now. Of course, leaving the team isn't going to be easy, it is such a great feeling and experience to represent your country, and do what you love in a Finnish shirt. But, now is the time for family and other stuff."
Autio on Martić: "He's been such a great coach for us and a great person, a great leader. Always thinking about the team, futsal and the development of the players. The best coach I've ever had in my career. It's no coincidence that we are the team that has risen the most in the rankings in recent years."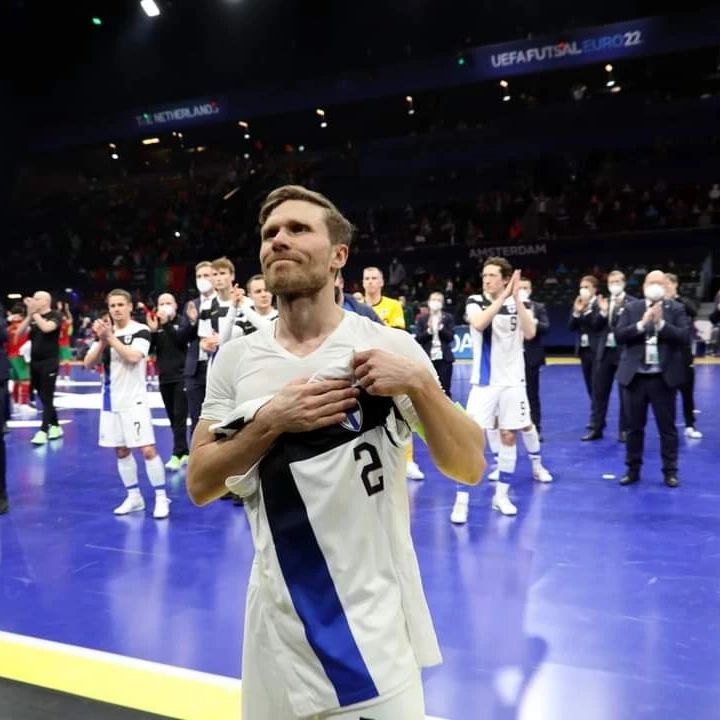 After the match, futsal legend Ricardinho, who finished his national team career a World Cup winner last autumn went to speak with Autio:
"He praised our team and work, and praised how we have developed. I asked how the retirement days have gone, and yes these were the last waltzes for me too. We can then work with him to see how we can help younger players in the future."
Autio is the player who has played the most national matches and scored the most goals in the Finnish futsal team, he is also Finland's first ever professional futsal player joining ElPozo Muricia's B team in 2010. He managed to represent his international futsal team in 149 matches and hit 101 national team goals. He considered the end of his national team career in December 2020 after losing the World Cup qualifier to Serbia. The captain of the national team was sidelined from the first games of the European Championship qualifiers, but played in the last two matches against Montenegro and Belgium.
Carlos Ortiz retires
At 38 years old, Carlos Ortiz played his last game for the Spanish team. His international career began in 2007 in Yekaterinburg, Russia, and his final  stop in Amsterdam in match 215 , which is 28 more than goalkeeper Juanjo Angosto.
Speaking with media before and after his final match, the third place play-off with Ukraine which they won to secure the bronze medal:
Ortiz, Spain captain: "It's not the match we wanted to play, we wanted to be in the final later, but for us it was important to get this bronze, it's always important to win for us. We came here to be champions, we had worked hard for it, but we didn't do as well as we wanted to. We have to give value to this medal, because in the end it's a bronze medal in a European Championship, but we're not leaving here satisfied."
"I would have liked it to have been in the final, but even so I am happy with the history that I have been able to live and we have to face it for what it is, the last game ", acknowledges the captain, whose memories accumulate in their final fixture: " It's an avalanche of experiences, games, teammates… many things and I prefer not to think about it and enjoy the game as one more . If they told me when I made my debut that I was going to reach 215 games, I wouldn't have believed it."
Ortiz reflects on his 15-year Spain career: "It's been many years defending my country, my national team, I have many feelings right now … In short, I'm proud and happy for everything I've achieved in these 15 years. I have given everything for my country and nobody can deny that."
Mellado on Ortiz: "What Carlos Ortiz has done is incredible, for me he is a reference point. Everything he has done, we can only thank him for in these 15 years defending the Spanish national team shirt."
For further discussion and review of the competition, check out this great article by Doug Reed on his personal blog:
Futsal Focus supports the Donate4Dáithí campaign
To follow the Donate4Dáithí campaign, you can visit their website here: www.donate4daithi.org  or on Facebook at: https://www.facebook.com/Donate4Daithi you can also donate money to their campaign at: https://www.justgiving.com/crowdfunding/donate4daithi
Learn more about the Donate4Dáithí campaign by going to our article 
here
Futsal Focus
You can read more articles about International futsal by going to the top navigation bar or click here
If you like this article and would like to keep updated on Futsal news, developments, etc then you can now follow Futsal Focus via Google News by following our page which will send you an alert as soon as we publish an article so please click here and follow us on Google.
You can also keep updated on Futsal news, developments, etc then please submit your email below in the Subscribe to Futsal Focus option.
Follow Futsal Focus by clicking on Facebook, Twitter, or Instagram or on the social media buttons on the website.