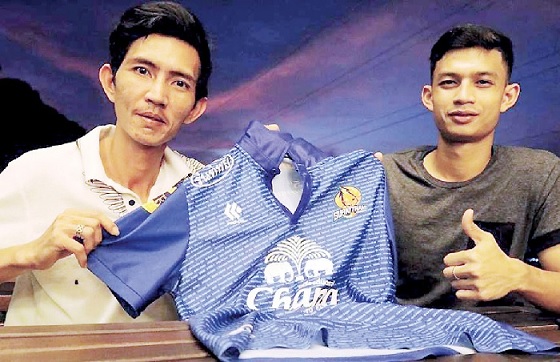 Estimated reading time:2 minutes, 20 seconds
Myanmar Futsal player makes history signing for Thai based Futsal club Surat Thani.
Myanmar's national and MIC futsal star player Khin Zaw Lin will soon be playing in the Thailand Futsal League after inking an agreement with the Thai based Futsal club Surat Thani.
He has signed a contract for half-a-season to play for the Futsal club that placed third in last season among 14 teams. The move was a big change for Myanmar Futsal because he became the first ever Myanmar Futsal player to play in a foreign country.
A product of Myanmar Imperial College (MIC) Futsal club, Khin Zaw Lin has made history. Myanmar Times sport writer Kyaw Zin Hlaing talked with him last week and here is an extract from the discussions with Khin Zaw Lin.
When did you start playing Futsal? Can you please describe your successes?
I have started playing Futsal since 2012. I was selected as a preliminary player in the 2013 SEA Games. I got the best player award in Myanmar Futsal Cup 2013. I won domestic league twice and three times champion in domestic knockout Cup with MIC team.
Why did you sign with Surat Thani Futsal club? Can you please elaborate about the contract?
Before Surat Thani offered this contract, they were watching my performances for about one month and they were happy with my skills and contribution so decided to offer me a contract for half-season until June 15. Actually, they wanted to offer me a contract for the full season but I have to compete at the ASEAN Futsal championship with MIC team. After ASEAN championship, we'll negotiate a new contract.
How do you feel about playing in a foreign country representing Myanmar?
I'll have to work hard to improve. I must try to be better than their local players and the have other foreign players. I have to compete at the same level of performance as them.
Are you excited about playing in the Thailand Futsal League?
Thailand is a strong Futsal country and I hope to get a lot of experience playing there. I can learn a lot, test my talent and I have to improve both technique and fitness.
Now you are a pioneer for Myanmar Futsal, have you any message for younger players in Myanmar?
Try harder while always learning. If you have dreams, make your dream to come by being true to yourself.
Source: Myanmar Times
To see more global futsal news go to the main navigation top bar or click on this link: http://bit.ly/2Iw7nyP