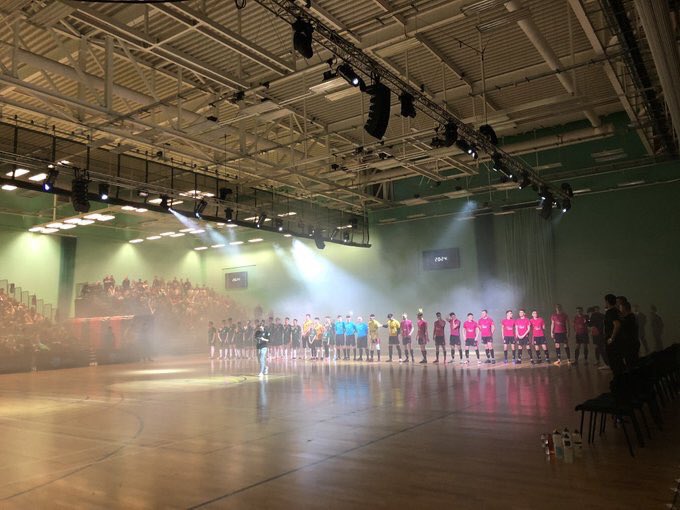 Estimated reading time:2 minutes, 2 seconds
Congratulations to the University of Nottingham Futsal Club on winning the Varsity Futsal 2019 event.
The University of Nottingham Futsal Club were 4-1 down against their rivals Nottingham Trent University. However, they fought back with 5 second-half goals to win the Men's Varsity Futsal 2019 event, 6-4!
Nottingham Trent University was aiming for a third win in a row and looked on course to do so. But, The University of Nottingham has had a terrific season under their head coach Marc Forrest and the belief he has instilled in the club is clear for all to see.
Futsal Focus reached out to both Universities ahead of last night's event and had the opportunity to speak with David Tapia-Owens Head of Futsal at Nottingham Trent University, you can read his interview here:
https://www.futsalfocus.net/nottingham-varsity-futsal-2019/
We spoke with Marc and will publish an interview soon looking at the fantastic season at the University of Nottingham.
Compliments and appreciation for the work that Marc has done appeared across social media from the FA, coaches and fans:
This event shows that Universities can take a leading role in the development of Futsal in England and the U.K. and will be an important partner to the FA going forward to develop a strong grassroots foundation and the Futsal community/ fans.
FA National Futsal League clubs also work hard to put on events, FC Salisbury United Futsal are an example of that. However, this event put on by both Universities in Nottingham shows what the sport can look forward and what clubs can aim for. This opinion is also supported by Damon Shaw former Tranmere Rovers Futsal Head Coach and now coaching in Malta:
Pictures and video was taken from the Twitter accounts of both University Futsal Clubs.
If you like the information provided, you can read more articles about grassroots and coaching by going to the top bar navigation or click here
If you like this article and would like to keep updated on Futsal news, developments etc, then please submit your email below in the Newsletter section or by clicking on the Subscribe to Futsal Focus option on the header.
Follow Futsal Focus by clicking on Facebook, Twitter or Instagram or on the social media buttons on the right sidebar.