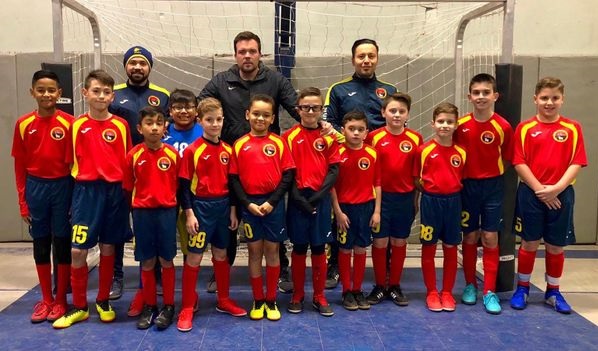 Estimated reading time:6 minutes, 35 seconds
Three select teams in the Spanish American Football Academy (SAFA) are going to get a taste of what it's like to be a professional athlete in Spain, playing Futsal and working with professional trainers.
The Warriors, which consists of players born in 2008, the Spartans (2006), and Barca (2005) are heading to Barcelona on Feb. 14 to play Futsal against the local competition, work with professional trainers, and even watch FC Barcelona live.
"I did the itinerary and it's intense," said the director of SAFA Tom Delacy. "Basically it looks like you wake up in the morning, you have breakfast, you get on the bus to go train, after you do your training for three hours, you come back and have a snack, some downtime, then go with their families. By 5 p.m. we meet up again and we're back on the bus and we go to our games. We play three games a night, after the games then we can have our dinner and then we repeat. We're taking a day trip to Valencia where we'll have some training. So it's a really tight schedule and then when he head back we have our tournament."
But a professional athlete's main goal is to win every game, and that's not Delacy's true intentions.
"We want these guys to leave with an education," said Delacy. "I think that's the whole point of this. People think we're going to compete and try to win trophies, that's not why we're going there. We're going over there to learn. We're going to be taught so many new concepts and we're going to be able to apply these concepts against the highest level while they apply them to us. After every game, we'll be able to go back the next morning and work on it.
"I measure my success in the progression of the players. Understanding the concepts and executing those concepts. So you can lose the game, but if you showed that you understand and can apply the concepts, then we did our job, It's always the development over the win. What makes us distinguished is we really work on mental toughness. I want my guys to push past mediocrity. Being mediocre is a state of mind that we don't want here. And that's why we'll go to Spain. Sure, you're good here, but try it over there. They can lose every game over there that's not the point. The experience of another culture, the experience of being infused in that world and seeing that level of play and passion and hopefully that'll inspire them."
"Soccer is on grass, Futsal is when you play on a hard surface," said Delacy. "It's a 5-on-5 game with four field players and a keeper. It develops your technical skills four times faster. In places like Brazil, Italy, Spain, Portugal, the kids play Futsal and Football because the technical development is so important. So when they go outside, you take these confined areas and you transpose it onto a Football pitch and it's easier for them to control. For us, even when we're playing football outside, you play futsal every Thursday."
The group lands in Barcelona on a Friday and will watch FC Barcelona on Sunday.
Delacy, a current detective, emulates what he learned in the police academy as well as the Football and Futsal training style in Spain into his coaching style.
"When they walk in the door, everything is a structure," said Delacy. "It's like when I was in the [police] Academy. They line up outside, just like the academy. they drop their gear against the wall, they come over, do their stretching, everything is completely regimented so we start disciplining the mind. I have to transform their mind. I have to win their hearts, but transform their mind. Why? Because if I just allow them to be creative and free I don't have the structure and I can't teach them our methodology which is from Spain. I never wanted to think that the Spaniards are doing something different than what we're doing here. So I made sure I got my [Kid Methodology] licenses from Spain so I understood exactly from the horse's mouth what they're doing and it's exactly what I want to do here."
Delacy has a strong list of professional trainers set to help the teams upon their visit.
"Alejandro Bustelo will be our Barcelona trainer," said Delacy. "He played for Barcelona he's a former player. Now he coaches and plays semi-pro for Santa Coloma. He'll be our primary guy. And then in Valencia, we have Vicente Calafat and Miguel llansola. Tony Toral (NY Ecuador FC) is our mentor here and liaison for SAFA and Spain. Paco Cachinero is head coach and director of ANEFS. Paco will train our guys for two days. I wanted to make sure that if we're going to do this we would do it right. "
"We will feel like our team is getting better because we're versing better teams," said 10-year-old Warriors' player Nicholas Kaminsky. "We'll be able to learn more so we become a better team and move on as adults and champions."
In order to earn a spot on this trip, all teams had to qualify.
"You try out for the select team and that would be in August and then you work with your select team every Thursday," said Delacy. "Then from August to the end of June, you're with your select team. Apart from your regular schedule, you train with your select team. Miguel Santolaria is the SAFA Futsal Select Methodology Director from Alboraya Valencia Spain. Miguel and myself are with all three teams every Thursday throughout the year."
A trip that has 55 people including players, coaches, and players, no doubt can be hard financially.
"We had a fundraiser at the Staten Island Winery," said Delacy. "My goal was to have enough money to cover the cost of the team bus, the Spain training sessions, the gym, all things that pertain to the sport. Everything else, the airfare, all of that was from the parents. Some local businesses helped us."
Last year, the SAFA team consisting of players born in 2005 went to Honduras.
"That's where I'm from, we took them to my village in Gualala," said Delacy. "They had a great time over there. They got to see how Football is played in a third-world country and appreciate it. They understood much more than just the game itself."
SAFA has been around for two years and has 10 teams with 120 players all from Staten Island. The academy plays in the EDP league and travels around New Jersey as well as Pennsylvania. The teams play year-round and practice Monday through Friday at Funstation.
"The most important thing is to make them good human beings," said Delacy. "We make them the discipline, hard-working, respectful human beings. That's our mission. Sometimes people lose sight of that because they get caught up with the trophies. Trophies don't mean anything if you don't have the values that come in it and the teamwork they learn. They have to understand that team is always over the individual play."
Source: Staten Island Advance New York
If you like the information provided, you can read more articles about grassroots and coaching by going to the top bar navigation or click here
If you like this article and would like to keep updated on Futsal news, developments etc then please submit your email below in the Newsletter section or by clicking on the Subscribe to Futsal Focus option on the header.
Follow Futsal Focus by clicking on Facebook, Twitter or Instagram or on the social media buttons on the right sidebar.