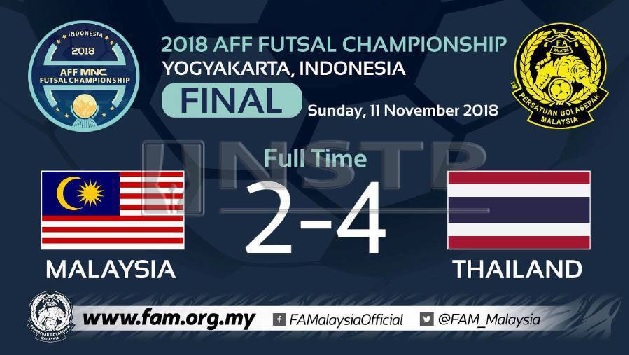 Estimated reading time:1 minute, 31 seconds
Though Thailand continued their dominance in the AFF Futsal Championship when they overcame Malaysia 4-2 in the final in Yogyakarta, Indonesia on Sunday, Malaysian National futsal coach Chiew Chun Yong still believes his team are almost on par with Thailand even though they lost 4-2 to their rivals
It was Thailand's 14th title in 15 editions. Thailand's Muhammad Osamanmusa scored in the second minute but Awalludin Mat Nawi drew level nine minutes later. Jetsada Chudech handed Thailand the lead again in the 16th minute and the score remained until half-time.
Apiwat Chaemcharoen made it 3-1 after the restart before Khairul Effendy reduced the deficit with a goal in the 33rd minute. Chaivat Jamgrajang added a fourth in the 37th minute for the Thais.
After the match, speaking to the media Chun Yong was satisfied with the overall performance of his team in the tournament.
"Yes, we are almost on par with Thailand. The only thing our players need is more international exposure to attain better results.
"That is my plan for these players. We are also trying to tap new players with quality, so we are on the right path," he said yesterday.
Chun Yong does not see the defeat to the Thais as a huge blow.
"We made the final by overcoming higher ranked Vietnam in the semi-finals. They prepared for a long time, so the victory was a sweet one.
"My players did not do too badly against Thailand… we managed to give them anxious moments in the final.
"I will work with my core players and come up with the best plan for the next edition," he added
In the bronze match, Indonesia defeated Vietnam 3-1.