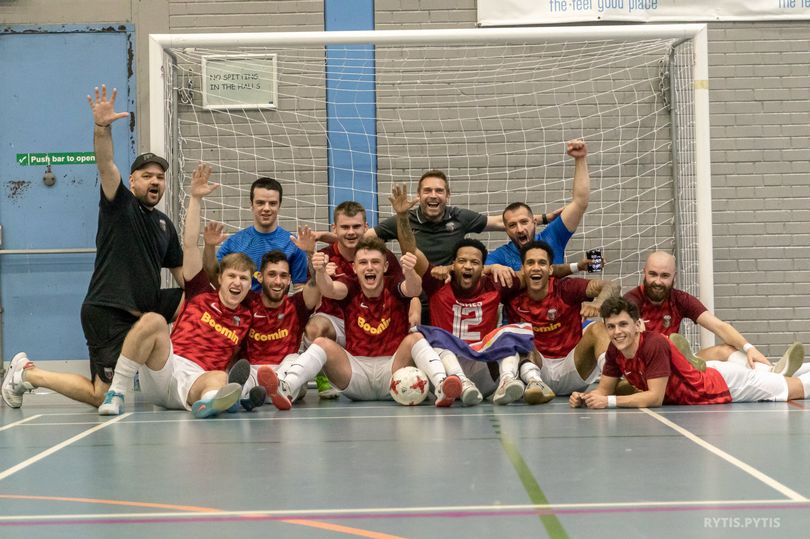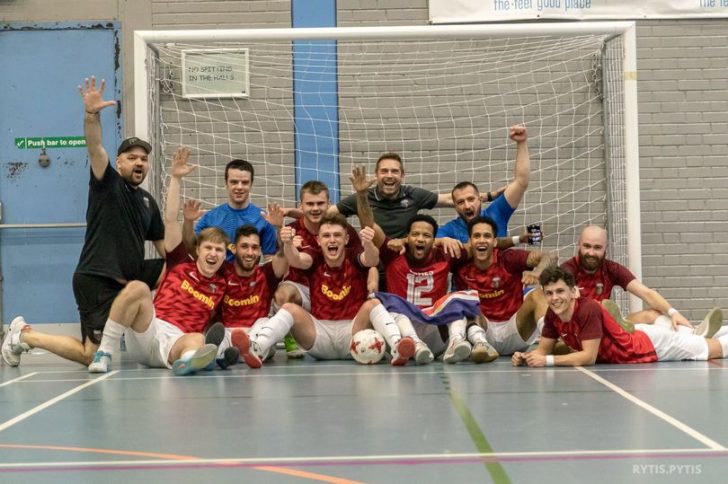 Estimated reading time:8 minutes, 4 seconds
Today, kicks off the beginning of the new season for clubs across Europe, starting with the UEFA Futsal Champions League preliminary round for clubs who qualified. The clubs representing the U.K are:
Northern Ireland – Sparta Belfast
Scotland – No club competing this year
Wales – Cefn Druids futsal
England – London Helvecia
Each club enters the competition with the hope of having and impact and seeing development progression within their squads.
Sparta will travel to Estonia where they will play Danish side JB Futsal Gentofte, Swedish team Hammarby and Estonian outfit SMS Viimsi.
The Northern Ireland Cup was decided a few weeks ago when Sparta defeated Belfast United 4-1 in a thrilling clash.
Sparta manager Darius Dielininkaitis knows his boys will be up against the odds on their European adventure. Speaking with Belfast Live, Darius said:
"All of the teams are very strong in our group, even the Denmark champions are at a very high level," he told Belfast Live.
"They have proper leagues over there that last full seasons and have more games than us and just have more experience.
"It will not be easy for us."
Although it is a hard task for Sparta, Dielininkaitis trusts his players and knows they have the ability to cause an upset.
"My players know each other well and the new boys that have joined, they have good experience playing for clubs in their native countries in Portugal," he said.
"We have a good squad and this will give players a chance to compete with themselves more than anything."
Sparta are no strangers to the competition after challenging at the same round two years ago, but Dielininkaitis wants to make history by becoming the first Northern Irish team to pick up a point in the Champions League.
"The preparation for the Champions League will help us with our new league season preparation too," he said.
Cefn Druids Futsal captain Connor Rogers believes his team can defy the odds and cause an upset as they head to North Macedonia for the Preliminary Round of the Futsal Champions League. The Ancients have landed for a week-long group stage where they will come up against Luxol St. Andrews of Malta, hosts KMF Proekt, and Dolphins Ashdod of Israel. It will be the first appearance in the European competition for Cefn Druids after winning the FAW Elite Futsal Finals back in June.
Captain Rogers said to Y Clwb Pêl-droed: "The main focus for the club was to achieve that Champions League spot and to do it in the first season is special and shows how hard the staff and players have been working behind the scenes."
"I feel like we can cause an upset. The confidence is high having come off four very positive and dominating performances. But it is going to be a different level of competition.
"We will take the same drive and hunger as you have seen throughout the league and will do everything we can to win."
The Druids will start their campaign off against Maltese side Luxol St. Andrews on Saturday 21st August. They will then play on Sunday 22nd against host side KMF Proekt and their final match on Tuesday 24th when they face Dolphins Ashdod of Israel.
After such a dominating performance Rogers thinks Cefn Druids have a great chance of causing an upset.
"The three games are going to be tough but I feel like we've prepared well and are ready to compete.
"We face Luxol St Andrews in the opening game which is the highest-ranked team in the preliminary
round, I and the boys are excited to go head to head and test ourselves against the very best."
The preliminary round consists of eight groups of four with the group winners and best runner-up going into the main round of the competition.
Rogers, a Welsh Futsal international and former Wrexham Futsal and Cheshire Futsal player. After signing for Druids in December 2020 he will be making his third appearance in the Champions League is hoping to use his experience to lead his teammates.
London Helvecia have been a dominate club in England for over a decade, but progression to the main round in the UEFA Futsal Champions League has always eluded them despite having a team of professionals and experience.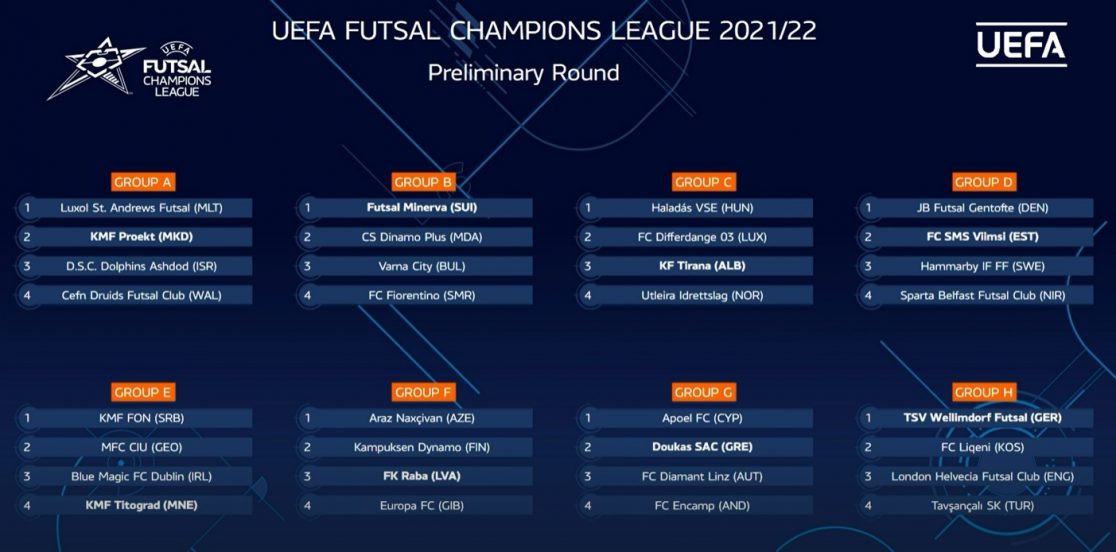 Helvecia travel to Germany to compete against the German futsal champions TSV Weilimdorf who are from Stuttgart, a city that is considered a stronghold for the sport due to TSV Weilimdorf, and the newly established club Stuttgart Futsal Club securing their place in the new national futsal Bundesliga. In the 2019-20 season, TSV Weilimdorf fought in the preliminary round, winning the group which included Sparta Belfast. Progressing to the main round, they did incredibly well, finishing third in their group against Italservice Pesaro, Georgians Tbilisi and Uddevalla. FC Liqeni Drenas are from Kosovo, and they dominated their domestic competitions, winning their nation's cup and league championship. Seeing as this was their first season in the top flight, it is a fantastic achievement. Konya Metropolitan Municipality Tavşançalı are from Turkey, and they are a part of a football set up. Their futsal section however is 3 years old, and this is their first time in the UEFA Futsal Champions League. I think it is fair to say, especially when the runner up of the group could progress to the main round depending on ranking, this could potentially could be Helvecia's year to progress to the main round for the first time.
What should the competition mean to the clubs competing?
The opportunity to compete in the UEFA Futsal Champions League is an ambition shared by all clubs, but participating in the competition as an experience alone, is not its purpose. Competitions of this scale are developed to benefit the development of clubs, and this is something the clubs who have competed for the U.K for over the last 10 years have not been able to turn into their advantage so far. Some could argue this is not true, London Helvecia has taken this success and dominated English futsal. However, London Helvecia is not an example of the clubs around them, Helvecia pay the majority, if not all, their players, in a league that is amateur. The amount of money the club has paid players for the past number of years could have been invested into the club's structural and operational development. In  over 10 years which the club has existed, it hasn't changed significantly in its development, and it seems until they are challenged in the league consistently, their status quo is not going to change either, therefore, it begs the question, is a place in the UEFA Futsal Champions League wasted on a club like Helvecia? Should clubs in an amateur league be allowed to pay their players, giving them an unfair advantage over their opponents, could this dominance be discouraging clubs from entering a pyramid system they see a ceiling due to not having the money to compete with Helvecia at this time.  Another way to look at it is, is Helvecia's position a goal the club's should be aiming for, to be able to pay their players and increase their chances of winning? But, at what expense, bringing players from the continent to compete in England means native players still learning the sport will be at a disadvantage and potentially be put off competing because they are not developed enough to challenge the professional players. Furthermore, where would the club's bring in such revenue, when the majority of the clubs are at an amateur level and still don't have their own facilities or a club development structure that would drive revenue from many channels, and attract sponsorship along with further future developments. There are many questions that need answers, clubs need to ask themselves, the league as well and discussions must be had between both concerning what is the right way to develop into the future.
When each of these clubs return from their UEFA Futsal Champions League experience, they need to ask themselves why they are doing it? What is the point? How are they using this opportunity to not only develop their own club but to help promote and aid the development of futsal in their own countries.
Futsal Focus supports the Donate4Dáithí campaign
To follow the Donate4Dáithí campaign, you can visit their website here: www.donate4daithi.org  or on Facebook at: https://www.facebook.com/Donate4Daithi you can also donate money to their campaign at: https://www.justgiving.com/crowdfunding/donate4daithi
You can read more articles about domestic futsal by going to the top navigation bar or click here
If you like this article and would like to keep updated on Futsal news, developments, etc then you can now follow Futsal Focus via Google News by following our page which will send you an alert as soon as we publish an article so please click here and follow us on Google.
You can also keep updated on Futsal news, developments, etc then please submit your email below in the Subscribe to Futsal Focus option.
Follow Futsal Focus by clicking on Facebook, Twitter, or Instagram or on the social media buttons on the website.