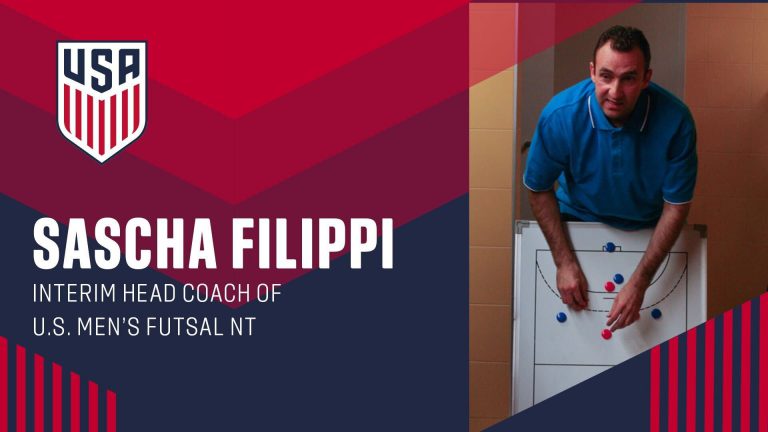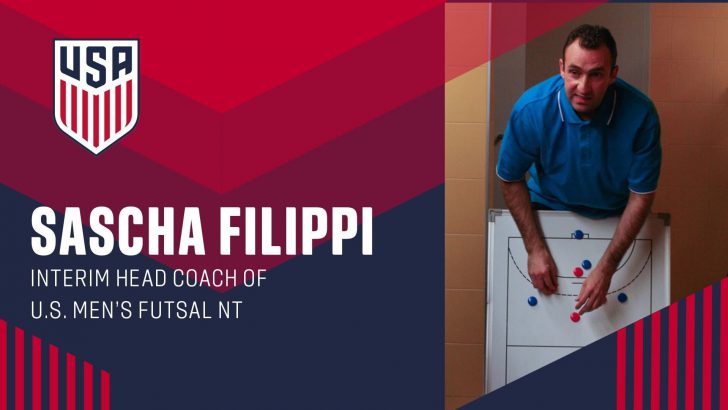 Estimated reading time:8 minutes, 58 seconds
Yesterday, U.S Soccer announced Sascha Filippi as the interim U.S National Futsal Team Head Coach. In their announcement, they stated the following:
Sascha Filippi has been named the interim head coach of the U.S. Men's Futsal National Team as the team continues their preparations to qualify for the 2024 FIFA Futsal World Cup.
(Main picture source: U.S. Soccer official website)
Filippi has an array of international futsal club coaching experience in France, Belgium, Catalunya, and the United States, where he has been coaching since 2015 and is currently a coach at various levels with the Arlington Soccer Association in Virginia. He holds the French Federation (UNCFS): National Diploma A in Futsal. Filippi also serves as an assistant coach with the recently launched U.S. Futsal Women's National Team and will continue in that capacity.
A search for a new head coach has already begun with the goal of appointing that position before the end of the summer.
"I'm honored and appreciative of this opportunity," said Filippi. "I followed this team closely in qualifying for the last Futsal World Cup and I am aware of the strong player pool that has been built for the program in just the last few years. I look forward to working with those players and playing whatever part I can to see the team qualify for another World Cup in 2024."
U.S. Soccer is currently planning a number of camps in the next 10 months in anticipation of the 2024 Concacaf Futsal Championship next spring, which will serve as qualifying for the 2024 FIFA Futsal World Cup. The U.S. qualified for the Covid-delayed 2021 FIFA Futsal World Cup under previous head coach Dusan Jakica.
I am sure many of you reading this article are aware of the work Dusan Jakica did to develop his players, and to increase the pool of players for him to select from. In addition to many other projects he organised and delivered, and due to the success he was having in this role, you are most likely baffled by U.S Soccer's decision to remove him as the nation's head coach.
I congratulate Sascha Filippi on his appointment, I will take nothing away from him and this opportunity he has been given which I am sure he is looking forward to whilst U.S Soccer looks to appoint a new Head Coach. However, this decision does beg the question; what was the need for this change in management?  Since Dusan was appointed the Head Coach, replacing former Head Coach Keith Tozer, the U.S. Soccer National Futsal Team has only improved. He travelled the country and looked abroad, to identify players who could play futsal for the U.S. and were active in futsal. Dusan moved away from the recruiting methods of his predecessor who selected players mainly from Major Arena League Soccer (MASL).  And, in a short period of time, he and his coaching staff; assistant coaches Otto Orf and Pablo da Silva prepared the team (who had never played together before) for the 2021 CONCACAF Futsal Championship.
Before the 2021 CONCACAF Futsal Championship, the United States hadn't qualified for a FIFA Futsal World Cup since 2008. The team also failed to qualify for the 2016 CONCACAF Futsal Championship, losing to Canada in the preliminary round qualifier (Canada won 9–7 on aggregate).
America hadn't won the same competition since 2004, but in 2021 Dusan led the team to the final. The team won Group D on goal difference after a draw with El Salvador, and victories over Nicaragua, and Cuba. In the quarter-finals, they faced the Dominican Republic and secured their place in the semi-final with a 2-0 result. Emotions ran high after a tight 2-2 draw, but progression to the final was achieved, defeating Guatemala 5-4 on penalties. In the final, they faced Costa Rica who won the last two qualifying competitions and three out of six tournaments that had been organised for World Cup qualification prior to 2021. The U.S. gave the nation a great match but lost 3-2 but despite their loss, they achieved what they aimed for and that was a slot in the 2021 FIFA Futsal World Cup due to finishing in second place. For a team that had been put together shortly before the competition, this was a fantastic achievement.
The 2021 FIFA Futsal World Cup saw the U.S. drawn into an extremely tough group with the world cup holders at that time, Argentina, along with Asian and Middle Eastern powerhouse, Iran, and one of Europe's top 10 nations, Serbia. An opening game defeat at 11-0 to Argentina was due to a number of factors, but the team took it on the chin and faced Iran next. The team put in a much-improved performance, losing 4-2. In their final group fixture, they lost 7-0 to Serbia. When you consider Iran secured their victory over the Balkan country by just 1 goal, winning 2-3 and Argentina defeated them 4-2, for the U.S. to keep up the standard of play needed to face Serbia, it would have been a difficult task for any developing futsal nation to do as these fixtures were played over 6 days. However, the performance against a powerhouse like Iran showed the potential of the national team that Dusan put together for future competitions. And, the new interim head coach Sascha Filippi acknowledges this in his statement saying, "I followed this team closely in qualifying for the last Futsal World Cup and I am aware of the strong player pool that has been built for the program in just the last few years."
Outside of his work as the national team coach, Dusan continued to try and assist with the development of Futsal in America. He collaborated with many Major League Soccer clubs, encouraging them and helping them to implement futsal to improve their player development and to awaken the clubs to the value of futsal as a sport in its own right as well. He worked closely with Westcliff University when they launched the first-ever University futsal program in America with a full scholarship and was helping to encourage other Universities to consider such programmes. Whilst also launching a national futsal development programme (outside of U.S. Soccer) to identify young players with whom he could continue to work with and prepare a pathway for those talented enough to step up to the national team standard. Following the launch of this programme,  a group of U17 boys travelled to Portugal, and were welcomed by Jorge Braz, Head Coach of Portugal Futsal National Team, Pedro Dias, Executive Director of the Football Portugal Federation, and Pedro Ratinho, Secretary of FPF.
Due to their positive performances and the success of the trip as a whole, another one was organised, this time to Argentina, but with a group of girls and boys. They were welcomed by Omar Souto, General Manager of all Argentinian National Teams, Ignacio Santos, Racing Futsal Club AFA Coordinator, and General Scout, along with Luciano Antonelli-Figu, Head Coach of San Lorenzo Futsal Club. In Argentina, the young players learned a lot and Dusan discussed and exchanged ideas with the Argentine Football Association and those he met about futsal and how futsal could improve in the U.S. In and around all this activity, Dusan was visiting futsal academies, clubs, futsal programmes, and facilities across the United States, whilst also holding camps for his national team. He also brought a group of national futsal team players (some of which had never played for the team before) to Croatia where they won the 2022 UMAG Nations Cup, defeating the Czech Republic's U21s, Slovenia's U21s, and France's U23 team.
I have no doubt there is a lot more work/ activity under the leadership of Dusan that I have left out, but even the above shows you the determination, commitment, and hard work he put into developing his team and futsal in the United States and he did so as a non-permanent member of staff. Dusan was not a permanent member of staff at U.S. Soccer, he was a contracted worker, paid by the hour, and he put his own career outside of futsal as an engineer on the back burner in order to devote as much time as possible to the promotion, and development of futsal in the United States.
Why Dusan was removed, we don't know, many followers from the U.S. have contacted Futsal Focus asking for answers. Understandably at this time, he doesn't want to discuss the situation, but the last time we spoke with him he was upset that the Federation had made this decision to end his time as the head coach of the national team.
We wish Dusan well wherever he goes next, any nation would be lucky to have him as their national futsal team coach. However, we want to see the U.S. continue developing positively going forward, therefore, we wish Sascha success as the interim coach and the same for whoever is appointed as the Head Coach, But, we do hope that the new head coach will not be on a paid by the hour contract but given a permanent position and the support needed to drive futsal forward in the United States of America.
Author of article
Stephen McGettigan was born in the Republic of Ireland but grew up in Belfast. He is the founder of Futsal Focus, a Football Industries MBA graduate from the University of Liverpool Management School, and he has worked in the Football and Futsal industries for 15 years.
Futsal Focus
You can read more articles about international futsal by going to the top navigation bar or by clicking here
If you like this article and would like to keep updated on Futsal news, developments, etc then you can now follow Futsal Focus via Google News by following our page which will send you an alert as soon as we publish an article so please click here and follow us on Google.
You can also keep updated on Futsal news, developments, etc then please submit your email below in the Subscribe to Futsal Focus option.