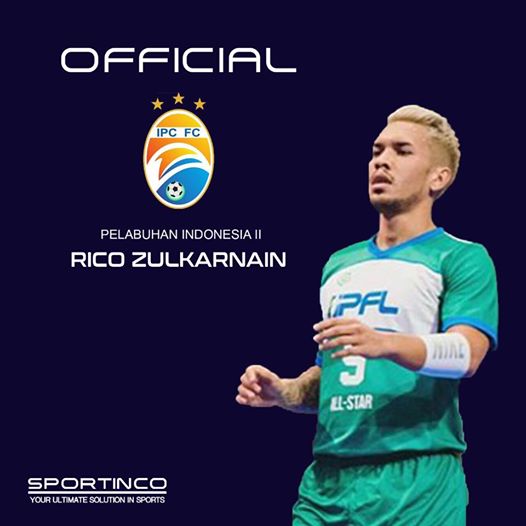 Estimated reading time:3 minutes, 42 seconds
For most Futsal Focus followers Welsh Futsal International Rico Zulkarnain doesn't need an introduction but if this is your first time visiting our website or if you have just started to read about Futsal then here is a short introduction.
Rico is a Welsh Futsal International who won every trophy in Wales when he became the country's first professional Futsal player when he signed for IPC Pelindo III in Indonesia. The season in Indonesia didn't get off to the best start when he was stricken with an illness and then by injury. Understandably, Rico was down by this and worked hard to fight his way back into a team that was dominating the league, once back to fitness, he got his opportunity and quickly established himself as an  important player in the squad. Though, Rico felt the club and the Indonsian Futsal fans hadn't seen the best of him and he proved this in the final of the league, coming on in front of over 5,000 fans and thousands more watching on TV, scoring two goals helping the team win the league.
After Indonesia, Rico's career took him to Australia, America and back to Australia, winning the Western Australia State Futsal League, Futsal Oz Cup and voted MVP player of the year twice for both competitions. With Muito Calma Futsal Club he flew to Florida to play in the World Futsal Championships and in an exhibition match against Falcao. Returning to Australia, played in an exhibition match with Falcao against FC Bayern München & Brazilian International professional football player Douglas Costa and shortly before this was in the UAE competing the world famous NAS Sports Tournament against professional futsal players from Spain, Italy etc.
And would have the opportunity to play in America again against some of the world's best players including Falcao and Ricardinho who chose him for his team in the exhibition event in Florida for the Professional Futsal League.
Rico would later make the career decision to turn down a move to Italy, and moved back to Australia to compete for Fitzroy in the Series Futsal Victoria League in Melbourne.  Here, he made history for any Futsal player which attracted him back, great experiences, great people and the opportunity to have more of an impact on Futsal awareness. Below are videos of Rico that were watched by over 100 million people.
However, Rico's fame was to continue to grow not only in Australia but the UK as well. Flying to Wales, Rico returned home to take part in the first ever Home Futsal Nations with the hope that he and his teammates could make history by winning it at home in Wales as the Welsh Football Association where hosting the competition.  Rico would not only win the competition but his profile and abilities where picked up by BBC Wales to increase the profile of the competition and the sport in the country, you can watch his interview here: http://www.bbc.co.uk/sport/football/38289395
While all this was happening for Rico in his life, the impact he made was not forgotten in Indonesia. After the Home Nations he returned to Melbourne for more developments, signing with Adidas, image deals for customized products in Malaysia and moved back to Indonesia to play for IPC Pelindo III.
Rico is living the dream, helping to grow awareness of Futsal in Australia and Asia while having a global following who he inspires through his determination to succeed. You can watch a documentary about him here:
Now, Rico has just returned from Malaysia to Indonesia where he was visiting a shop that is selling products with his image, and his preparing for series 4 of the league and hoping to win the league the second time round.
Futsal Focus followers are signing up for the FutsalFocus newsletter which we will be launching soon. If you would like to receive the Futsal Focus newsletter, please go to the bottom of the home page to submit your details or click here and send us your email address.