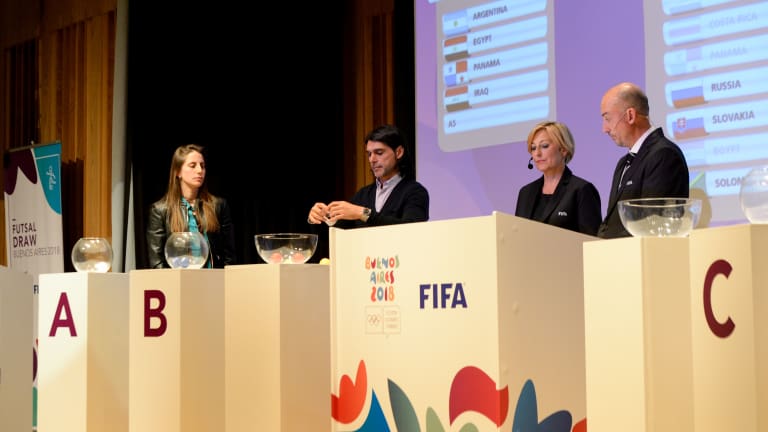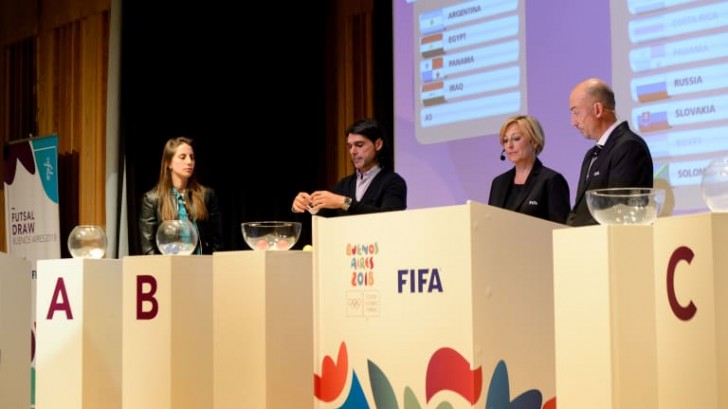 Estimated reading time:3 minutes, 53 seconds
Just over 2 weeks from today, history will kick off in Argentina, Buenos Aires on October 7 when the first ever Futsal tournament for men and women will take place at the Youth Olympics as Futsal has now replaced Football at the prestigious competition.
This is a development that Futsal industry has wanted for a long time with the goal to finally get the sport into the senior competition which is also close to happening with France announcing that Futsal will be a demonstration sport at their 2024 Olympic Games.
The tournament is a wonderful stage for the sport to showcase talent, to see future stars and for the sport's development and increased awareness.
The auditorium of the Argentinian capital's City Hall provided the setting for the official draw for the men's and women's Youth Olympic Futsal Tournaments Buenos Aires 2018 on the 24 August, with the 20 teams taking part in the two competitions finding out who they will be facing in the group phases.
The draw ceremony was conducted by Jaime Yarza, Head of FIFA Tournaments, and Marion Mayer-Vorfelder, Head of FIFA's Olympic Football Tournament Group. Roberto Ayala, the former captain of Argentina's men's national football team also took part and Argentina women's futsal international Sol Dominguez. The two competitions will kick off on 7 October, with the women's coming to an end on 17 October and the men's a day later.
Men's tournament group draw
Group A:  Argentina, Egypt, Panama, Iraqi, and Slovakia
Group B: Iran, Solomon Islands, Costa Rica, Russia, and Brazil
Women's tournament group draw
Group C: Trinidad and Tobago, Thailand, Spain, Bolivia, and Tonga
Group D: Chile, Portugal, Dominican Republic, Cameroon, and Japan
What they said
"It's fantastic that women's futsal is a part of these Games, especially as it's an U-18 tournament. It really is the future and it couldn't be better in terms of developing the discipline. The sport has enjoyed a boom in Argentina and around the world, though it does take longer for it to earn proper recognition. I'm surprised by some of the teams."
Sol Dominguez, Argentina women's futsal international
"It's vital that the sport keeps growing and that these Games give it a boost. The work that's gone on behind the scenes for so many years is paying off now. This is also a test for Argentina, to prove that it can host more events like this in the future and that it can bring a smile to people's faces."
Roberto Ayala
"It's really important for national futsal teams to be taking part in the Youth Olympic Games, and it's a truly valuable experience for Argentina. We've just won the men's Futsal World Cup and we're achieving a lot of growth thanks to a very competitive league that plays a big role in our country. These Games are very important in terms of leadership of the sport too, and it's also vital that women's futsal is represented too. We have a wonderful opportunity and we have to enjoy it and make the most of it."
Claudio Tapia, president of the Argentinian Football Association
"We have a great opportunity: to work with FIFA and our national federation to showcase futsal, which is growing so fast around the world. Argentina is hosting its first Olympic Games in 43 days' time and it is an occasion that has so much to offer for the country."
Leandro Larrosa, CEO Buenos Aires 2018
The lowdown
Buenos Aires 2018 will be the third Youth Olympic Games (YOG), after Singapore 2010 and Nanjing 2014, but the first to feature futsal. At the two previous YOGs, FIFA was represented by football.
This is the first time that Buenos Aires will host an Olympic event. The men's and women's futsal competitions will be staged at two venues in the Argentinian capital: the Futsal Main Stadium (Tecnopolis) and the CeNARD.
In the women's tournament, the first games on the match schedule are Dominican Republic-Cameroon and Spain-Bolivia, while the men's tournament opens up with Panama-Iraq and Costa Rica-Brazi
Main picture from LOC and quotes from FIFA.com
If you like the information provided, you can read more articles about international futsal by going to the top bar navigation or click here
If you like this article and would like to keep updated on Futsal news, developments etc then please submit your email below in the Newsletter section or by clicking on the Subscribe to Futsal Focus option on the header.
Follow Futsal Focus by clicking on Facebook, Twitter or Instagram or on the social media links on the website.