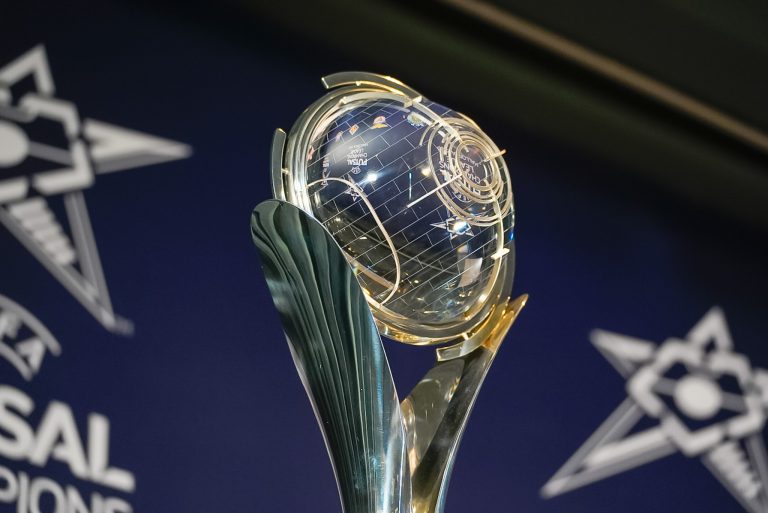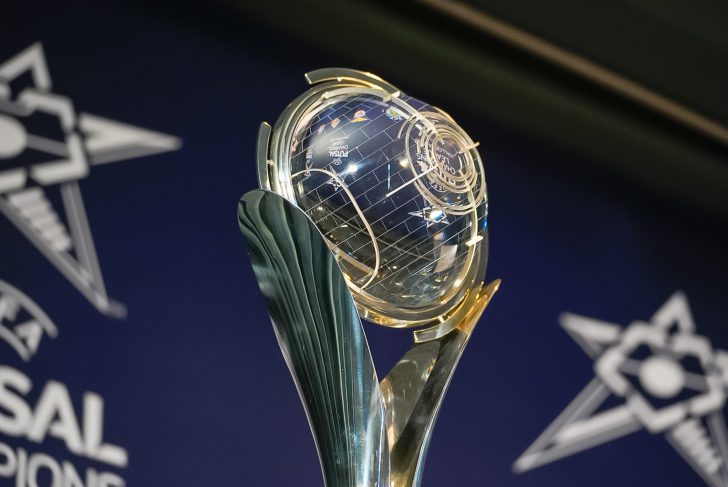 Estimated reading time:4 minutes, 53 seconds
The UEFA Futsal Champions League semi-finals are set for 5 May at Velòdrom Illes Balears in Palma de Mallorca
Two-time winners Sporting Clube de Portugal will face first-time finalists Sporting Anderlecht Futsal and hosts Mallorca Palma Futsal take on 2010 champions S.L Benfica in the UEFA Futsal Champions League semis after the draw was made in Palma de Mallorca by Argentina's FIFA World Cup-winning football coach Lionel Scaloni.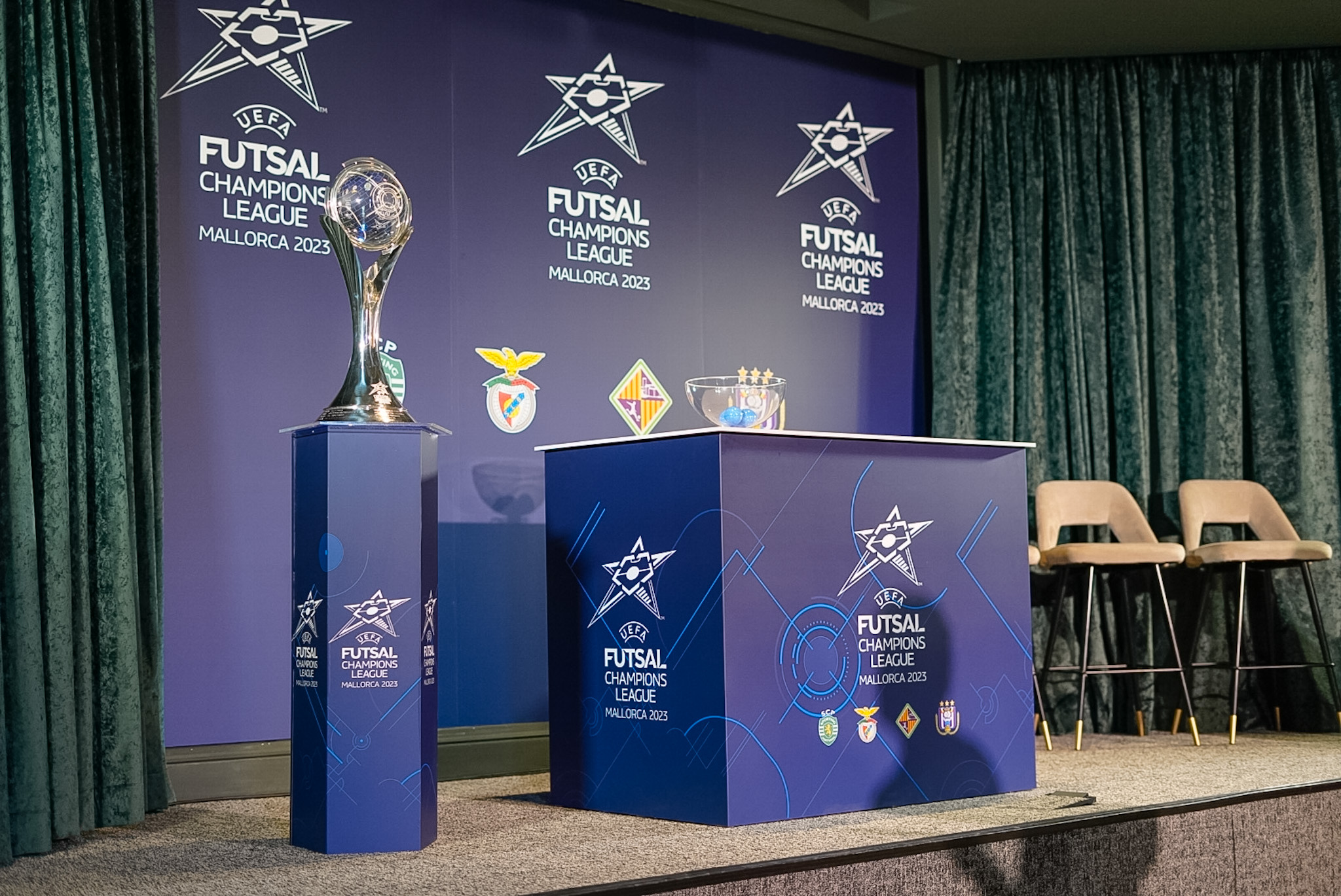 Palma will stage the finals at Velòdrom Illes Balears, with the semis on Friday 5 May, and the third-place play-off and decider two days later. The draw was without restriction.
Lionel Scaloni described Futsal or Futbol Sala as it is called in Spain, as a "spectacular sport from where very interesting conclusions are drawn", shortly before the balls for the draw were drawn for the semi-finals of the Final Round of the UEFA Futsal Champions League.
An Argentinian in the Final Four
Maxi Rescia, 2016 champion and 2021 world runner-up with the Argentine national team, will be the only Argentine representative at the Final Four. He plays in Anderlecht for Sporting Anderlecht Futsal, the champions of Belgium, who have reached the final stages for the first time in their history.
Last summer, the Belgian record champions Halle-Gooik merged with RSC Anderlecht and created Sporting Anderlecht Futsal  (RSCA Futsal), and moved to a brand new arena in the Belleheide Center in Roosdaal with 1,200 seats. Before this year's campaign,  Halle-Gooik had never qualified past the elite round. If you don't know the stages of the UEFA Futsal Champions League, it is the preliminary round, main round, elite round and the final four. The clubs have invested a lot this year, attracting talented players such as Maximiliano Rescia and Brazilian international, Rafael Nogueira da Silva, better known in the futsal world as Fits. The club's path to the finals started in the Main Round Group 1, drawn with Mallorca Palma Futsal, AFC Kairat, and Sporting Club de Paris. The opening game finished with a 2-2 draw against AFC Kairat, followed by an empathic 4-0 victory over Sporting Club de Paris, and their final fixture was a home 2-2 draw with Palma Futsal. Anderlecht finished the group in second place due to the goal difference. However, their performances and never say die group attitude give them belief in the elite round where they were drawn with the holders of the competition, FC Barcelona. In addition to group host Futsal Paula from Croatia and United Galați from Romania. A nervy hard-fought opening game saw Anderlechy defeat their hosts, 3-2. The second match was against their group rivals FC Barcelona, which ended with a wonderful performance by the club. A difficult draw to swallow for Barça at 5-5 after being ahead for most of the game, and 2-5 up with 10 minutes to go. To reach the Final Four, Barça had to beat Pula and hope that their goal difference was better than Anderlecht's after the final matchday. However, Sporting Anderlecht Futsal made history for their club and country, defeating their Romanian opponents 0-9, and Barcelona conceded 2 goals against their hosts Futsal Paula, finishing 7-2.
Now, in the Finals Sporting Anderlecht has been given another difficult draw and will face the favourites for the competition, Sporting Clube de Portugal, who are the 2018-19 and the 2020-21 UEFA Futsal Champions League champions. Furthermore, they are Portugal's most dominant club with 17 Portuguese League titles, 9 Portuguese Cups, 4, Portuguese League Cups, and 11 Portuguese Supercups. If Sporting Anderlecht can overcome this fierce opposition, like they have shown to get this far, this will no doubt feed off this success and go into the final believing they can make European club futsal history.
Mallorca Palma Futsal Club are also making their debut, not only at this stage of the competition but in the tournament. The club finished in second place last season, losing to Barcelona, 4-2, and secured their place in the Champions League for the first time. This season has seen further progress, with signings such as Iranian international, Hossein Tayebi from S.L Benfica whom he and his teammates will face in the semi-final of the Champions League. This is not his first experience at this stage in the competition. He reached the Final Four with AFC Kairat, finishing in third place in 2016-17 and as a runner-up in 2018-19. In the current league season, Palma is in second place in the national league, one point behind Barcelona, and in the Copa de España, they lost on penalties in the Quarter-Finals to eventual winners, Jaén Paraiso Interior. In the Copa Del Rey, they made it to the semi-finals but lost to Barcelona, 1-5, who went on to win the competition.  Despite these cup defeats, the club has enjoyed a strong league season and will be hoping to reach the play-off finals for the second year in a row. And, to top off a great season, they are making history by hosting this season's UEFA Futsal Champions League Final Four, and who knows, maybe they will win it as well.
Futsal Focus
You can read more articles about domestic futsal by going to the top navigation bar or by clicking here
If you like this article and would like to keep updated on Futsal news, developments, etc then you can now follow Futsal Focus via Google News by following our page which will send you an alert as soon as we publish an article so please click here and follow us on Google.
You can also keep updated on Futsal news, developments, etc then please submit your email below in the Subscribe to Futsal Focus option.
Follow Futsal Focus by clicking on Facebook, Twitter, or Instagram or on the social media buttons on the website.