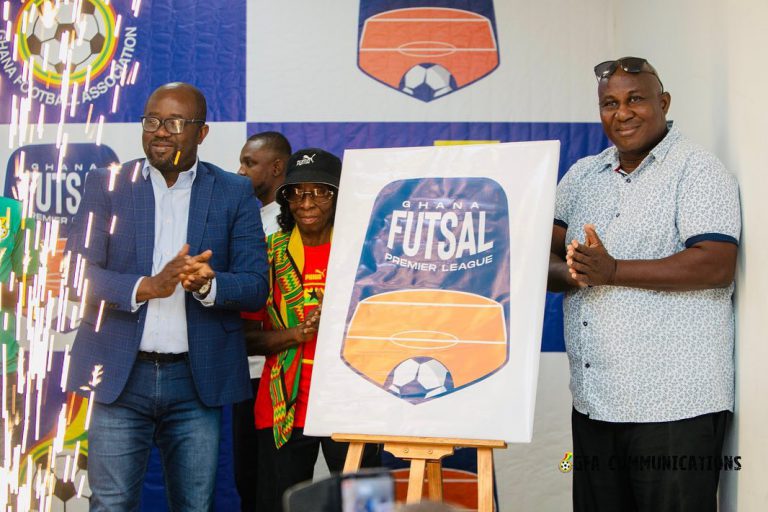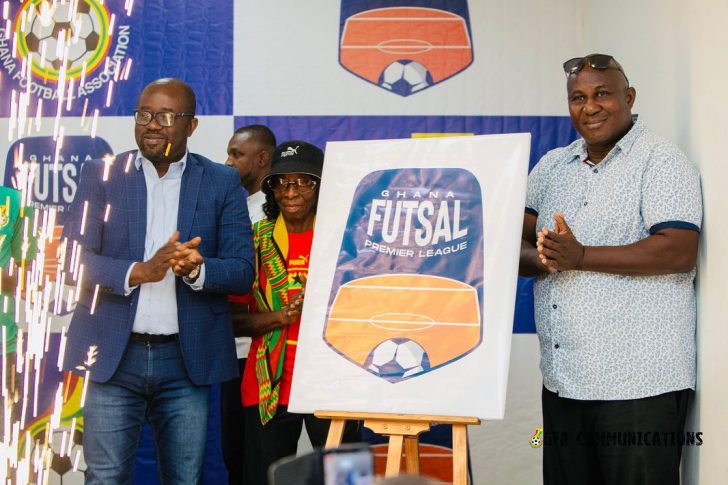 Estimated reading time:3 minutes, 43 seconds
Futsal will give life and hope to many people in this country – GFA President Kurt Okraku
Futsal development in Ghana, after almost three decades of being in a state of limbo, the Ghana Football Association officially launched, the Ghana Futsal Premier League and it promises to bring back the excitement and glory of the sport in the country.
Sixteen teams from Greater Accra have registered with the Ghana Football Association (GFA) and will compete in the league, which is divided into two zones, with the finale set to take place on a later date. To help the teams prepare for the league, each club has received a starter pack, which includes 10 futsal balls (5 for matches, 5 for training).
The ultimate winners will receive a prize of GH 10,000 cedis (£736), while the runners-up will receive GH 8,000 cedis (£588) and GH 5,000 cedis (£367), respectively. The league, which is set to kick off on April 22nd, will take place in Bawleshie and Lashibi.
President of the Ghana Football Association Kurt Simeon-Okraku is absolutely certain that the governing body, under his tenure, will invest massively in Futsal in the country despite the challenges that they encounter as a football nation.
Okraku was speaking at the official lunch of the maiden edition of Ghana's Futsal Premier League at the GFA Secretariat in Accra on Tuesday 11 April.
"I know we have some challenges because it's a new sport for us but because we believe in teamwork, and because we are working as a team, we believe that we will go through the challenges one by one as we journey along in our attempt to build an industry for lovers of futsal football," Okraku said.
"We may not have the best of pitches, we may not have the best of halls but the journey starts today, and slowly and gradually we will invest in the sport and the sport will give life and hope to many people in this country."
"As a start, each of the 16 Futsal clubs will receive GH 10,000 and I can say confidently that already 50% of the amount has been paid to each of the 16 clubs."
"The 16 clubs will be divided into two zones of 8 each and the winners of the two zones will compete in the grand final and the winner would be crowned as champions of the first-ever Futsal League, "he added.
The sixteen teams who will compete in the League include Real Heart FC, Blessed Stars FC, Future Stars FC, King Solomon FC, AMG FC, Dokota FC, GADU FC, Y2K FC, DANAC FC, and Stitch in Time. Others are Auxano FC, Cancheros FC, Adenta Youth FC, San Ciro FC, Blessed Kickers FC, and Blooming Smiles FC.
This article opened with a statement saying after almost three decades,  the reason for this concerns the last time Ghana as a nation took part in official futsal competitions. In 1996, Ghana entered a team into the African Futsal Championship (now known as the Africa Futsal Cup of Nations), hoping to qualify for the 1996 FIFA Futsal World Cup which took place in Spain.  The African Futsal Championship took place in Cairo, Egypt from September 25 to September 30 and 5 nations took part which included Egypt, Zimbabwe, Somalia, and Zaire. Ghana defeated Zaire in their opening match 19-5, lost to Egypt 2-1, won 9-2 against Zimbabwe, and cruised to victory against Somalia 13-0. Ghana finished in second place to Egypt who won the competition and represented Africa in the world cup. Egypt would go on to finish third in the world cup, losing to Ukraine and Spain, 7-2 and 10-3.  After the African Futsal Championship, Ghana, never launch a futsal team again, and have yet to reestablish one again, but with the launch of this league, a national futsal team may be planned as well.
Source of the pictures: Ghana FA
Futsal Focus
You can read more articles about global futsal by going to the top navigation bar or by clicking here
If you like this article and would like to keep updated on Futsal news, developments, etc then you can now follow Futsal Focus via Google News by following our page which will send you an alert as soon as we publish an article so please click here and follow us on Google.
You can also keep updated on Futsal news, developments, etc then please submit your email below in the Subscribe to Futsal Focus option.