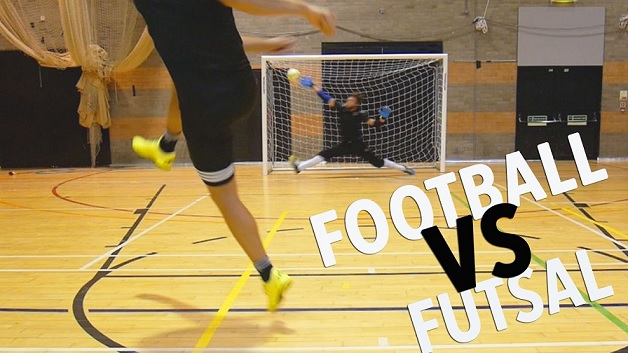 Estimated reading time:2 minutes, 0 seconds
Abstract
The purpose of this study was to determine differences in agility performance between Futsal and Soccer players. The research was conducted on a sample of 82 subjects divided in two groups: 40 futsal players (body mass 70.39 ± 5.33 kg; body height 176.26 ± 6.85 cm) and 42 soccer players (body mass 70.86 ± 5.65 kg; body height 175.42 ± 5.95 cm). The subjects were tested in the following variables: Slalom test (SL); Slalom test with ball (SLB); Sprint with 90° turns (S90°); Sprint with 90° turns with ball (SB90°); Sprint 9-3-6-3-9 m with 180° turns (S180°); Sprint 9-3-6-3-9 m with backward and forward running (SBF). The values for the Slalom test with and without the ball are very similar for soccer and futsal players and without statistically significant difference (slalom test p = 0674; slalom test with ball p = 0830). The same results are in the sprint test 9-3-6-3-9 whether it was done by turning for 180° or with running back and forth. For the agility performance of players, in the tests SL and SLB there was no statistically significant difference between futsal and soccer players. The Futsal and soccer players differ in the intensity exertion during the game, but not in the motor activities such as agility. Agility is a very important component of both, futsal and soccer and it represents a common characteristic. Based on that fact we can conclude that the players in these two sports are very similar in agility performance.
Authors: Zoran Milanović, Goran Sporiš, Nebojša Trajković1 and Fredi Fiorentini
Faculty of Sport and Physical Education, University of Niš, Serbia, Faculty of Kinesiology, University of Zagreb, Croatia and Faculty of Kinesiology, University of Split, Croatia
If you like this research and you would like to read more Futsal research, go to the top navigation bar or click here
Futsal Focus followers are signing up for the FutsalFocus newsletter which we will be launching soon. If you would like to receive the Futsal Focus newsletter, please go to the bottom of the home page to submit your details or click here and send us your email address.