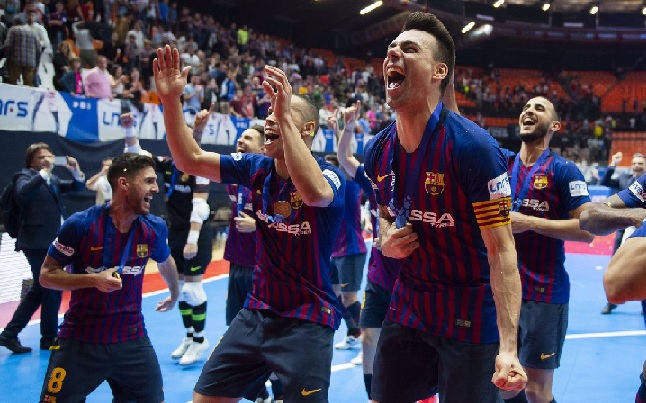 Estimated reading time:3 minutes, 46 seconds
A five-year wait for a national title finally came to an end for FC Barcelona Lassa Futbol Sala at the weekend when they overcame ElPozo Murcia in an unforgettable final in Valencia.
The last time FC Barcelona Lassa Futbol Sala won the Futsal Copa de España in 2013 they went on to win the Liga Nacional de Futbol Sala, a fate they will be hoping to replicate again this year. This is the fourth Futsal Copa de España for Barca and the third time they have faced ElPozo Murcia to achieve it, in fact, ElPozo Murcia has lost six of the last seven Copa de Espana finals. Lifting this year's Copa de España is the twenty-seventh title that Barça has won in their history. The team's achievements are as follows: two UEFA Futsal Champions League (2012 and 2014); three leagues titles (2011, 2012 and 2013); Four Cups of Espana (2011, 2012, 2013 and 2019); five Copa del Rey (2011, 2012, 2013, 2014 and 2018); an old King's Cup/ Copa del Rey Viejo (1988/89); a Cup Winner of Europe (1989/90); a Spanish Super Cup (2013/14); and 10 Cups Catalonia.
FCBarca Coach Andreu Plaza was also very satisfied, " I didn't have pressure from the club, only pressure that I put myself under. I needed this title so that the players would believe that this is the way, I knew that the path chosen was the right one, but they had to know it too, "he told the press conference after the match.
When the final whistle below, Sergio Lozano broke down on the floor of the San Luis Fountain pavilion. His teammates celebrated while he could not stop thinking about his father, who died a few weeks ago. " My father left a month ago, imagine how hard it is for him to leave suddenly, he should be here taking a picture with me with the Cup. He's probably proud of me in heaven. Here I was playing, when I was a kid, I used to do a lot of kilometres to train, when I was nobody and it cost us money, and I'm here for him ", he told Marca.
Two players who have enjoyed lifting the Futsal Copa de España for the second year in a row are Dídac and Boyis, who already won the Cup last season with Jaén Paraíso Interior Futbol Sala, the players called it "Feat", both could have been playing for different clubs but both came to Barca and have now achieved to special achievements in both Jaén and Barca's history.
ElPozo Murcia curse in the competition continues since 2010 when they last lifted the trophy. ElPozo has fallen against Inter Movistar and three against Barca. " We have to leave very proud, I'm sad because I wanted to win, beyond the rivalry, " said coach Diego Giustozzi. The Argentine coach is still ambitious and now looks to the next goal, the League, which they also haven't won since 2010. " We have to win it because it is the title that lies ahead," Diego told the press conference after the match.
The Palacio de Deportes José María Martín Carpena in Malaga will host the 2020 tournament which was announced by the LNFS on Monday. " We are really happy to be able to announce that the next Cup will be in Malaga especially just a day after concluding the tournament in Valencia. We bring a great show with the aim of leaving a mark on the city and the province. This tournament brings people together from all over Spain and from numerous countries, "assured Javier Lozano, president of the LNFS. Isabel Sánchez, general director of Planning, Installations and Sports Events of the Junta de Andalucía, said to Marca: " Events such as the Copa del Rey of Basketball or the Futsal Copa de España highlight the importance of Andalusian sport.
If you didn't get the chance to see the Final, you can watch highlights of the match below:
If you like this article and you would like to keep up with Futsal articles if you don't have the chance to look at your social media or online then sign up for the Futsal Focus Newsletter by clicking subscribe to Futsal Focus in the top header or submit your details below this article in the Newsletter section.
You can also send us your information, press releases etc via the Contact under Home or click here
The main and picture in this article were taken from the Futbol Sala Barcelona Twitter page, you can follow them by clicking here