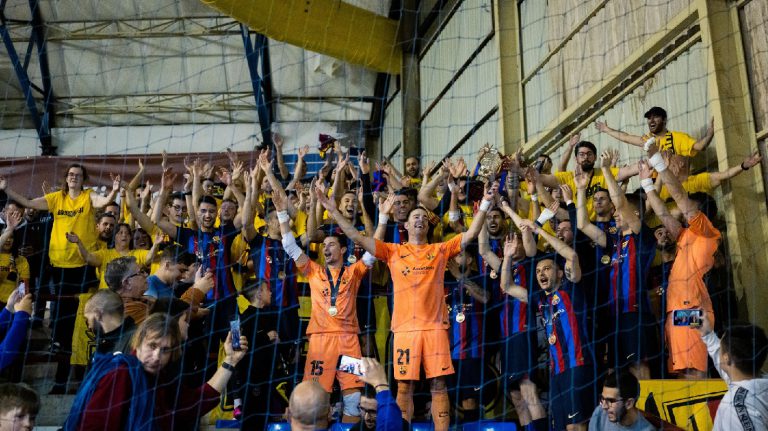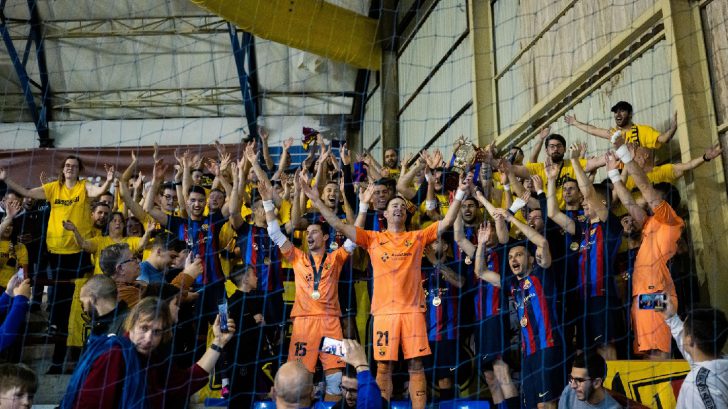 Estimated reading time:2 minutes, 44 seconds
Barcelona are the Super Cup Champion of Spain, defending the title they won last year against Palma Futsal by beating Movistar Inter (3-5) in the first win for the Blaugrana against Movistar Inter in the final of this competition. The last time these two clubs met in the final Barcelona lost 4-3 in 2011.
(Main picture: Barcelona players celebrate with their fans – source of the picture: Barca Futbol Sala Twitter)
The match kicked off with an unfortunate injury to Movistar Inter's Raya with only 13 seconds on the clock played, forcing him to leave the court with notable discomfort to his right knee.
His injury left Pato only with Carlao as the team's out-and-out finisher, which limited their tactical rotational options, but allowed his energy to be incorporated into the Torrejón team. His high intensity received an early reward when Rubi Lemos recovered the ball to assist Fits, who opened the scoring in what is his first goal since his return to Spain from UEFA Futsal Champions League Final Four participants, Sporting Clube Anderlecht.
Pato made very fast rotations, maintaining his intensity and not allowing Barça to develop into their game with which they had clearly beaten ElPozo with in the semifinal.
Despite everything, Jesús Velasco had a plan for Barcelona in the second half. He advanced his line of pressure a little more and raised the intensity of his game, and the difference between the teams started to show as Movistar Inter could keep up the level of pressure they were trying to apply to thwart Barca's efforts to control the game, and in the end, cracks started to show as their pace started to lessen and take its toll on Pato's men.
Jesús Herrero fell into Sergio González's trap, provoking him to make a pass over, which Barcelonan cut open and from there they started to put scores on the board.
Movistar Inter:
Jesus Herrero; Raya, Lucas Tripodi, Raul Gomez. Carlao, Rubi Lemos, Kaito, Fits, Drahovsky, Cecilio, Eric Martel Am. 37′ and Borja also played.
Coach: José Lucas Mena 'Pato'
FC Barcelona:
Dídac Plana Am. 33′; André Coelho Am. 32′, Sergio Lozano, Marcenio and Pito. Catela Am. 9′, Carlos Ortiz, Adolfo, Dyego Am. 10′, Sergio González and Antonio Pérez also played.
Coach: Jesus Velasco
Goals:
1-0 5′ Fits 1-1 23′ Sergio González 1-2 29′ Antonio Pérez 1-3 36′ Adolfo 2-3 36′ Cecilio 2-4 38′ Dyego 2-5 39′ Marcenio 3-5 40′ borja
Referees: Rodríguez Navarro-Villanueva (Castilla y León) and Sarabia Eguiluz (La Rioja).
You can watch the full match below:
You can read more articles about domestic futsal by going to the top navigation bar or by clicking here
If you like this article and would like to keep updated on Futsal news, developments, etc then you can now follow Futsal Focus via Google News by following our page which will send you an alert as soon as we publish an article so please click here and follow us on Google.
You can also keep updated on Futsal news, developments, etc then please submit your email below in the Subscribe to Futsal Focus option.
Follow Futsal Focus by clicking on Facebook, Twitter, or Instagram or on the social media buttons on the website.