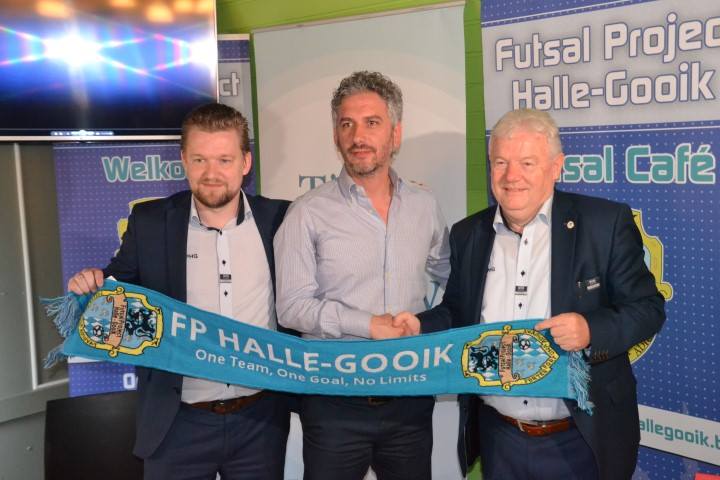 Estimated reading time:4 minutes, 2 seconds
Futsal is growing fast across Europe from the grassroots up and it is important that the game at the professional level develops. In Belgium, the dream of bringing increased professionalism and opportunities for youth players to develop under the right leadership has been a target for FP-Halle-Gooik. The club recently appointed one of the world's top futsal coaches Massimiliano Bellarte and we spoke with him and the clubs director of operations Lieven Baert to find out more about this appointment decision and what their plans are for their club.
For us, securing Bellarte as our head coach was a big achievement. Not only to be able get a coach like him to sign for a Belgium club but most of all because he believes in our project.
I knew Bellarte already for some time and we always discussed futsal. In my dreams, he was always the coach I would love to bring to our club, but I never thought this would become a reality. Our club is a project and in 10 years we went from the lowest league till the highest division in Belgium. Once we achieved this we started a 3-year plan to win the Belgian title and we won it in our second year. Our experience at the UEFA Futsal Cup showed us that it wasn't the quality of our players that prevented us from reaching the final four it was the way we were working that needed to improve. Therefore we realised that to go any further we needed to work like the more established countries such as Italy, Spain, Portugal etc.
For this we needed an experienced and renowned coach and when we started talking with Bellarte about our plans I was delighted to hear from him that he liked our challenge to lead a small Belgian team with a limited budget to the compete among the biggest in Europe. Bellarte believed in it… He wanted to bring his way of futsal to Belgium. We discussed this opportunity for a long time and finally at the end of May we came to an agreement and decided to work together. A three year project – Bellarte style…
He's helping us with some great opportunities like Zaramello and Leitao, we have one transfer still pending. These three players, the best Belgian players and our coach will help to raise the professionalism of our club. We will bring young players and give them opportunities to show their quality and maybe one day they will reach the same level of their hero's.
It's a big, new challenge to expand our club without forgetting the most important part… We need to be champions again. This is the only way we will be able to play in the UEFA Futsal Cup.
To add further to Lieven comments for me, I love to feel wanted and important which is to start all professional challenges. Halle-Gooik wanted me so bad and for so long and put me at the center of an ambitious project. Besides, the objective of all professionals is to be remembered at the end. And I want to be remembered at the end for having done something good for Halle-Gooik and the Baert family who did everything for me to be able to come to Belgium. We have to start from the basics, from all those things that are not so visible in order to show something good to the crowd. We need for the people to get involved and to get their children involved so they can start to love Futsal from a young age. I never start a project focusing on what we don't have but on getting a good understanding of the positive things we do have and build on this as it will help to motivate and grow competitive Futsal in Belgium. This is the fuel for reaching all our objectives. Further to this, Lieven mention that the club reach the elite round but it was not the lack of talent but the lack of knowledge that prevent them from progressing to the final four of the UEFA Futsal Cup and getting everyone to understand the tactical bases of Futsal will be a great point to start from and with increased knowledge and practice the players will start to compete with the more established clubs in Spain, Italy and Russia etc.
If you like the information provided, you can read more articles about domestic futsal by going to the top bar navigation or click here
If you like this article and would like to keep updated on Futsal news, developments etc then please submit your email below in the Newsletter section or by clicking on the Subscribe to Futsal Focus option on the header.
Follow Futsal Focus by clicking on Facebook, Twitter or Instagram or on the social media buttons on the right sidebar.