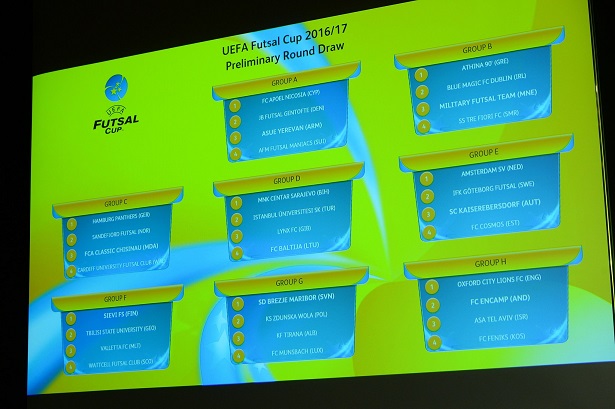 Estimated reading time:4 minutes, 56 seconds
The new UEFA Futsal Cup 2016-17 is now underway for clubs across Europe and it is a record season in terms of participation with 52 clubs taking part.
The preliminary round with eight groups will be hosted in the following countries: Armenia, Montenegro, Moldova, Lithuania, Austria, Finland, Slovenia and Andorra. The main round take will take place in the Ukraine, FYR Macedonia, Bulgaria, Serbia, Italy and the Czech Republic. The preliminary round will kick off in August from the 16 to 21 and the main round will start in October from the 11 to 16.
This campaign will be a new experience for FC Feniks from Kosovo and Tre Fiori from San Marino who are the first clubs from their countries to be represented in the UEFA Futsal Cup. From England, Oxford City Lions is starting their first European adventure but it will also be the first European experience for their parent club as well who are a professional football club competing in the national league south (second division of the non-league structure). Their entrance into the FA National Futsal league and their success has helped to encourage other clubs into the league with another professional football club entering a team this year, Tranmere Rovers who also appointed England's first UEFA A Futsal Licensed coach Damon Shaw. Oxford City Lions were drawn in Group H and will fly to Andorra to compete against their hosts FC Camp, ASA Tel-Aviv from Israel, and FC Feniks from Kosovo. The debutants have an opportunity to progress to the main round, hosts FC Camp finished last place in their group last year in the preliminary stage with zero points, FC Feniks are starting their first campaign but ASA Tel-Aviv haven't competed in the competition since 2010-11 when they finished third in their main round group. This time around they will be hoping to make an impact and will see this group as their opportunity to progress to the next stage which no Israeli team has been able to do since they lost their automatic main round draw position.
Blue Magic FC Dublin is representing the Republic of Ireland for the second year in a row. Last year they finished third in the same group as Cardiff University who finished last. This year they will fly to Montenegro who is hosting a tough group B and will play against Athina 90 from Greece, Military Futsal Team are the hosts and Tre Fiori from San Marino are experiencing Futsal at this level for the first time.
Cardiff University Futsal Club have qualified like Blue Magic for the second year in a row and will be hoping to perform better during this campaign in Group C. The club will travel to Moldova, group favourites will most likely be German champions Hamburg Panthers but neither Sandefjord from Norway or Classic Chisinau from Moldova will be easy opposition.
From Scotland, Wattcell Futsal Club will have watched the UEFA Futsal Cup draw with excitement, for this club it doesn't matter where they go or who they play, this is the first time for them to compete at this level and it will be all about the experience and the opportunity to test themselves against other European champions. The club will make their way to Finland to compete in Group F where they will challenge hosts Sievi Futsal, Tbilisi State University from Georgia and Valletta FC from Malta. Futsal in Finland is very popular, soon it will be the third most played sport in the country, and their national team is very competitive. The club won their place in the UEFA Futsal Cup after a goal-filled final against FS Ilves Tampere, the final had to be decided by penalties. Tbilisi State University from Georgia won their championship by defeating STU-Telasi 1-0 in the final, the club's goalkeeper Jaba Jamburia was voted the best goalkeeper of the season and the final goal scorer Gia Nikvashvili was voted the best player of the Georgian Futsal League. Futsal in Malta is progressing every year and its popularity is growing with league matches experiences increased attendances. The country has its own Futsal Association and the national team is improving as well, in their last UEFA Futsal Euro Group despite losing to England 0-3 they gave the national team a very competitive match.
Should Blue Magic FC Dublin, Wattcell Futsal Club, Cardiff University or Oxford City Lions qualify for the main round they will face one of the following: If Blue Magic were to win Group B they would face Group hosts Ekonomac Kragujevac (Serbia), LSN Lida (Belarus) and Nacional Zagreb (Croatia) in Group 4. Wattcell Futsal Club would qualify for Group 2 which includes Araz Naxçıvan (Azerbaijan), Zelezarec Skopje (FYR Macedonia) and the Winner preliminary round Group H who could be Oxford City Lions, FC Encamp, ASA Tel-Aviv or FC Feniks. Cardiff University would progress to Group 3 and compete against Nikars Riga (Latvia), Grand Pro Varna (Bulgaria) and the winner of preliminary round Group E which could be one of the following: Amsterdam SV (Netherlands), IFK Göteberg (Sweden), SC Kaiserebersdorf (Austria) or FC Cosmos (Estonia). This year's UEFA Futsal Cup preliminary round is an important one for all clubs especially due to Futsal's increased awareness across the British Isles and as more people find out about the opportunities Futsal can offer, progress in Europe is essential for any sports development at home.
Here are the groups for the preliminary round: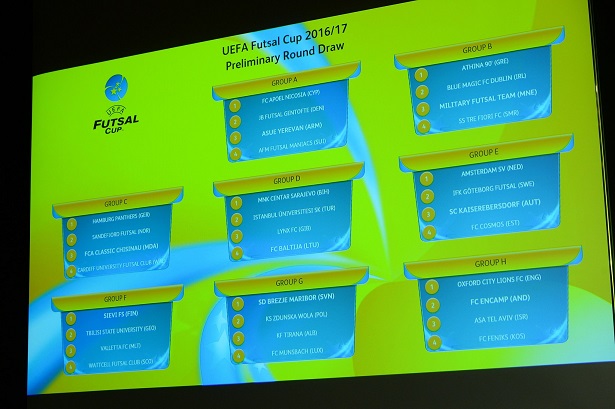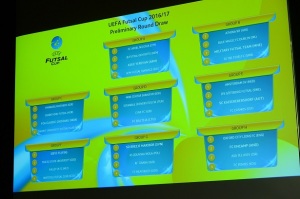 The main round: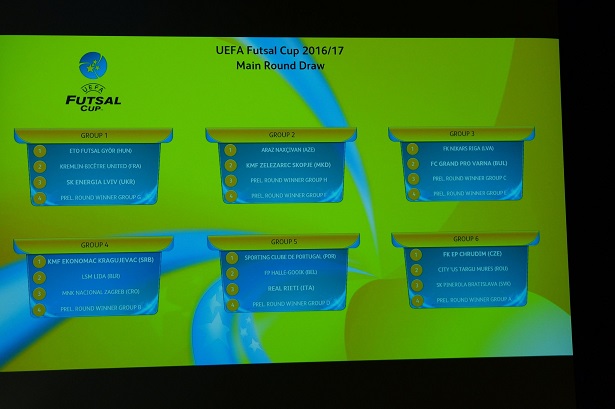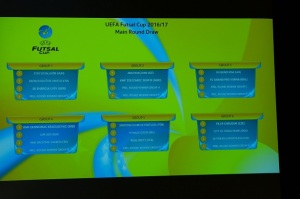 If you like the information provided, you can read more articles about domestic futsal by going to the top bar navigation or click here
If you like this article and would like to keep updated on Futsal news, developments etc then please submit your email below in the Newsletter section or by clicking on the Subscribe to Futsal Focus option on the header.
Follow Futsal Focus by clicking on Facebook, Twitter or Instagram or on the social media buttons on the right sidebar.