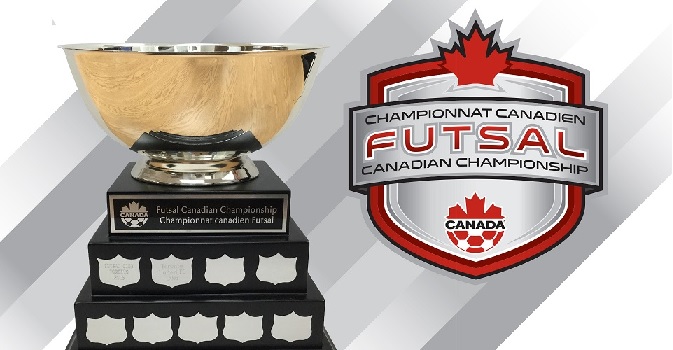 Estimated reading time:4 minutes, 20 seconds
March has been an active period for Futsal in Canada with the Alberta Colleges Athletic Conference (ACAC) Futsal Championships and the Provincial Leagues champions coming together during the weekend of April 11-14th at Queen's University in Kingston, Ontario to compete for the 2019 CSA Futsal Championship.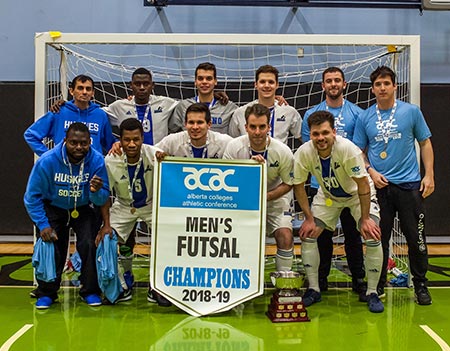 In Alberta, the Keyano College Huskies won the Athletic Conference Futsal Championships over the Lakeland College Rustlers with a convincing 23-7 win. Both Colleges are no stranger to Gold Medal Finals having faced each other a number of times since 2012 and in this final three players stood out, Goalkeeper Julio  Meirelles and teammates Neto Miguel and Eduardo Filho.
"The guys put in a lot of work and it showed," said Huskies' coach Macky Singh. "They put in the hard work and made it count. We have done a lot of high-intensity stuff and a lot of fitness work during our training sessions."
"We are solid offensively and we tend to dominate and score goals and the opposition had to chase us. We also had an awesome goalkeeper in Julio Meirelles. Being Brazilian he (Miguel) knows how to play the game but most of all he knows how to win. He has the experience and technical skills."
Huskies teammate Eduardo Filho was honoured as ACAC Futsal Championships MVP: "He has great knowledge of the game and technically he is very good and sound. He played with a lot of goal-scoring chances and he's a big influence."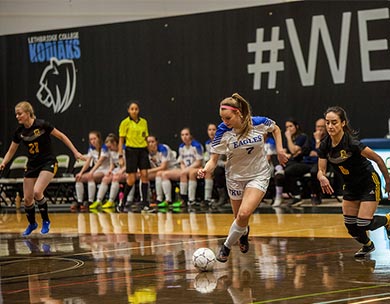 The 2018-2019 ACAC Futsal Women's banner would feature the Ambrose University Lions against The Kings University Eagles. Since entering ACAC women's futsal, the Ambrose University Lions have captured a medal only once and that was in 2014-2015 by beating the Keyano Huskies 3-1 for a bronze. The bronze medal game match is no stranger for the Lions, they had been in it on four more occasions, settling for fourth place after loses to 2011-2012, Keyano 2-1; 2014-2015, Keyano 3-1; 2015-2016, Lakeland 1-0 and 2016-2017 losing to Lakeland 3-1. The gold medal though would be new.  Come game time, Lions coach Paul Barnett said: "We were mentally prepared. We became unified again."
"All of my players were checked in and ready to go and my goalie Janelle Perry was on fire and I knew she would play well. We were definitely in control of the game and we trusted each other. We didn't give Kings any room to do anything and we finished strong and at the end we just had to hold them."
The final 3-1 verdict gave Ambrose its first ever team gold in ACAC competition. Maria Hernandez and Meg Buchanan scored back-to-back goals within 20 seconds in the first half. Buchanan would add her second goal in the second half.
"It feels incredible. Pretty surreal," admits Barnett.
Lions Bethany Herman was named tournament MVP.
For the CSA Futsal Championships, last year's champions, Toronto Idolo, automatically qualified for the tournament and will look to be the first repeat champions in the competition's brief history. Club Head Coach, and Canadian National Assistant Coach, Lorenzo Redwood, will also be aiming to extend his leading tally of CSA titles to three (2016 Toronto United, 2018 Idolo).
Last year's third-place finishers, and 2017 runners-up, Saskatoon Olimpia Futsal Club, have won their third consecutive provincial championship in dominating fashion with a 7-1 victory in the final over Lakeland. In addition to his two national medals, Head Coach Jaime Meza has already led Olimpia to a Saskatchewan Futsal World Cup title last fall and will no doubt seek to get back to the podium again.
Pioneers Futsal Club will represent Manitoba this spring after defeating last year's entrants, Winnipeg Rovers Futsal, at Red River College in February.
Nunuvut will once again be represented by Rankin FC after they won the RNM Calm Air territorial championships last month and they will aim to improve on their 8th place showing in their inaugural year.
Alberta will be well represented by Calgary Villains Elite as they won their provincial championship in fine fashion.
Yukon will be sending their elite squad down once again to build upon last year's 7th place finish while GTA Futsal will be Ontario's second entrant into the tournament after winning the Ontario Soccer Futsal Cup with a 5-4 comeback victory in the final over a tough Ottawa Gloucester Celtic side.
Over in "la belle province", it was a superb performance from Sporting Montreal as they clinched their third provincial title with a 10-4 aggregate victory over sister club Sporting Quebec. Montreal won the title in 2017 and also earned a runners-up medal in last year's final and will be one of the favourites coming into the competition.
If you like the information provided, you can read more articles about global Futsal by going to the top bar navigation or click here
If you like this article and would like to keep updated on Futsal news, developments etc then please submit your email below in the Newsletter section or by clicking on the Subscribe to Futsal Focus option on the header.
Follow Futsal Focus by clicking on Facebook, Twitter or Instagram or on the social media buttons on the right sidebar.
Source: Futsal Canada and Alberta College Athletic Conference