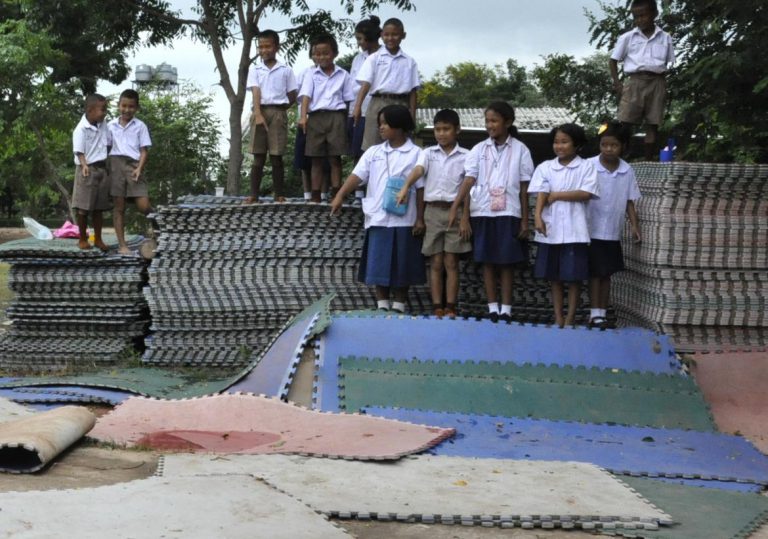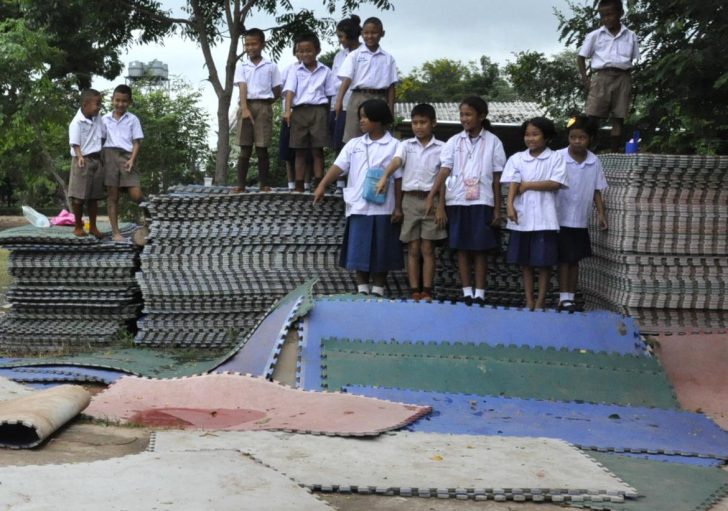 Estimated reading time:3 minutes, 44 seconds
A group of 65 state teachers in Nakhon Ratchasima are embroiled in a controversial scandal involving local futsal court construction have made a public plea for forgiveness and assistance.
Having been fired from the ministry of education on Oct 1 after being implicated in the scandal by the National Anti-Corruption Commission (NACC), they asked for public sympathy and begged the ministry to reduce their penalty by letting them keep their pension money and civil servant fringe benefits.
Pathomreuk Maneeneth, former director of Nakhon Ratchasima's provincial basic education office 1, insisted the teachers and officials were victims of circumstance who were unwittingly dragged into shenanigans cooked up by politicians.
These teachers and officials are among 80-plus people who will be tried by the Supreme Court 's Criminal Division for Holders of Political Positions — along with a number of politicians including heavyweight MP Wirach Ratanasate from the Palang Pracharath Party who was a Pheu Thai Party MP for Nakhon Ratchasima during the time of his involvement in the project in 2012.
The teachers were fired amid allegations they colluded in authorising the construction of sub-standard courts by contractors that were not fit for purpose.
It was reported that the courts, which were constructed in 18 provinces, cost the state over a hundred million baht. Nakhon Ratchasima alone had 56 futsal courts built in 56 schools. These pitches were later found to be unusable due to the poor quality of the materials used.
It would be heartless not to have at least a little sympathy for these 65 teachers and officials. Pension fund payments and other post-retirement benefits such as free state healthcare are often a lifeline for retired teachers.
Nevertheless, the Ministry of Education should be firm and set an example by adhering to the law and waiting for the final court judgements before taking further action. The teachers' appeal is with the Supreme Court's Criminal Division for Holders of Political Positions, and only after an innocent verdict should the ministry provide assistance.
The futsal court construction fiasco is just the latest blatant graft in a long list by the Ministry of Education. As beneficiaries of the largest slice of the government budget each year, the ministry is seen as a treasure trove by corrupt politicians and unscrupulous officials. The fraud comes in various forms — from siphoning money from school lunches to kickbacks for accepting wealthier students at schools where competition for entry is fierce.
The scandal at the Ministry of Education not only eats away taxpayers' money, it dampens faith and hope in the education system as a whole. The education ministry therefore must pursue the futsal case to its right and proper legal conclusion. The graft in Nakhon Ratchasima is just the tip of the iceberg. There are hundreds of teachers in hundreds of schools in 18 provinces being investigated for similar misdemeanours.
Transparency is paramount. Guilty personnel must be punished as the law requires. Furthermore, the ministry should develop better mechanisms to oversee spending in schools to protect good teachers from being dragged into scandals. The ministry not only has a duty to deliver the curriculum, but also a moral and ethical one to abide by the standards it would wish to see its young achievers carry into adulthood as the future of Thai society.
Futsal Focus supports the Donate4Dáithí campaign
To follow the Donate4Dáithí campaign, you can visit their website here: www.donate4daithi.org  or on Facebook at: https://www.facebook.com/Donate4Daithi you can also donate money to their campaign at: https://www.justgiving.com/crowdfunding/donate4daithi
You can learn more about the Donate4Dáithí campaign by going to our article here
You can read more articles about global futsal by going to the top navigation bar or click here
If you like this article and would like to keep updated on Futsal news, developments, etc then you can now follow Futsal Focus via Google News by following our page which will send you an alert as soon as we publish an article so please click here and follow us on Google.
You can also keep updated on Futsal news, developments, etc then please submit your email below in the Subscribe to Futsal Focus option.
Follow Futsal Focus by clicking on Facebook, Twitter, or Instagram or on the social media buttons on the website.