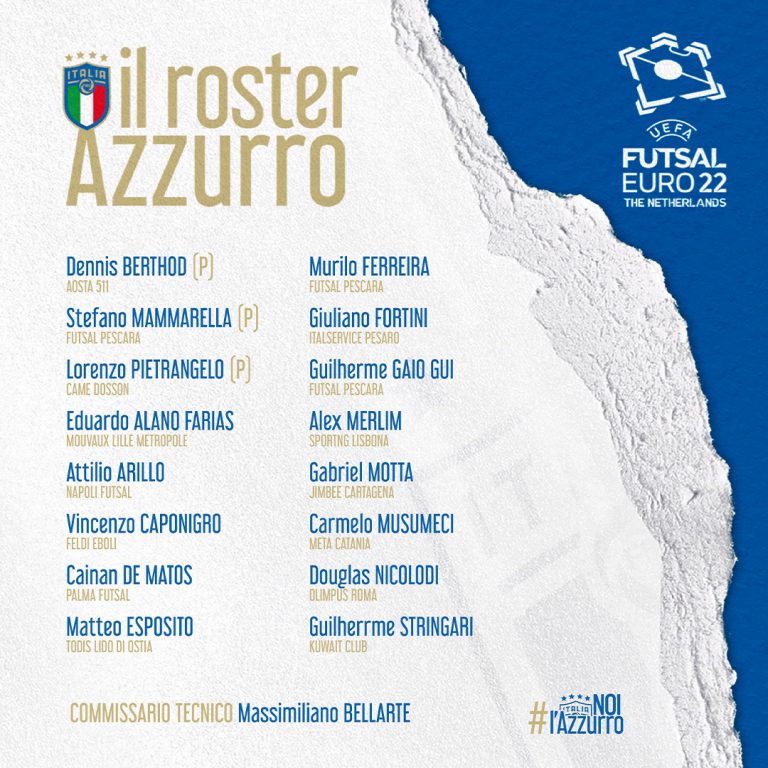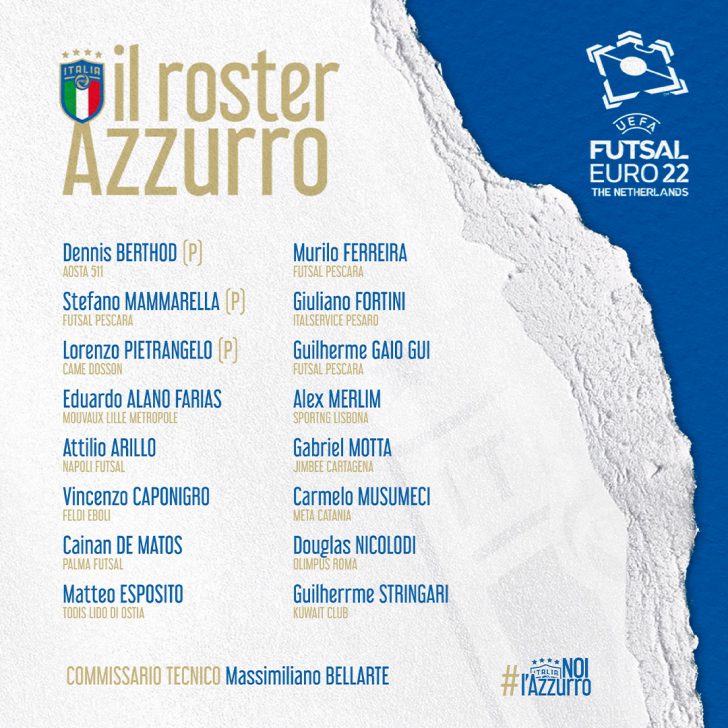 Estimated reading time:3 minutes, 58 seconds
I wish the Italian national team only success, but the squad selection does make me ponder about our own league, its weaknesses, the future of our sport in Italy, its development, player development, and coaching development.
(The views and opinions expressed in this article are those of the author)
Eight Italians and eight Brazilian-Italians selected by Head Coach Massimiliano Bellarte to compete for Italy at the 2022 UEFA Futsal EURO ignites discussion and controversy which comes during any major competition for any coach past and present.
The real question is:
Are the eight Italians, in their respective roles, the best players from the pool available/eligible (Italians and Brazilian -Italians)? Or are they only the best players from Italians that he is obligated to select?
Another point for readers to ponder is the choice of 6 players who play in leagues outside of Serie A (5 from foreign leagues, including Qatar and France, and one from the Italian Serie A2). Is this an unequivocal sign of the technical poverty of our Serie A (at least for our coach, Bellarte)?
From his perspective, certainly among the most qualified, if the Italians players produced by our academies are still not up to par and the strongest Brazilians-Italians play abroad, the logical consideration is the mediocrity of our own league/s.  This point also makes me think about the inability of our Italian clubs to perform well in Europe for many years now. The last time an Italian team even placed fourth in the UEFA Futsal Champions League was in 2015-16 season (Pescara). Before that, it was 2011-12 when Marca Futsal finished in third place, and we won it the year before in 2010-11 when Città di Montesilvano lifted the trophy. Furthermore, there is only one player in the national team from the two teams that are dominating the Serie A championship (Petrarca and Pesaro)
Certainly, Bellarte's choice of goalkeepers shows courage: not due to the obvious call-up of the everlasting Mammarella, fresh from an injury that has kept him away from the last few matches. But, if anything, the inclusion of Dennis Berthod from Aosta, he has great prospects especially for his specific qualities in playing with his feet. Naturally, he is going to the Netherlands to gain experience while the no longer young player from Pescara Lorenzo Pietrangelo did not have a good start to the season with his club team.
With all the bets that will come in, I wish our head coach and his squad success, but I want Italian futsal to really consider his squad, and the points I have made in this article. Italian futsal is considered one of the top leagues in Europe but are we? Especially, when we are naturalising foreign players to play for us, not just one or two Brazilians, but eight! We must be honest to ourselves about the direction our sport is going in Italy, in relation, to player development, coach development, club development and league development (Grassroots to the professional).
Article writer:
Antonio Dario was a team manager for 12 years with Petrarca Padova and Luparense with Miguel Rodrigo, Jesus Velasco, and Fede Vidal. He then began to work for the National Futsal Federation (Divisione Calcio a 5) for 12 years and for 6 of those years he acted as Vice President, during two FIFA Futsal World Cups in Thailand and Colombia. Until 2021, he was a UEFA delegate.
Last year, in the election for the presidency of the Divisione Calcio a 5, he was a contender for the presidency supported by his campaign "We for futsal."
Futsal Focus supports the Donate4Dáithí campaign
To follow the Donate4Dáithí campaign, you can visit their website here: www.donate4daithi.org  or on Facebook at: https://www.facebook.com/Donate4Daithi you can also donate money to their campaign at: https://www.justgiving.com/crowdfunding/donate4daithi
Learn more about the Donate4Dáithí campaign by going to our article here
You can read more articles about domestic futsal by going to the top navigation bar or click here
If you like this article and would like to keep updated on Futsal news, developments, etc then you can now follow Futsal Focus via Google News by following our page which will send you an alert as soon as we publish an article so please click here and follow us on Google.
You can also keep updated on Futsal news, developments, etc then please submit your email below in the Subscribe to Futsal Focus option.
Follow Futsal Focus by clicking on Facebook, Twitter, or Instagram or on the social media buttons on the website.