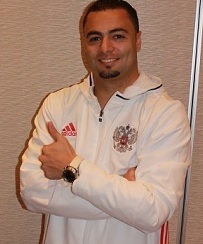 Estimated reading time:7 minutes, 6 seconds
Kris Fernandes (Twitter handle @insidesoccermag) was able to grab an exclusive one on one interview with Russian star, Eder Lima, for Futsal Focus just hours before he plays for the World Cup title against Argentina. Lima, the 2012 FIFA Futsal World Cup Golden Boot winner, talks about transitioning from life in Brazil to Russia, on why he decided to play for his adopted country, why parents should put their kids in futsal, and what to expect from Argentina in the final.
Kris – Tell us at what age you started to play futsal and what it was like growing up in Sao Paulo?
Eder – First of all I would like to greet everyone. I am very honoured to do this interview for Futsal Focus. I started playing futsal when I was eight or nine years old. Sao Paulo is my home city, my family is from Sao Paulo and I love it.
Kris – What is your favourite club back there?
Eder – The club of Pele, Santos!
Kris – As well as another man who started in futsal, Neymar. How hard of a transition was it for you as Brazilian to move to Russia and adapt to the language and culture?
Eder –At the beginning it was difficult but after I think after four or five months I adapted. But my first winter in Russia was difficult! But then I studied the language and step by step now I can speak with no problem.
Kris – How difficult was the decision to represent Russia after Brazil offered you a chance to play for them?
Eder – So yes I received an invitation to the Brazilian national team. It happened around the same time as I received Russian national citizenship. They called me but I said no I spent a lot of time in Russia, my family, my wife; my son is from Russia so I want to stay here. They called me again and I just said no I'm going to play I hope to receive an invitation to play for the Russian national team so that was the story.
Kris – With many futsal players often moving to different clubs you have stayed loyal to Gazprom for 10 years. What makes Gazprom so special as a club to you?
Eder – So I started my career in Gazprom, they liked my style of playing. Then year by year we became like a family, I have a good relationship with the president with everyone, all the players so now it's like my home.
Kris -This is your second World Cup. What differences have you in futsal between these two tournaments?
Eder –So I think I can only speak about the Russian team. I feel that this tournament we have better concentration, we are better prepared. So what I can say about Russia is that we became much stronger.
Kris – Which team has been the biggest surprise for you at this tournament?
Eder –Difficult to say because I think that there is no weak teams in the world now. Futsal is developing everywhere and if you want to get a good result you must respect the opponent and you must respect the players for each game.
Kris – How much did it mean to you to win the Golden Boot at the 2012 World Cup?
Eder –I was already asked about that this tournament and I am ready to change all of my personal achievements and goals for the gold medal with my team. Yes, it's important winning individual prizes but I prefer the team prize.
Kris – What do you expect from Argentina in the final?
Eder – We watched and we researched Argentina already. We know that this team has a very good defence, high discipline, and if a team gets into the final it means that this is a very strong team. We know this is going to be a very, very difficult game.
Kris – Having grown up in Brazil and seeing the rivalry between them and Argentina does it make it extra special for you to be playing them?
Eder – So now I'm Russian so now I don't remember about this rivalry and relationships with Argentina. Now I see this match as a Russian player but anyway if you play a game like this you should forget about all the conflicts and concentrate solely on your team.
Kris – Your son is now 6 years old. Has he started to play futsal as well?
Eder – Yes he is six years old now, he's studying Russian and English in Russia. When we have spare time we try to play futsal. At first he wanted to become a goalkeeper and I'm trying to say it's better to score goals. Now, yesterday I spoke to him and he said that 'father when you come back, you will be the goalkeeper and I will try to score.' (laughs)
Kris – What are the most important things for young futsal players to work on to become a professional?
Eder – So futsal is quick-thinking, it's a lot of movement, but I think that the most important thing when for example you are 16-17 years old and if a coach tells you that you are a weak player you shouldn't give up and you should work more and more. So I think that you must be self-confident.
Kris – Your great connection with Ivan Chishkala has been undeniable. Tell us about your relationship with Ivan and why you are so effective together?
Eder – We have been in the same club together for ten years already. Also, we live very close to each other in Moscow, so we're not just friends on the pitch; we're friends in regular life. We try to help each other in futsal, in ordinary life, I think that's the reason.
Kris – What is your favourite moment in your playing career and why?
Eder – So, at this moment I don't want to put out any moments in my career because tomorrow we're playing in the final and now I feel good physically and mentally.  I feel that I can help my team more and more so I want now to concentrate on this moment, on this day and tomorrow's game. I think now I want to speak only about winning the tournament. MVP, golden boots, nothing. Just gold medals for me and my team.
Kris – There is a lot of growth of futsal these days with the Premier League in India and the new PFL in the USA. Have you ever thought about finishing your career in a place outside of Europe?
Eder – So now I think I'm not finished (in Europe). But I think that could be interesting when I am finished. Last summer I received a call from Falcao, he invited me to this Indian Premier League but I said that now I am resting in Brazil, I haven't trained for several weeks so I wasn't ready for it. Now, I'm at Gazprom and still have a contract and when it finishes we will see. Everything is possible.
Kris – When you finish playing, what do you want your legacy to be?
Eder – Well I think I want to be remembered for winning world cups, scoring a lot of goals, helping team Russia to win the tournament. The next world cup is in four years and don't know if I will be able to play in the next one so I try to do as much as possible now.
Kris – Is there anything else you'd like to say to the futsal community around the world?
Eder – So I want to say that futsal is a very, very important kind of sport. I recommend to parents to give their children to futsal. It's not the fact that they will be a professional, but futsal can help you not just to be a good sportsman, but also a good human, a good member of society because it's a sport which combines great things.
If you like the information provided, you can read more articles about International futsal by going to the top navigation bar or click here
If you like this article and would like to keep updated on Futsal news, developments etc then please submit your email
below in the Subscribe to Futsal Focus option.
Follow Futsal Focus by clicking on Facebook, Twitter or Instagram or on the social media buttons on the website.