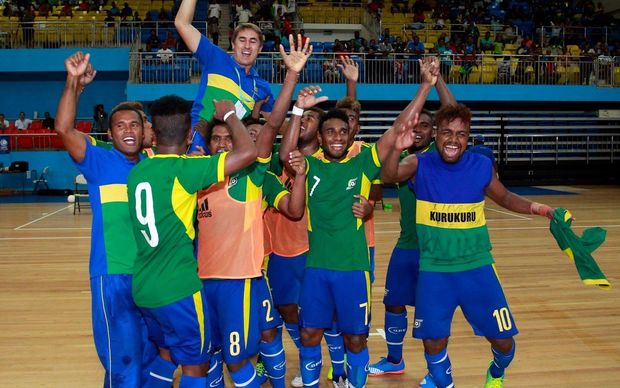 Estimated reading time:2 minutes, 14 seconds
If you were following the 2016 FIFA Futsal World Cup you would have seen the Solomon Islands captain Elliot Ragomo give an emotional speech after their match with Argentina. He spoke about his country's love for Futsal and the fandom they enjoy in their home country and how everyone was watching them at the world cup. For his squad just being there and competing was like a world cup final and for them representing their country, their people and making them proud was the most important.  If you didn't see the interview then watch it below:
Today, the Solomon Islands announced more great news for the sports development. Construction will begin next month on a long-awaited futsal complex in Solomon Islands. The country's Football Federation has signed a contract with the Solomon Islands government and FIFA to build the stadium in Honiara.
Prime Minister Manasseh Sogavare pledged to build a proper facility for futsal development earlier this year, with the country preparing to host the Pacific Games in 2023. The Kurukuru are defending Oceania champions and recently returned home from the World Cup in Colombia.
Head coach Juliano Schmeling said it signified a big step forward for the country's futsal programme.
"They will start to build the stadium in November so this is very positive. It means they are serious, they want to improve," he said.
Schmeling said there was a lot of potential in Solomon Islands.
"The best performance we had [at the World Cup] was a new player who is 19-years-old. He performed very well in the World Cup and was one of our key players.
"If I keep going my idea is to give more chance for the new generation and keep hold of the experienced players – and keep going playing tournaments.
"I have the contacts – all the trip we did in Brazil, all the tripping in the World Cup was to have that connection to organise tournaments so I hope they can play at least two tournaments internationally next year."
If you like the information provided, you can read more articles about global futsal by going to the top navigation bar or click here
If you like this article and would like to keep updated on Futsal news, developments, etc then please submit your email below in the Subscribe to Futsal Focus option.
Follow Futsal Focus by clicking on Facebook, Twitter or Instagram or on the social media buttons on the website.