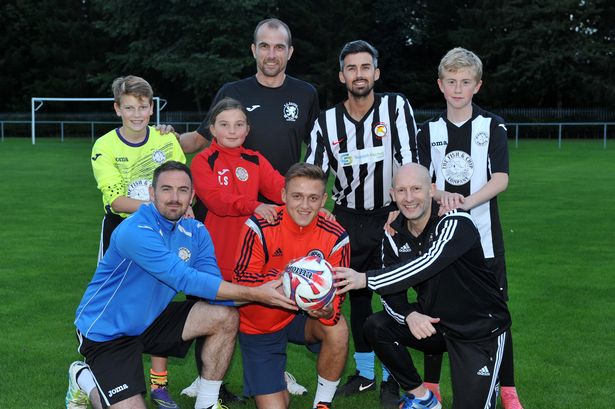 Estimated reading time:2 minutes, 53 seconds
Jeanfield Swifts Community Club and Fair City Santos – Scotland's most successful futsal team – have linked-up in a bid to provide top quality coaching, competition and development opportunity.
Players of all ages, from youth teams to the junior side, who currently ply their trade in the East Region's Super League, are set to benefit from the move.
Manager of the juniors side, Ross Gunnion, has plenty of futsal experience and knows how beneficial the game can be.
He said: "I've played the game since it first came to Perth and now that the SFA are looking at it as a development sport – and that we as a junior team have three or four playing at a high level – I see it as a genuine asset.
"It's certainly something we want to promote as a club.
"As a community club we are trying to be as inclusive as we can so it makes complete sense to have the sport as part of our community club.
"The one thing all the top coaches go on about is more touches of the football.
"That's probably something we need to develop with our younger players, and older players."
Futsal, continues to rise in popularity across Scotland.
The national team, captained by Jeanfield juniors player Scott Mollison, is improving all of the time.
Gunnion added: "Futsal is a 40 minute game and is all based around technique with a team of five players. That's got to be a benefit to developing skills.
"Santos get the backing of a strong community club.
"Ideally we're looking for Santos to work with our players to teach them the skills of futsal.
" It's as close, in terms of game-play and tactics, to football.
"Five-a-side football doesn't really represent what happens in a game of 11s.
"The fact Perth's oldest junior football club and Scotland's most successful futsal club are coming together, there certainly won't be a better partnership."
Santos and Scotland futsal manager Mark Potter was delighted to team-up with Swifts' community club.
He would love to see further local talent rise through the ranks and play for their country.
"The Scottish FA, as part of their strategy for developing futsal into the wider community, are encouraging community clubs across Scotland to introduce a futsal strand," he said.
"It's the first partnership of its kind within community clubs in the country where there is an amalgamation to provide coaching for young players, amateurs and all the way through to the senior team.
"The player pathway will be into the senior men's football team and into Santos, the futsal team.
"We would love to see someone coming through the ranks and playing for both and, perhaps, going on to represent their country.
"Futsal is now part of the coach education pathway. That means any coach from Jeanfield who wants to develop futsal into their curriculum can do it.
If you like the information provided, you can read more articles about grassroots and coaching by going to the top bar navigation or click here
If you like this article and would like to keep updated on Futsal news, developments etc then please submit your email below in the Newsletter section or by clicking on the Subscribe to Futsal Focus option on the header.
Follow Futsal Focus by clicking on Facebook, Twitter or Instagram or on the social media buttons on the right sidebar.