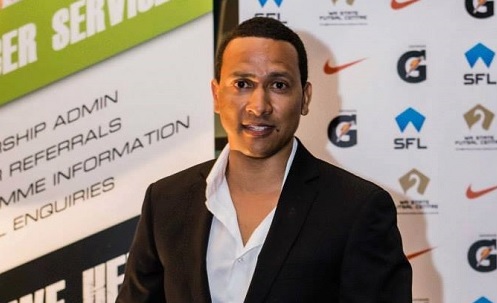 Estimated reading time:1 minute, 43 seconds
Eldon Abrahams is flying from Australia to present at the Futsal Focus Business Network Business Conference. El's presentation topic is: Developing a Successful Futsal Centre.
Brief introduction:
My name is Eldon Abrahams but everyone calls me El.
I am the founder and Co- Director of WA State Futsal in Western Australia. My Futsal background as a player has been representing at State and National level for both the FFA and Vikings now known as AFA, the 2 Futsal Governing bodies in Australia.
I have coached players, managed and run clubs and also leagues within the state of WA since 2006, to help grow the sport but from 2014 I decided to create an environment and home for Futsal development, The WA State Futsal Centre.
My passion and goal is to see the sport continue to grow through providing assistance for players, clubs and leagues to become professional. Since opening in 2014 we now have a successful Futsal only centre with over 3000 members and another Futsal only centre opening soon on the other side of the State, plus a second venue used solely as a training facility for Futsal clubs. As we grow we continue to see the standard of players improve through what we have implemented over time and best of all the rewards are there for everyone to appreciate.
I look forward to presenting at the Futsal Focus Network Business Conference and we thank Futsal Focus for this opportunity to represent the futsal community in Australia.
To read about the guest speakers and to get your ticket for the conference go to www.futsalfocus.net/conference
If you like the information provided, you can read more articles about global futsal by going to the top bar navigation or click here
If you like this article and would like to keep updated on Futsal news, developments, etc then please submit your email below in the Newsletter section or by clicking on the Subscribe to Futsal Focus option on the header.
Follow Futsal Focus by clicking on Facebook, Twitter or Instagram or on the social media links on the website.