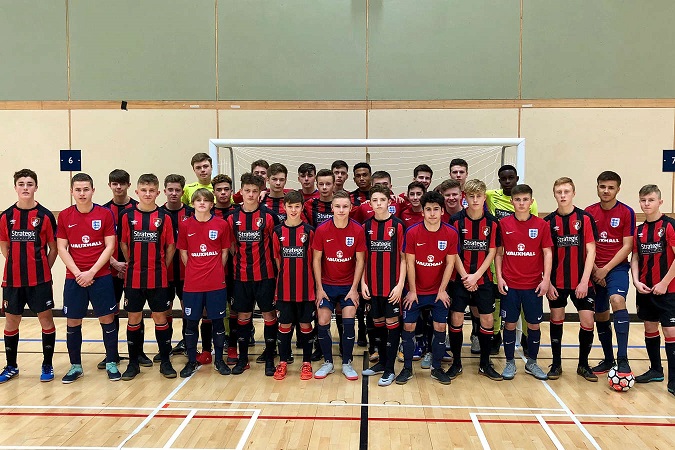 Estimated reading time:2 minutes, 43 seconds
2018 will see a major step for the sport of Futsal with the sport replacing Football at the Youth Olympics in Buenos Aires, Argentina. 2019 will mark another development step for the sport in Europe when the first UEFA Under 19 Futsal Championships kick off.
England preparations for the UEFA Under-19 Futsal Championship with a friendly against AFC Bournemouth before their first official preparation match against Holland.
Earlier this month, AFC Bournemouth's under-15s were invited to Lilleshall to play a fixture against England's under-17 futsal squad.
Going into the game, the Cherries had some futsal experience under their belts, as last season saw the side win eight out of eight games in an academy futsal tournament at St. George's Park, in which Blackburn Rovers, Leicester City, Preston North End and Luton Town also took part.
The match enabled England futsal coaches, Pete Vallance and Ben Tadmor, to expose their young squad to various game management challenges and tactical solutions ahead of their upcoming fixture against Holland, which marks the start of their preparations for the UEFA Under-19 Futsal Championship.
Despite lining up against international players, the Cherries took the lead in the game, before being pegged back as the fixture got in full swing.
However, for the young AFC Bournemouth players, it was an opportunity to test themselves against international opposition, many of whom play in the FA national futsal leagues.
And, after four years of using futsal as a development tool for academy players, which sees the Cherries gain 90 minutes a week of futsal training, the experience was certainly an eye-opener for the players given the speed of the game and decision making under pressure.
Following on from the day, Graham Mills, AFC Bournemouth's lead youth development coach who also holds a UEFA B futsal qualification, spoke to afcb.co.uk about the occasion.
"It was great to see how the two formats of the game coincided to provide a fantastic learning opportunity for both sets of players in a safe and professional environment," he began.
"Not only does the game of futsal demand so much from the players both technically and tactically, but they were also required to compete physically with players, many of whom were two years older.
"This presented an excellent challenge and a learning experience that the players will never forget, hopefully spurring them on to further successes as they progress along the player development pathway at AFC Bournemouth."
Incidentally, 12 players selected from the FA's regional Futsal Talent Centres, as mentored by England futsal international Mark Simmons, were also in attendance at Lilleshall, where Cherries forward Jermain Defoe came through the ranks.
Ultimately, the futsal experience serves to provide players with a more rounded and holistic development in order to help meet the needs of the modern game.
Taken from AFC Bournemouth website
If you like the information provided, you can read more articles about International futsal by going to the top navigation bar or click here
If you like this article and would like to keep updated on Futsal news, developments, etc then please submit your email below in the Subscribe to Futsal Focus option.
Follow Futsal Focus by clicking on Facebook, Twitter or Instagram or on the social media buttons on the website.