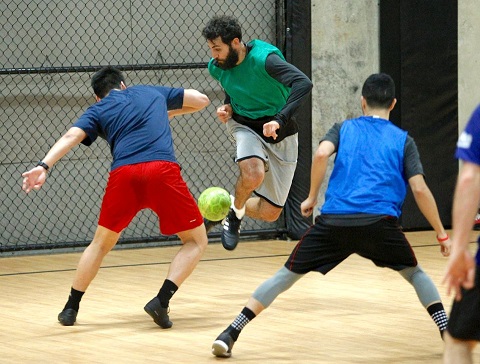 Estimated reading time:4 minutes, 15 seconds
Diego Valeri didn't compete on a full-length soccer field until the age of 10.
Instead, it was on the futsal courts in his hometown in Lanus, Argentina where he began to develop and hone the skills that would one day lead him to the Portland Timbers and earn him distinction as the 2017 Major League Soccer Most Valuable Player.
"It's the way you grow up in Argentina," Valeri said. "There are hundreds of futsal clubs and that's where you learn your skills, how to read the game, how to compete. For me, it was my school. It's the way I learned how to play soccer."
Over the years, Valeri has remained passionate about the game of futsal, a modified version of soccer that is played on a smaller lined court with five players on each team.
He actively followed the FIFA Futsal World Cup in 2016 and eagerly signed up his daughter, Connie, for a youth team at Rose City Futsal in that same year. And when Rose City Futsal Director of Coaching Eduardo Araujo approached Valeri to ask if he wanted to join a weekly pick-up game, Valeri jumped at the opportunity to get back on the futsal court.
In each of the last two offseasons,Zarek Valentin, Marco Farfan, Diego Chara and former Timbers Amobi Okugo and Brent Richards have played in the pick-up games.
Valeri and Valentin were among 16 players that made their way to Rose City Futsal on a recent Thursday morning. The building was quiet and most of the courts remained dark as the players split into three teams and competed in shifts for nearly two hours.
At one point, Valeri took a ball off his opponent near his goal and went to dribble up the court. But Valentin quickly closed down the space as he went to defend his usual Timbers teammate, forcing Valeri to swiftly rethink his next move and instead send a smart back-heel pass to another teammate.
"Playing futsal is good training because you don't have space and that forces you to think quicker, move quicker, read situations quicker," Valeri said. "It gives you a lot of weapons to use in a bigger field."
While players in Argentina, Brazil and other parts of South America grow up regularly playing futsal, the game is still relatively new in the United States. Still, futsal has thrived in Portland thanks in large part to the increasing number of venues, such as Rose City Futsal, that support leagues for all ages within the city.
Unlike Valeri, Valentin, who is from Lancaster, Pennsylvania, didn't know anything about futsal during his youth. But he has developed an appreciation for the sport by competing in the pick-up games in each of the last two offseasons.
Valentin said the games offer a much-needed change of pace from the monotony of running on treadmills and weight lifting during the offseason. They also give him an opportunity to challenge himself in situations that he isn't exposed to as often with the Timbers.
While he is used to competing in small-sided games during Timbers trainings, he said he still feels like a novice playing futsal. Still, he said as long as he can avoid getting nutmegged, he'll keep coming back.
"It's so different than our game," Valentin said. "The ball is even different. You can't chip it. You can't play long balls… Here I try to put myself in the middle or I try to put myself higher up the field where I have constant pressure on me, which forces you to be cleaner with your feet. Hopefully, that will eventually translate into a real game where I have to be clean with my feet in a small area."
The pace and precision on display in Thursday's futsal game was remarkable. The top-level players were constantly moving, making runs and quickly picking out passes. On the smaller court, each team needed to connect just one or two clever passes to build an attack.
As the session was winding down, Valeri got on the end of a pass from a teammate and took two quick touches to dribble away from his defender before powering an unstoppable shot into the back of the net. He pumped his fist in quiet celebration before jogging back to midfield to prepare for the next play.
He was having way too much fun to stop.
"When you have fun, you train better," Valeri said. "And it's always really fun for me to play futsal. It's like I'm a kid again."
Article via oreganlive: www.oreganlive.com
If you like the information provided, you can read more articles about global futsal by going to the top navigation bar or click here
If you like this article and would like to keep updated on Futsal news, developments, etc then please submit your email below in the Subscribe to Futsal Focus option.
Follow Futsal Focus by clicking on Facebook, Twitter or Instagram or on the social media buttons on the website.