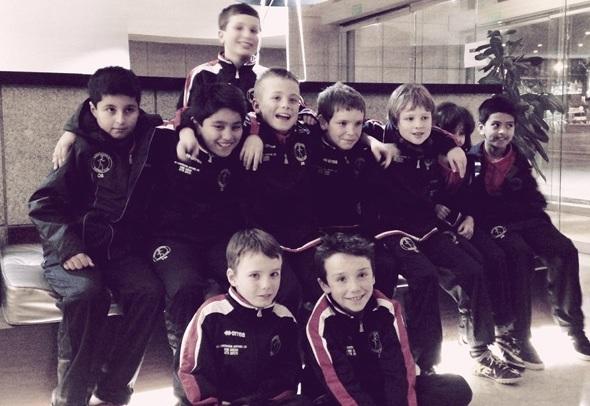 Estimated reading time:3 minutes, 20 seconds
A team of youngsters from Carlisle Futsal Club has been celebrating after they won the silver cup at the Futsal World Cup.
The Carlisle side finished third in their group before a 10-2 semi-final victory against Canet set up an Under-10 silver cup final against another Spanish outfit, Artos, with the English team winning the final in dramatic fashion. Chairman Al Tindall, who coaches the young team along with Jon Reay, said: "It was good.
"To be fair, that was probably as well as we could have done given the amount of time the squad has with each other. We came up against the likes of Santos who do 16 hours a week of Futsal. It was brilliant for us and brilliant for Futsal in Carlisle."
Despite a 12-3 loss to City Futsal from the United States and a 20-1 defeat at the hands of Brazilian side Santos, Carlisle came third in their group after beating Cfs Blanesport 2-0 at the event in Blanes, near Barcelona.
"The two teams that came first and second in our group actually then played each other in the grand final," Tindall said. We then won our semi-final and it was a bit of an epic final which we also came out on top in [beating Artos 4-3]. We finished fifth overall if you want to look at it like that. It was brilliant for the players to go all that way, play in an international final and win medals and trophies."
FOUR years after losing every match in a futsal tournament in Spain, ten Oxford lads returned to Barcelona and carried off the trophy. Oxford City Lions under 14 side won eight gruelling matches over three days to come out on top in the prestigious, televised St Cugat Futsal tournament.
Considering futsal is a much bigger game in Spain than in England, this was a remarkable achievement. The boys were between nine and ten years old when they first went to Spain and only entered the original event, because it was organised by the former club of their manager Enrique Guillen.
Four years of hard training – twice a week – and multiple visits to other Spanish tournaments (Andorra, Asturias and Barcelona) paid off as the boys lifted the trophy and carried it back through UK Customs. But, their success is not isolated. The Lions' adult team won the FA National Futsal Superleague in 2016 and went on to represent the FA in the UEFA Futsal Cup in Europe. Guillen is keen the youngsters progress into the club's senior side. Indeed, England's coaches are looking at the work he is doing with the boys and wants to take them into the under 17 national development programme next year.
Lions have just secured kit sponsorship for another year from local joinery firm, AK Joinery Ltd. But are looking to get further commercial sponsorship to support their continued journey in this sport. Having beaten the Spanish at their own game as14 years-olds, there is hope that some of the youngsters may one day play for the English national senior team.
Main picture: Oxford City Lions' lads celebrate their win. Back: Patrick Pinches. Middle: Omar Barez, Timmy Mungall, Jason Moore, Olli Webb, Theo Hinnells, Mika Stancliffe, Auzzie Pervaiz. Front: Dillon Sumner, James Fitzgerald
If you like the information provided, you can read more articles about grassroots and coaching by going to the top bar navigation or click here
If you like this article and would like to keep updated on Futsal news, developments etc then please submit your email below in the Newsletter section or by clicking on the Subscribe to Futsal Focus option on the header.
Follow Futsal Focus by clicking on Facebook, Twitter or Instagram or on the social media buttons on the right sidebar.