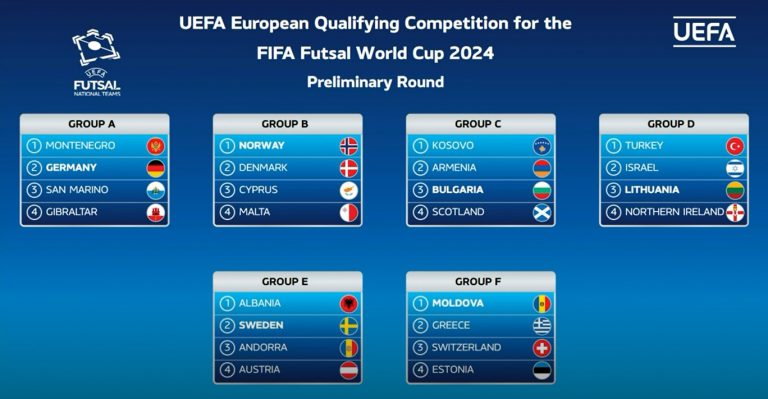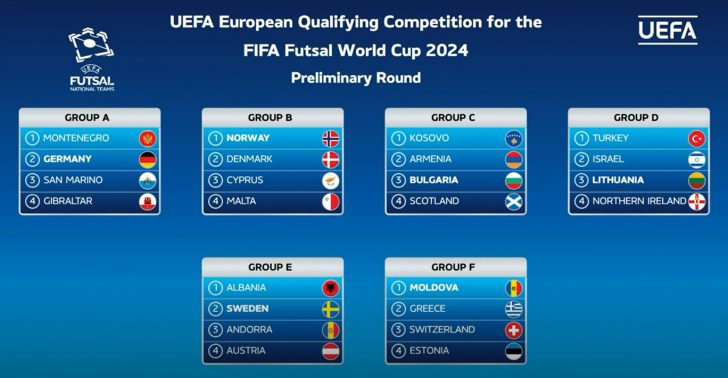 Estimated reading time:3 minutes, 3 seconds
Seven European teams will compete at the 24-team 2024 FIFA Futsal World Cup with qualifying running in several phases between April 2022 and April 2024, and the first draw for the preliminary round on 7 December.
If a UEFA national association is selected to host the final tournament, they will gain an automatic place and only six teams will come through qualifying. Otherwise, all seven European places will be filled by qualifying.
The draw:
All European nations will be looking forward to preliminary round groups with the winner and runner up of each group progressing to the main round. This opportunity provides nations like Germany the chance to progress. Northern Ireland where drawn in Group D and will face Lithuania the hosts of their group who will have benefited from their World Cup experience. It will be interesting to see how much the Lithuanians have learned from the last few years.  Israel and Turkey are also in the group and futsal is primarily played at the University level in these countries which gives Northern Ireland an early developing futsal nation the opportunity to benchmark their own development.  Another interesting group is Group A, Germany now has its own national futsal league after many years of regional leagues. The clubs aim for professionalism, and success on the international stage can only aid their development plans. Germany will have to defeat Montenegro or finish in second place to progress but ideally for the Germans to see progress in their own development, securing the top spot in the group will help to increase the team's confidence, show they have progressed, increase awareness at home, help to develop further support and ignite interest among the public. Germany is a key market to convert to Futsal, their success on the international stage will help to attract more people within their country to play the sport.
It is great to see Scotland back in the mix, for while I thought Scotland may cancel their national team like England has. Scotland will compete in Group C with Bulgaria, Armenia and Kosovo. A concern for futsal in the UK is the absence of the Wales national futsal team, which recently had an U19 team in the UEFA Futsal U19 EURO so why they haven't entered a team into the world cup preliminary rounds has not been announced.
Futsal Focus supports the Donate4Dáithí campaign
To follow the Donate4Dáithí campaign, you can visit their website here: www.donate4daithi.org  or on Facebook at: https://www.facebook.com/Donate4Daithi you can also donate money to their campaign at: https://www.justgiving.com/crowdfunding/donate4daithi
You can learn more about the Donate4Dáithí campaign by going to our article 
here
You can read more articles about international futsal by going to the top navigation bar or click here
You can read more articles about International futsal by going to the top navigation bar or click here
If you like this article and would like to keep updated on Futsal news, developments, etc then you can now follow Futsal Focus via Google News by following our page which will send you an alert as soon as we publish an article so please click here and follow us on Google.
You can also keep updated on Futsal news, developments, etc then please submit your email below in the Subscribe to Futsal Focus option.
Follow Futsal Focus by clicking on Facebook, Twitter, or Instagram or on the social media buttons on the website.