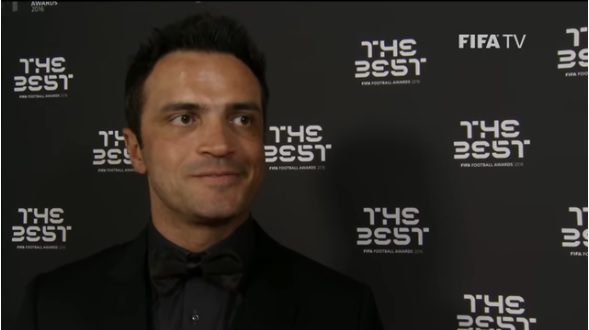 Estimated reading time:2 minutes, 17 seconds
At FIFA's Award Ceremony, Falcão was recognized for his outstanding contribution to the sport of Futsal. From the footage, it was clear to see how much the award meant to him, speaking to FIFA.com Falcão said,
"It is beyond special. I can say that it is the most special moment of my career because it is the perfect ending to it, to everything that I have done. As the award title says, it is a recognition to a whole career. So I am happy to look back and to see that it was all worth it, and to do so with my kids next to me, in an evening that is all about football. It is a most special date.
"I had no idea. I thought I would leave the car at the entrance of the hall and go unnoticed. But all of a sudden, I come in and I even see some footballers staring at me. It was the case with [Luka] Modric, for example: he looked at me, looked again and asked if it was really me. I said I was and he gave me a big hug. I had the same kind of reaction from several players. This is the greatest trophy of all: to get this kind of recognition on football's main stage. And that when coming from a sport that, although it is related to football, is nowhere close to being as popular. The evening of 9 January [2017] will remain forever with me."
Even now, Falcão is humble and unaware of his own stardom outside of Brazil, he was surprised when Football players and executives knew who he was at the awards. Futsal is nowhere near as popular as Football and the sport's awareness is growing but it is growing due to the contributions athletes like Falcão have made to the sport, his legacy will live on and he has a lot more to give to the sport, speculation hopes he will follow in the footsteps as Pele to the States to compete in the Professional Futsal League launching there. Where ever he goes or whatever the future holds for Falcão, his impact on the sport of Futsal, his creativity, entertainment and stardom will never be forgotten.
If you like the information provided, you can read more articles about global futsal by going to the top navigation bar or click here
If you like this article and would like to keep updated on Futsal news, developments, etc then please submit your email below in the Subscribe to Futsal Focus option.
Follow Futsal Focus by clicking on Facebook, Twitter or Instagram or on the social media buttons on the website.