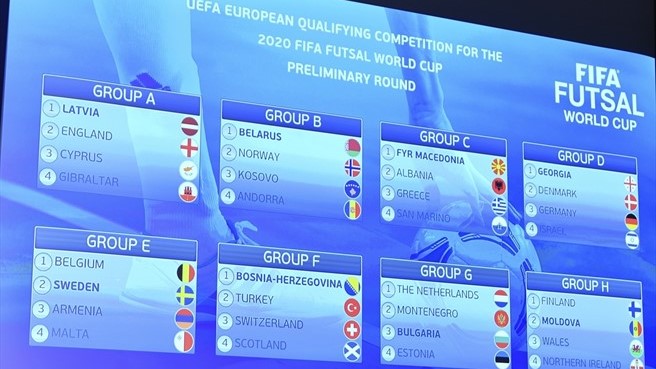 Estimated reading time:3 minutes, 37 seconds
On Wednesday, the 12 December, the 2020 FIFA Futsal World Cup draw took place involving 48 nations all eager to progress to the main round and fight for a place in the final tournament which will take place in Lithuania.
The preliminary round fixture dates are between the 29 January and 3 February 2019 and the groups are:
Group A: Latvia (Hosts), England, Cyprus, Gibraltar
Group B: Belarus (Hosts), Norway, Kosovo, Andorra
Group C: FYR Macedonia (Hosts), Albania, Greece, San Marino
Group D: Georgia (Hosts), Denmark, Germany, Israel
Group E: Belgium, Sweden (Hosts), Armenia, Malta
Group F: Bosnia and Herzegovina (Hosts), Turkey, Switzerland, Scotland
Group G: Netherlands, Montenegro, Bulgaria (Hosts), Estonia
Group H: Finland, Moldova (Hosts), Wales, Northern Ireland
England has experience playing the opposition in their group and is more than capable of winning the group or finishing runners-up. Scotland has been drawn into a tough group, Bosnia and Herzegovina are 39th in the world, Turkey is 60th, Switzerland is 88th and Scotland are 90th. The nation will see Switzerland and Turkey as a means of testing themselves and their development progress whereas Bosnia and Herzegovina will be a fixture to benchmark themselves for their future aspirations, claiming a runner-up place would be an incredible achievement for the Scots. Northern Ireland and Wales were drawn in the same group and both will be looking forward to this fixture. Wales lost to Northern Ireland in the recent Futsal Nations Championship and will see this match as a means to show that was a temporary set back whereas Northern Ireland will want to replicate their success. Both nations will be eager to test themselves against Moldova for the runner-up spot. Finland recently won the Nordic Cup are managed by Futsal legend Mico Martic, sit 29th in the World rankings and will be the favorites to win this group.
The increased competitiveness at the Futsal Home Nations in Northern Ireland makes this world cup journey interesting viewing for U.K Futsal fans to see how far the development of the national teams has come. Should the home nations progress from the Preliminary round to the Main round the draw will see England enter Group 4 or 8, Scotland enter 6 or 7 and Northern Ireland or Wales entering Groups 3 or 1. The FIFA Futsal World Cup main round qualifying fixtures are from the 22nd to the 27th  October and the  groups are:
Group 1: Spain, Poland*, Preliminary round Group D winners, Preliminary round Group H runners-up
Group 2: Ukraine*, Slovenia, Preliminary round Group C winners, Preliminary round Group B runners-up
Group 3: Azerbaijan*, Slovakia, Preliminary round Group H winners, Preliminary round Group G runners-up
Group 4: Italy*, Hungary, Preliminary round Group B winners, Preliminary round Group A runners-up
Group 5: Kazakhstan, Romania*, Preliminary round Group G winners, Preliminary round Group C runners-up
Group 6: Serbia, France*, Preliminary round Group E winners, Preliminary round Group F runners-up
Group 7: Russia, Croatia*, Preliminary round Group F winners, Preliminary round Group E runners-up
Group 8: Portugal*, Czech Republic, Preliminary round Group A winners, Preliminary round Group D runners-up
At this stage of the home nations Futsal development, England would be considered the nation that will be aiming to take the next step in their development and qualify for their first ever finals tournament. Italy or Portugal lay in wait should the nation enter either group and both nations would be favourites to win the group, however, the top two nations will secure their place in the finals. Group 4 would see Hungary and either England, Cypris, Gibraltar, Belarus, Norway, Kosovo, Andorra and Group 8 will be the Czech Republic, England, Cypris, Gibraltar, Georgia, Denmark, Germany or Israel. England has tested themselves against or competed with nations of a similar standard but the Czech Republic, Hungary and Belarus will be formidable opposition, overcoming these nations should they face them would be a remarkable achievement. Despite the challenges ahead all the home nations will be looking forward to the challenges ahead.
If you like the information provided, you can read more articles about international futsal by going to the top bar navigation or click here
If you like this article and would like to keep updated on Futsal news, developments, etc then please submit your email below in the Newsletter section or by clicking on the Subscribe to Futsal Focus option on the header.
Follow Futsal Focus by clicking on Facebook, Twitter or Instagram or on the social media buttons on the right sidebar.