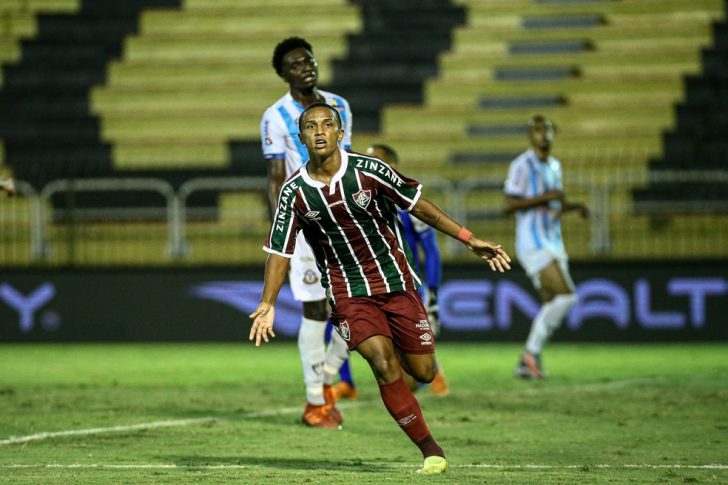 Estimated reading time:2 minutes, 57 seconds
"Kayky Effect" becomes an example of success at Fluminense due to their integration of futsal at their academy
The Guardian reports that Manchester City are close to signing the 17-year-old Brazilian player Kayky from Fluminense. The two clubs agreed a fee of €10m plus add-ons as well as 20% of any future sale in February and the deal is now expected to be confirmed by all parties.
The forward, who has been described as "the new Neymar" in Brazil, will arrive in June 2022, when he will be 18 years old. He is considered one of the best young talents in South America and has two goals in seven appearances in the Brazilian top flight this season.
The video above is Kayky playing futsal when he was a child.
According to Globo Esporte, Kayky's brilliance was clear from his first game as a professional in Fluminense's 4-0 win over Macaé.  The 17-year-old, jewel of their academy, is the result of Futsal's integration in their academy at the early development phrase, and not having a separate development programme for futsal, which is more common in football clubs.
"Futsal is our main gateway to football."
The project started combining futsal in 2008, which was increased in 2015 then full  adopted in 2019 as a methodology. The children practice the sport until the age of 10, and don't switch fully to the field until the age of 13. It happened with Kayky, who arrived at the club in the under-9 age category and stayed for four years taking turns between the courts and the grass pitch.
"Futsal is our main gateway to football." Seeing Kayky stand out on the professional stage makes us even more proud and shows that we are on the right path. We aim to increasingly integrate the two departments. We want our young players, when entering the court, whether to train or play, to know that they are already part of our training academy, they are being observed and prepared for the transition to the field. Having the involvement of professionals who already do a great job in our futsal department in this process is essential. I am confident in the evolution of Xerém – celebrated the director of the base, Antônio Garcia, to the official website of Fluminense.
Ivan Proença,  the futsal manager at Fluminense,
"I am very proud to be part of the early phrase development  of this program for the  athletes at Fluminense. We all know the importance and responsibility of preparing children as people, so that they become better players. Fluminense football development outlook is different from our competitors here in Brazil. Our futsal is totally linked to Xerém – he explained, also in an interview to the official website.
City Football Group and Fluminense are also discussing whether Metinho, a 17-year-old midfielder, could be part of the deal.
Main picture: Lucas Merçon / Fluminense
You can read more articles about global futsal by going to the top navigation bar or click here
If you like this article and would like to keep updated on Futsal news, developments, etc then you can now follow Futsal Focus via Google News by following our page which will send you an alert as soon as we publish an article so please click here and follow us on Google.
You can also keep updated on Futsal news, developments, etc then please submit your email below in the Subscribe to Futsal Focus option.
Follow Futsal Focus by clicking on Facebook, Twitter, or Instagram or on the social media buttons on the website.