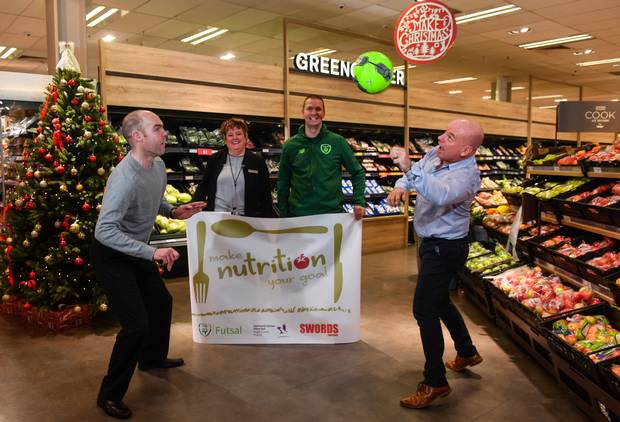 Estimated reading time:2 minutes, 40 seconds
The FAI, Fingal County Council and its community partner Swords Pavilions highlighted their new innovative healthy eating initiative via futsal this week.
Launched in the impressive Swords Pavilions Shopping Centre, the program will see 1,400 young players aged between 7-12 years taking part across 5 Fingal County Council venues and Gormanston Park.
With support from experts in their field 'Nutrition Wise,' a comprehensive child-friendly healthy eating guide has been designed and will be issued to all coaches, parents and players taking part over the six weeks along with a nutritional talk for all coaches.
The FAI and Fingal County Council sports department are delighted to use football and in this instance Futsal (the official UEFA & FIFA Indoor 5 aside game) as a tool to encourage the critical message of healthy eating and lifestyle.
Ian Hunter, centre director of the Swords Pavilions, commented: 'We are excited to partner with the FAI & FCC for this futsal program taking place across our local community.
'It gives kids a fantastic opportunity to express their futsal skills in a safe environment.
'The extra dimension this year of a nutritional element takes this programme a step forward giving the players and their coach's practical advice in this area while ensuring it's delivered within the enjoyment of the game.
'We are also delighted to announce the support of Dunnes Stores who will provide healthy fruit and snacks for our young participants, and Dunnes Stores, Grocery Store Manager, Swords Pavilions, Liz Hogg, in particular, has been very supportive.'
Paul Keogh, FAI/Fingal County Council development officer, added: 'We are looking forward to kicking off the program with our coaches meet on January 7 and the action itself starts on January 12 in six different venues.
'Fingal now boasts many excellent indoor facilities' which has enabled us to grow the program year on year. Swords Pavilions have been very supportive, and the angle of nutrition can only aid player's performance on and off the court. Fingal County Council sports department are one of the most innovative sports divisions in the country, and their continued support has to be mentioned.
'The nutritional flyer and healthy eating log will hopefully be a great success and if we can help change habits when child obesity is at an all-time high, it would a great result.'
Niall McGuirk, Fingal County Council Senior Sports officer, said: 'We have supported the FAI's futsal module for a number of years under our remit of participation and health and well-being.'
He concluded: 'This nutritional aspect is an exciting addition and is in line with our sports department objectives and the goal toward a healthy Fingal under a national framework of Healthy Ireland.'
Source: Fingal Independent
If you like the information provided, you can read more articles about grassroots and coaching by going to the top bar navigation or click here
If you like this article and would like to keep updated on Futsal news, developments etc then please submit your email below in the Newsletter section or by clicking on the Subscribe to Futsal Focus option on the header.
Follow Futsal Focus by clicking on Facebook, Twitter or Instagram or on the social media buttons on the right sidebar.