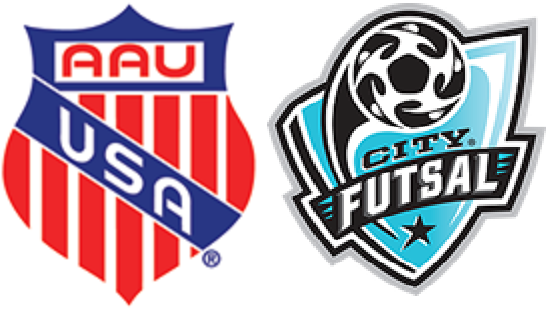 Estimated reading time:2 minutes, 57 seconds
City Futsal, Amateur Athletic Union Announce Strategic Partnership to Provide Youth Futsal Opportunities to America's Youth
Agreement between U.S. leader in youth futsal and oldest youth sports organization kicks off new era for futsal in the United States; details on first international futsal event to be released later this month
City Futsal, a leader in youth futsal in the United States, and the Amateur Athletic Union (AAU), America's longest standing youth sports organization, will be joining forces this season, the two organizations announced today.
The partnership will combine City Futsal's expertise in key areas of player development, coaching and referee education, as well as a model for running complete futsal operations with the AAU's first-class brand recognition, organizational structure and resources. It will provide futsal with a quality platform at a time when the sport is experiencing tremendous growth.
"The AAU will play an essential role in our ability to grow the sport in the U.S.," said Federico Mariel, CEO of City Futsal. "Until now, we have been working alone with no support from a governing body. We can now have that structure, take advantage of the resource a large organization can provide and maintain control over how we run the sport. Teaming up with the AAU will mean the beginning of a new era for futsal in America."
The first AAU Futsal International Tournament is expected to be held in January 2017 in Orlando, home of the AAU national headquarters. More information will be available soon at www.aausports.org and www.cityfutsal.com.
"We are incredibly excited about the opportunity to partner with City Futsal in this new journey to bring the rapidly-growing sport of futsal to more of America's youth," said Dr. Roger J. Goudy, President/CEO of the AAU. "City Futsal shares many of our same philosophies and values and this agreement is a direct reflection of the AAU's long-standing philosophy to provide Sports For All, Forever."
Visit www.aausports.org and www.cityfutsal.com for more information.
###
ABOUT CITY FUTSAL:
Founded in 2011, City Futsal has become a leader in the futsal community conducting futsal specific programs year round. City Futsal is committed to providing the highest quality futsal experience through training and playing opportunities. Futsal's rapid growth in the rest of the world has now caught on in the U.S., and City Futsal has positioned itself as the premier brand of futsal in the U.S. soccer market.
ABOUT THE AAU:
Founded in 1888, the Amateur Athletic Union (AAU) is one of the largest, non-profit, volunteer, event organizations in the United States. The "Sports for All, Forever" philosophy is shared by over 700,000 participants and 150,000 volunteers. The AAU annually licenses 35 sports programs and more than 375,000 licensed events each year. AAU alumni include LeBron James (Cleveland Cavaliers), Dwyane Wade (Chicago Bulls), Madison Bumgarner (San Francisco Giants), Kris Bryant (Chicago Cubs) and Diana Taurasi (Los Angeles Sparks). A multi-sport organization, the AAU is dedicated exclusively to the development of amateur sports. Visit www.aausports.org for more information.
If you like the information provided, you can read more articles about grassroots and coaching by going to the top bar navigation or click here
If you like this article and would like to keep updated on Futsal news, developments etc then please submit your email below in the Newsletter section or by clicking on the Subscribe to Futsal Focus option on the header.
Follow Futsal Focus by clicking on Facebook, Twitter or Instagram or on the social media buttons on the right sidebar.