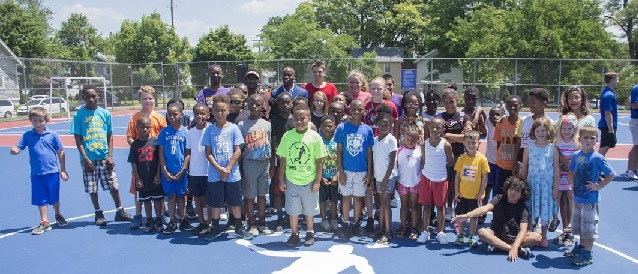 Estimated reading time:2 minutes, 19 seconds
Holding Midfielder and Captain for Major League Soccer Football Club franchise Real Salt Lake in Utah, Kyle Beckerman reached out to the Executive Director of Real Salt Lake Foundation with his aim to develop a Futsal court for the community which she and the Park Development Project Manager Jon Ruedas supported. The location he chose the kids were crazy about Soccer and he knew the benefits of Futsal to player development and wanted to give them the opportunity to play the sport on the right surface.
DaMarcus Beasley, former PSV, Manchester City, Rangers FC and Hannover  player currently playing for Houston Dynamo in Major League Soccer wanted to give back to his hometown of Fort Wayne, Indiana as he partnered with the Fort Wayne Parks & Recreation Department and the Indiana Soccer Association to build the city's first public futsal courts.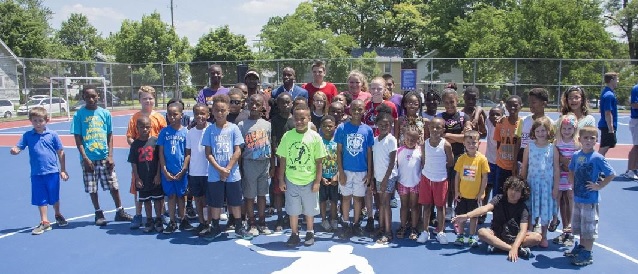 As part of the Fields For All partnership between the Portland Timbers' community initiative, Stand Together, and Operation Pitch Invasion (OPI), the Timbers announced today that the partnership will develop a new futsal court at Tom McCall Upper Elementary School.
The development of the futsal court at Tom McCall Upper Elementary School (1255 SW Pacific Ave., Forest Grove, OR, 97116) marks the fourth set of futsal courts made possible by the Fields For All partnership, with Stand Together and Operation Pitch Invasion partnering on the development of a pair of futsal courts at the Boys & Girls Club's Rockwood campus last year.
Overall, the Timbers have contributed to 16 soccer fields and futsal courts since 2011, providing the greater Portland area with organized outlets for playing soccer.
The pair of new futsal courts will support local youth programs, provide an opportunity for children to play on a new quality surface, encourage children to live a healthy, active lifestyle and signifies the strong commitment the Timbers, OPI and fans have to support their surrounding community.
The Professional Futsal League in the United States is still in development with plans to launch the league in the next few years, work is ongoing. If this is the first time for you to learn about this development, the League's principal owner is billionaire Mark Cuban, the League's President is Michael Hitchcock and their League Commissioner is Keith Tozer.
If you like the information provided, you can read more articles about grassroots and coaching by going to the top bar navigation or click here
If you like this article and would like to keep updated on Futsal news, developments etc then please submit your email below in the Newsletter section or by clicking on the Subscribe to Futsal Focus option on the header.
Follow Futsal Focus by clicking on Facebook, Twitter or Instagram or on the social media buttons on the right sidebar.