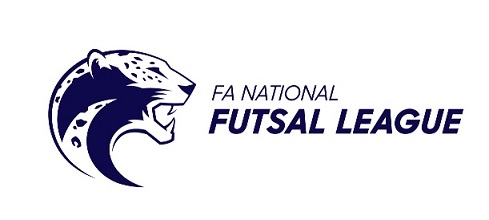 Estimated reading time:2 minutes, 21 seconds
The FA National Futsal League unveiled a new logo today celebrating 10 years since the league was founded and it comes ahead of the league's biggest season to date.
The FA Futsal Super League is now the pinnacle of the English league pyramid, with 12 teams competing for a place in the UEFA Futsal Champions League. More teams have also been accepted into Division 2 and the Women's League, taking the number of teams for 2018-19 to 75.
The Futsal Shop and its designers, Oli Riches and Petter Tangen, worked alongside The FA National Futsal League and key influencers to create a contemporary identity that encapsulates the excitement of the sport and the FA National Futsal League. To ensure that the identity worked on multiple physical and digital surfaces, The Futsal Shop created a flexible and adaptive identity that can be easily adopted and used by any partner.
Representing futsal's South American origins, the jaguar is the centerpiece of the new identity. The epitome of agility, speed, balance and ruthless intelligence, the jaguar is synonymous with the characteristics of players and the sport itself. The branding will work across all touchpoints, from sleeve badges to social media and pitchside boards and balls.
"Our approach was to focus on the speed and energy of futsal, to showcase the colourful and fun nature of the game. The challenge was to express this energy in the game while uniting the leagues with an identity flexible enough for everyone to use," said Oli Riches, lead designer and creative director of The Futsal Shop.
"The FA National Futsal League is very excited about the launch of its new logo and welcomes this positive step forward in rebranding the league as it moves into its second decade of providing elite futsal in England. Our thanks are extended to The Futsal Shop for their tremendous work in helping us in this venture," said Bob Cotter of the FA National Futsal League.
The launch of the logo is just the start of giving futsal its own image and it will allow clubs and fans alike to celebrate the League and inspire newcomers to the game.
The 2018-19 season kicks off at the end of September, with the website being launched later this summer. You can follow the league across all social media by searching FA Futsal League.
If you like the information provided, you can read more articles about domestic futsal by going to the top navigation bar or click here
If you like this article and would like to keep updated on Futsal news, developments etc then please submit your email below in the Newsletter section or by clicking on the Subscribe to Futsal Focus option on the header.
Follow Futsal Focus by clicking on Facebook, Twitter or Instagram or on the social media buttons on the right sidebar.