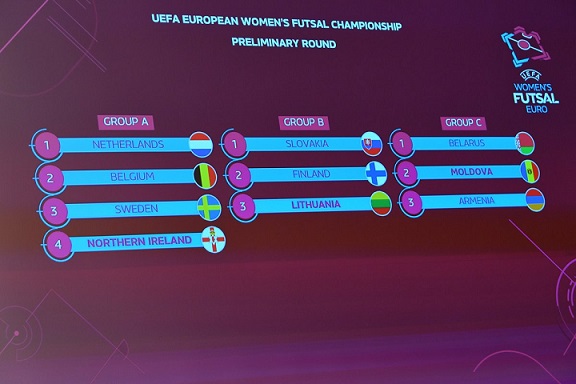 Estimated reading time:1 minute, 48 seconds
Northern Ireland recently launched their Women's National Futsal team and have not looked back with friendly matches at home, in England, and in Scotland.
The ladies team was drawn in Preliminary round Group A against the Netherlands, Belgium, and Sweden in the first ever UEFA Futsal Women's EURO, it great for the nation to be a part of this history. However, the best way to develop is to challenge yourself and learn which is how the squad will take this experience. The preliminary round will kick off on August 21st  with group matches finishing on the 26th on home soil which will be fantastic for the ladies to play in front of a home crowd and bring more international futsal to Northern Ireland. The men's team recently played their first international match at home against Scotland and will host the home nations at the end year so this addition to the Northern Irish Futsal calendar will aid the Irish FA's efforts to grow awareness of Futsal. Northern Ireland's recent performance will have shown the Irish FA board what is possible in this sport and will be excited to see how the women's team perform as well.
Preliminary round draw: 21–26 August
Group A: Netherlands, Belgium, Sweden, Northern Ireland (hosts)
Group B: Slovakia, Finland, Lithuania (hosts)
Group C: Belarus, Moldova (hosts), Armenia
The three group winners progress to the main round to join the 13 teams given byes
Main round: 11–16 September
Group 1: Spain (hosts), Italy, Romania, Poland
Group 2: Russia, Slovenia, Croatia (hosts), Winner preliminary round Group A
Group 3: Kazakhstan, Ukraine (hosts), Hungary, Winner preliminary round Group C
Group 4: Portugal (hosts), Serbia, Czech Republic, Winner preliminary round Group B
The four group winners progress to February's knockout finals, hosted by one of the qualifiers.
If you like the information provided, you can read more articles about International futsal by going to the top navigation bar or click here
If you like this article and would like to keep updated on Futsal news, developments, etc then please submit your email below in the Subscribe to Futsal Focus option.
Follow Futsal Focus by clicking on Facebook, Twitter or Instagram or on the social media buttons on the website.